After a highly successful debut in Paris last year that presented the works of around 200 artists and attracted more than 20.000 visitors, Urban Art Fair is now returning to Le Carreau du Temple for its 2nd edition. Taking place between April 20th and April 23rd, 2017, the fair will present a truly unique and relevant rendez-vous dedicated to the Urban Art market. Lasting for one extra day, Urban Art Fair will bring together a selection of 30 even more prestigious international and French galleries specialized in Urban Art. This year's edition of the fair will also expand to L'Espace Commines with an exhibition titled Cannot be bo(a)rdered and it will display an itinerary of outdoor projects. Truly celebrating one of the most vibrant and dynamic art movements of our times, the fair will provide a unique opportunity to enjoy not only the amazing artistic interventions, performances, and installations, but also a variety of conferences, meetings, and projects, drawing an overview of an ever-growing phenomenon.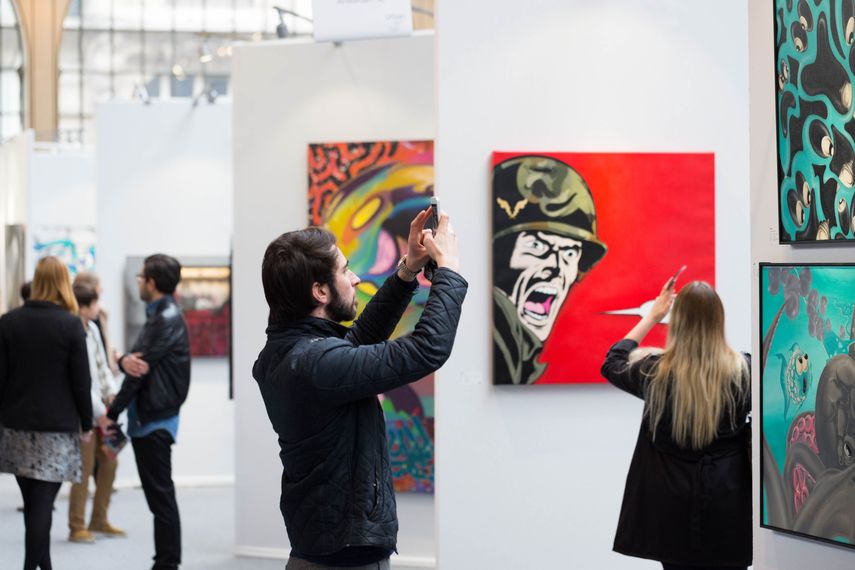 Urban Art Fair Exhibitors
Welcoming 30 international and French galleries, Urban Art Fair will present a comprehensive Urban Art panorama in Le Carreau du Temple. There will be a variety of returning galleries such as French galleries Galerie du Jour agnès b, Galerie Ange Basso, Galeries Bartoux, Galerie Brugier-Rigail, Galerie 42b, Joël Knafo Art, PDP Gallery, and Galerie Wallworks, Lézarts Urbains, all from Paris, Galerie Berthéas les Tournesols from Vichy, France, David Pluskwa Art Contemporain from Marseille, Green Flowers Art from Boulogne-Billancourt, France; but also international ones such as Vroom & Varossieau from Amsterdam, Urban Spree from Berlin, and Urban Art Gallery from Stuttgart. The fair will welcome twelve new exhibitors, both local and international, including Avenue des Arts from Hong Kong, Galerie Bel Air Fine Art from Geneva, Art in the Game from London, Pretty Portal from Düsseldorf, NUNC ! / Critères Éditions from Paris and Grenoble, as well as Parisian galleries Galerie Mathgoth, Galerie Openspace, Le Grand Jeu, Galerie Géraldine Zberro, Galerie Lelia Mordoch, Galerie Saltiel from Aux-en-Provence and H Gallery from Paris.
As highly relevant players in the Urban Art market, these galleries will present works by some of the most famous international artists today including Cope2, Toxic, Seth, Erell, Bault, Popay, Quick, The London Police, Cranio, Banksy, Keith Haring, Obey, Nowart, Monkey Bird, among others. Their works, and of many more, will be presented through group works, installations, solo shows and original collaborations, such as four hands piece by Zenoy and Blek le Rat exhibited by Galerie Ange Basso.
The List of Urban Art Fair Exhibitors
The Side Program
Expanding into L'Espace Commines, the fair will present an exhibition Cannot Be Bo(a)rdered, a visual exploration of youth rebellion through skate culture. With the title that subverts the expression by suggesting that the bo(a)rder exists outside this subculture, the show will be bringing together 34 artists from Singapore, Malaysia, Indonesia and France. Using skateboards as a primary medium, each artist will create a work that challenges existing stereotypes by reconstructing a new narrative through different creative styles and visual expressions. Curated by Iman Ismain, the exhibition was first commissioned for the Aliwal Urban Art Festival as part of Singapore Art Week, traveling afterward to Urbanscapes in Kuala Lumpur where nine Malaysian artists were added to the lineup, while the Parisian edition will add another eight French artists to enrish the exhibition. The fair will also present the exhibition titled Graffiti Art Cover Collection organized in collaboration with Graffiti Art Magazine, presenting around ten iconic pieces that were on the cover of this contemporary urban art magazine.
In addition to the impressive exhibition program, Urban Art Fair will also feature a cycle of screenings around urban art history, from the beginning of the graffiti in NYC to contemporary muralism. Taking place between April 21st and April 22nd in the Auditorium of Le Carreu du Temple, each projection will start with an introduction by the art historian Christian Omodeo and will be followed by a conversation.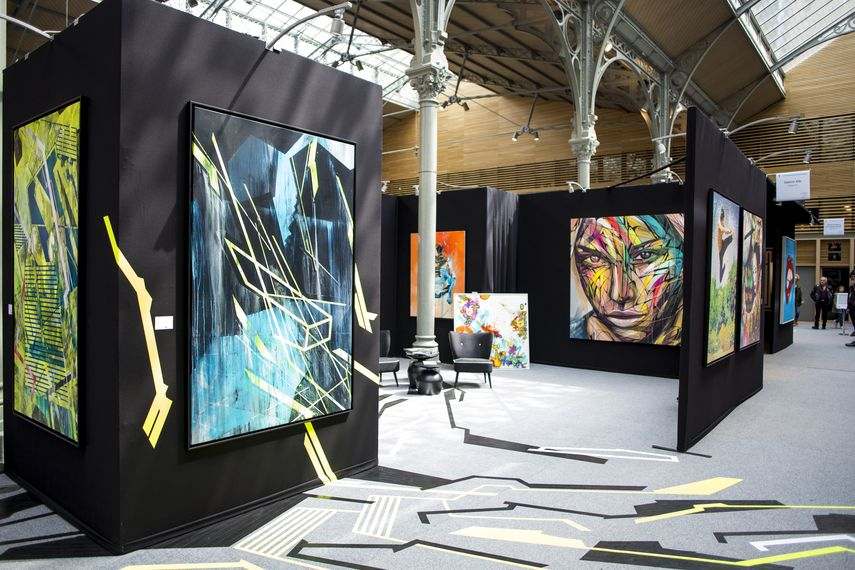 The Venue
Located in the heart of the French capital, Le Carreu du Temple is a truly emblematic place of Upper Marais neighborhood. Situated in the 12th-century-old building that once served as a covered market, the large and elegant venue is now fully restored to offer Parisians a multidisciplinary program open to emerging artists and creators in the arts, fashion, and design. Hosting a wide variety of projects, this unique place aims to be an innovative art incubator collaborating with partner artists, cultural structures and emerging art fairs with a particular focus on international issues.
Le Carreau du Temple
Practical Information
The Urban Art Fair will take place in Le Carreu du Temple in Paris from April 20th and April 23rd, 2017. The Press and VIP Preview will be held on Wednesday, April 19th, from 3 until 6 p.m. The opening reception will be held the same day, from 6 until 10.pm. The doors of the fair will be open from 11 a.m. to 8 p.m. on Thursday, April 20th, from 11 a.m. to 10 p.m. on Friday, April 21st and Saturday, April 22nd, and from 11 a.m. to 7 p.m. on Sunday, April 23rd. The price of the tickets will be 15 euros, while the reduced fare will be 10 euros. To find out more information, visit the official website of the fair.
Featured image: Urban Art Fair 2016, Le Carreau du Temple; Urban Art Fair 2016; Urban Art Fair, Booth view Galerie Berthéas Les Tournesols