While artists EVOL and Above are considered pioneers in the respective Urban Art circles, the extraordinary talents Julia Benz and Agostino Iacurci belong to the new generation. Having already reached high points in their individual careers, these four well-known artists will meet and exhibit their work in the upcoming group exhibition at the gallery Die Kunstagentin. Titled Nice to Meet You Too!, the show will present a meeting point between two generation of artists, at the same time underlining the quality, diversity and continuity of this established art movement. The title of the exhibition can be interpreted as a greeting, but also as a grateful and respectful end salutation after a pleasant encounter.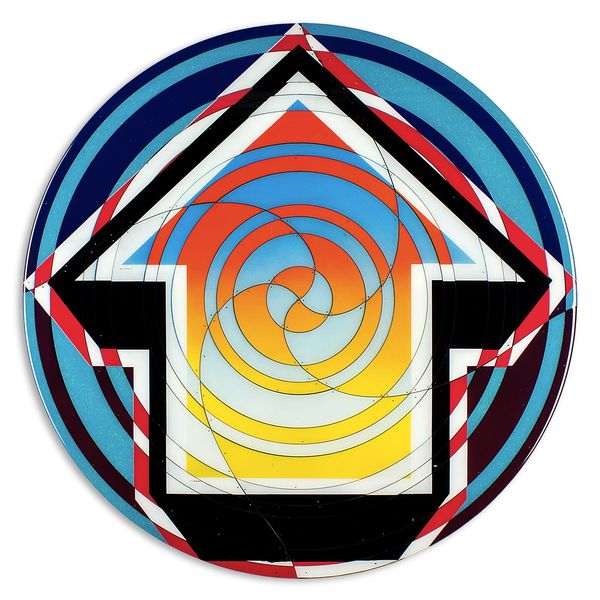 EVOL and Above
Born Tore Rinkveld, the Berlin-based artist EVOL is best known for transforming everyday features of our cityscape into miniature concrete tower blocks through the medium of paint. Inspired by architecture, namely the postwar socialist one of the former East Germany, the artist draws attention to the striking geometry of these buildings by creating extraordinary art onto their surfaces. He explores the inner workings of the city through his practice, presenting its familiar elements in a new light. Another Berlin-based artist, Tavar Zawacki aka Above is best known for his his multilayered, full-color social and political stencils, vibrant abstract arrow compositions, and large text-based painted murals. While his text-based artworks carry a strong political and social messages, his abstract pieces are a visual language of shape, color and form. His art can be seen in the streets of over 100 cities in 60 different countries around the world.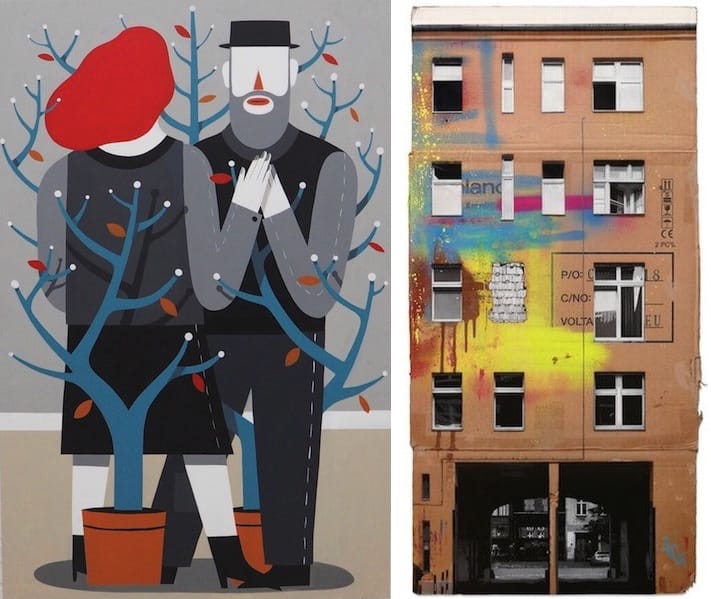 Julia Benz and Agostino Iacurci
The Italian artist Agostino Iacurci is best known for his distinctive style expressed through a consciously simplified artistic idiom. Characterized by bold lines and vivid color fields, his illustrative pictorial world features friendly and ingenious figures presented interacting with everyday objects in surreal settings. On the other hand, the work of Julia Benz reveals the underlying complexity of apparently trivial associations in the mind of the viewer. Playing with everyday elements, but also exotic ones, the artist creates color plays that convey emotions. For her, the color is not always beautiful, but it can also be aggressive. Characterized by intense contrasts, her paintings form a blend between figurative elements and abstract features.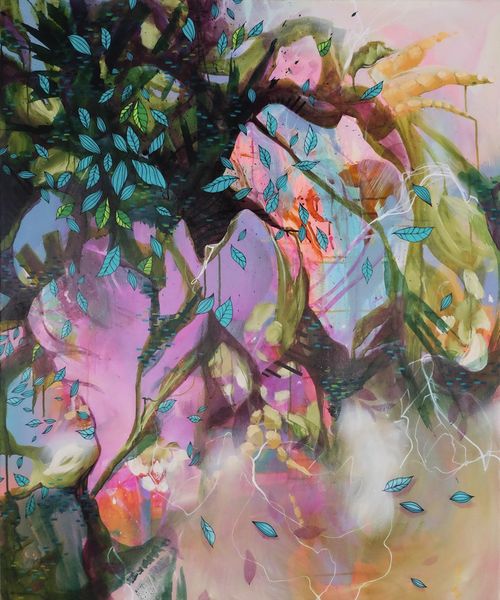 The Group Exhibition at Die Kunstagentin
The title of the exhibition also implies an anticipation of a possible reunion. After six years of prolific activity, Die Kunstagentin will leave the gallery space in Maastrichter Straße and continue its work in a different way. Changing the form, but not the essence, the gallery looks back onto its last eventful years with appreciation, sincerely declaring – Nice to Meet You Too! The exhibition Nice to Meet You Too! will be on view from August 12th until September 30th, 2017. The vernissage will be held on August 12th, from 7 to 10 p.m.
Featured image: Anne Scherer of Die Kunstagentin. All images courtesy of the gallery.