Madame Moustache made a name for herself by blurring the line between two seemingly irreconcilable art forms - graffiti and collage. The Paris-based artist uses a combination of found objects such as paper, wood and fabric and humorous statements, to create an array of colorful, youthful urban collages. Her outdoor paste-ups grace the walls of the City of Light and her studio pieces are quickly gaining the admiration of art lovers and art professionals around the globe. Recently, Madame Moustache's playful design and profound messages captured the attention of OPEN WALLS Gallery and this summer, the renowned art venue in Berlin will host a comprehensive Madame Moustache's solo show entitled Urban Zoo.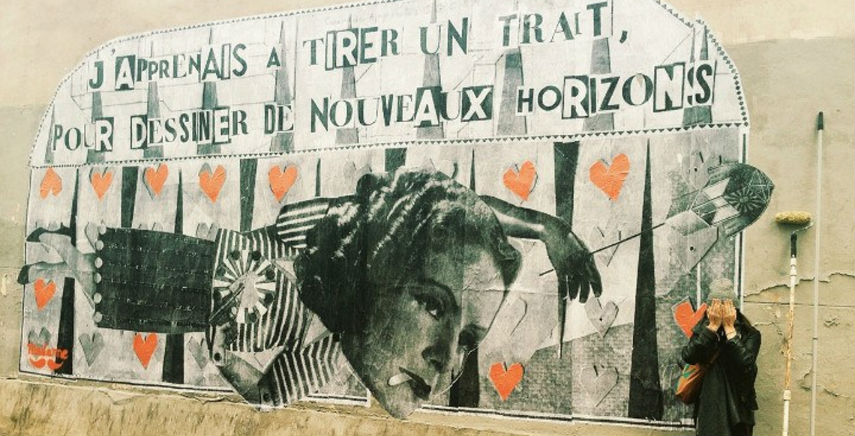 Urban Collages by Madame Moustache
The mysterious collage artist that creates under the alias Madame or Madame Moustache produces her works from an array of old, discarded materials like paper, cardboard, pictures, fabric, metal, and wood. Her creations are inspired by both the works of contemporary masters such as Frida Khalo, Diego Rivera, and Robert Frank, as well as by the artist's immediate surroundings, daily events, friends and family members. Madame Moustache starts her artistic process by creating small-scale collages from found components. Then she turns the small studio works into massive prints and finally gives them over to the street and the many facades in the French capital. In her works, Madame Moustache builds a fantasy world full of strange, but lovable characters – a world where fish-like cats, muscular housewives, and ladies with mustaches live in perfect harmony. Her collages closely resemble the design of the 1960s and 1970s commercials and posters and evoke the sense of nostalgia and ludicrousness.
Urban Collages by Madame Moustache
For her latest exhibition, Madame Moustache combined human and animal characteristics to design an unusual urban jungle. Her new, complex and amusing images are complemented with clever titles that refer to life in the community, outsiderness, and violence. With vibrant colors and uncanny sense of humor, Madame Moustache's new collages represent a clever critique of our contemporary society but also a reminder of the important values in life such as solidarity, empathy, love, compassion, and tolerance.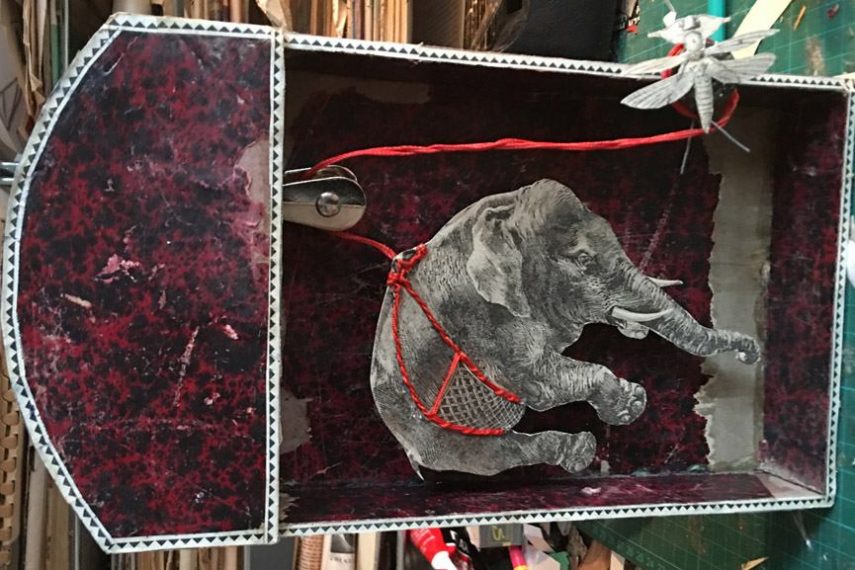 Visit the Urban Zoo
Urban Zoo, new exhibition of works by this talented collage artist will open on August 4th, 2016. The show will feature a selection of Madame Moustache's recognizable artworks including an array of her never-before-seen studio collages. The upcoming exhibition will be the artist's first solo show at  OPEN WALLS gallery. The viewers at the Berlin gallery will have the opportunity to visit this Urban Zoo and discover new, unusual creatures within until September 10th, 2016 when the collage exhibition closes.
Featured image : Madame Moustache - La Chasse, 2016; Images courtesy of OPEN WALLS Gallery