Marking several occasions, Openspace Gallery will present major artworks of urban contemporary artists from its collection including the works of artists represented by the gallery. The exhibition title Please Don't Touch emphasizes the tension inherent in contemporary urban art between its accessibility in urban spaces, and the general institutional removal of art from the direct touch of the viewer. It is a provocative gesture regarding the understanding and meaning of art in urban spaces and it frames the exhibition within the contemporary dialog on art production and consumption. The focus of the exhibition will be put on the collectors, with the aim to facilitate any buying decisions by displaying selected number of artworks. The exhibition will feature large scale canvases and sculptures.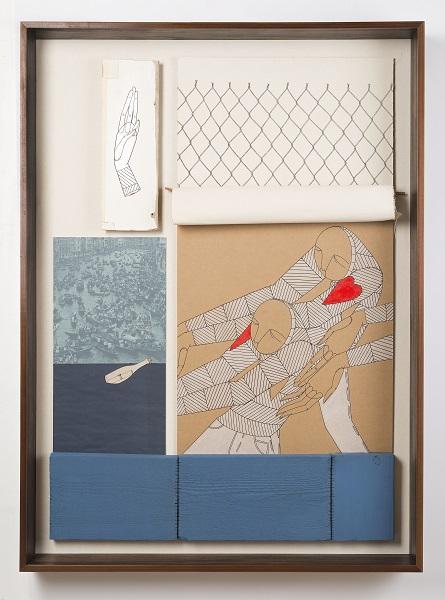 Urban Contemporary Artists Selection for Please Don't Touch
Artists represented by the gallery whose art will be shown include Augustine Kofie, Robert Proch, Nychos, Addam Yekutieli (Know Hope), Rafaël Gerlach (SatOne), Doze Green, Eric Lacan and Jana & Js. Os Gemeos' protégé, the Brazilian street artist Nunca, will also be present with his art work as well as some futurist pieces of Belgian artist Frederic Plateus. The exhibition will also be enriched by the selection from gallery's collection of artworks made by Roa, Mark Jenkins, Smash 137, Cleon Peterson, Boris Tellegen, Bom.K, and Parra. Many of these artists started on the street within the graffiti scene and moved forward to incorporate other artistic techniques such as collage, stencil work, sculpture and painting in their art. Graffiti and the background in urban street setting primed them to explore contemporary precarities and clashes between intimate and global experiences in art.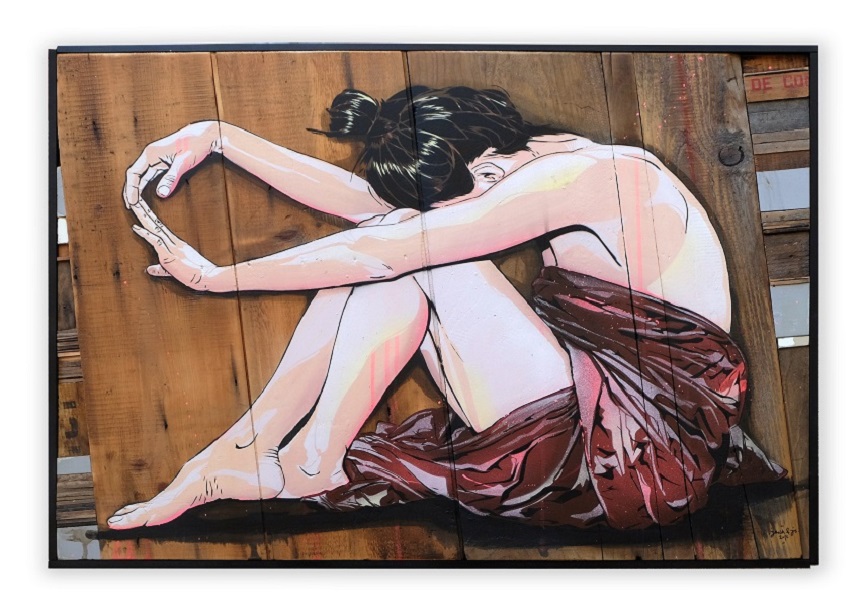 Bodily and Urban Experiences in Contemporary Urban Art at Openspace Gallery
A girl whose face is hidden painted on wooden planks, a contemporary work by artist duo Jana & Js, follows their series of stencils done in urban street environment where they engage with the surrounding space and ephemeral objects to create atmospheric representations of individual's intimate moments. The serenity of their art is in contrast with more macabre anatomical figures of Eric Lacan and Nychos whose see-through gaze discovers the underlying mechanisms of bodies, both human and animal. Lacan's chiaroscuro female head could be easily mistaken for some historical portrait if not for the partially showing skull and its cynical grin, while Nychos' outstanding technical skills in representing flayed animals equally testify to our fleeting existence often fraud with violence. Addam Yekutieli (Know Hope) explores more pressing and urgent topics of the everyday such as migrant crisis and national identity and with constrained and controlled approach very strongly comments on human suffering and idiocy of bordering practices. Augustine Kofie's aesthetic exploration of geometrical forms hints back at constructivists' and futurists' preoccupations with the speed and changes in urban setting. Opposing forces that shape our everyday are brought into aesthetically satisfying visual dialog in his art.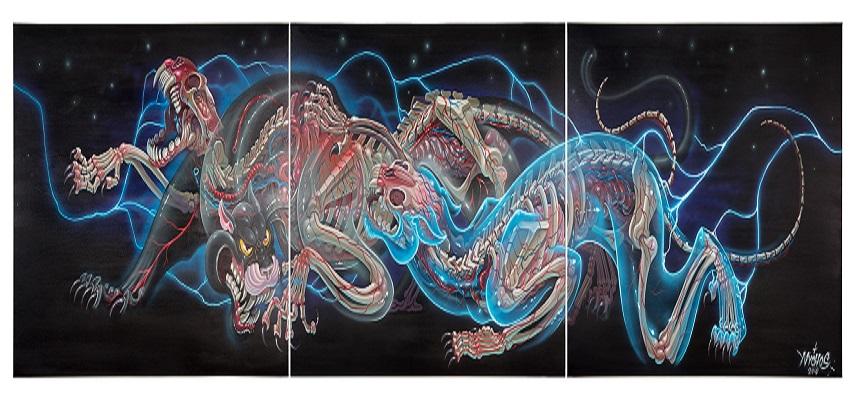 Supporting Urban Art from around the World
It has been a year since Openspace Gallery is working on new address, in Blvd Richard Lenoir. Please Don't Touch will mark this anniversary, but also the beginning of new season after the summer holidays. Exhibition of a group of contemporary urban artists continues the practice of the gallery to support and affirm new and established artists from around the world in France, and to give collectors an opportunity to browse and buy artworks of some of the most prominent urban art figures. The exhibition will run from September 10 to October 8, 2016.
Featured images: Eric Lacan - Inforgettable-forgotten; Augustine Kofie - Maroon Base. All images courtesy of Openspace Gallery