Nowadays, the terms of street and urban photography are often used interchangeably, both referring to the art of capturing cityscapes and people within them.
Yet, urban photography is still a neologism coined within the last decade and its place and role in the history of photography might be a bit perplexing and undefined.
Generally speaking, people understand when someone mentions street, documentary or portrait photography, while the term urban seems to be bound to a gray zone including only certain kinds of portraiture and city landscapes.
So, what do we actually mean when we talk about urban photography? Is it a legitimate subcategory of street photography or something more than that?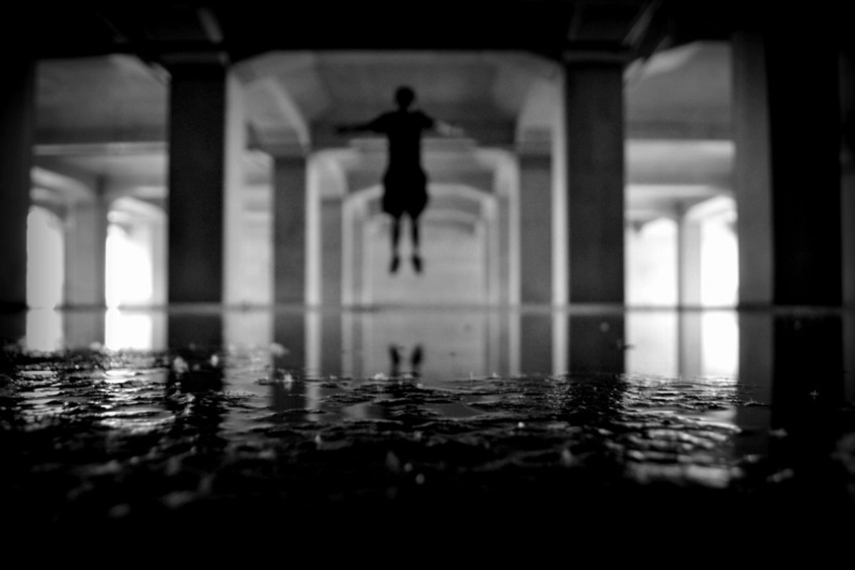 The Differences between Street and Urban Photography
Street photography is typically defined as taking pictures of various subjects within public cityscapes in a candid manner.[1] This approach was most prominent during the so-called golden period of photography, starting from the 1890s until the 1970s. During this era, high-quality portable cameras such as Leica were becoming more available and hence more popular, so photographers weren't confined anymore to their medium-format studio cameras. They could finally relax and get outdoors, where the whole new world was waiting to be discovered and photographed. The masterminds of golden era photography such as Henri Cartier-Bresson, Robert Frank, and Garry Winogrand captured prevalently images of people, while other famous artists including the legendary Brassaï, Lee Friedlander, and Eugene Atget focused on landscapes, with people almost completely absent in their pieces. This is where an initial dichotomy has occurred, which eventually lead to two different directions - new and traditional street photography. The new one moved toward capturing people in various situations and concentrated on specific people such as beggars and destitutes, but it started neglecting previously important aspects such as architectural details, the overall atmosphere and the power of surreal. It is the traditional street photography that evolved into what we call urban photography today. Similarly to old-school photographs (minus the strict candidness), urban imagery seeks to encapsulate not only people but also their surroundings. It seeks to tell stories, to carefully examine both people and landscapes and the way they are connected or perhaps disconnected – the latter being the more common scenario. Urban photography also offers a powerful commentary on contemporary life, in psychological, ecological and architectural sense. This is really important because roughly 50% of today's population lives in growing urban areas.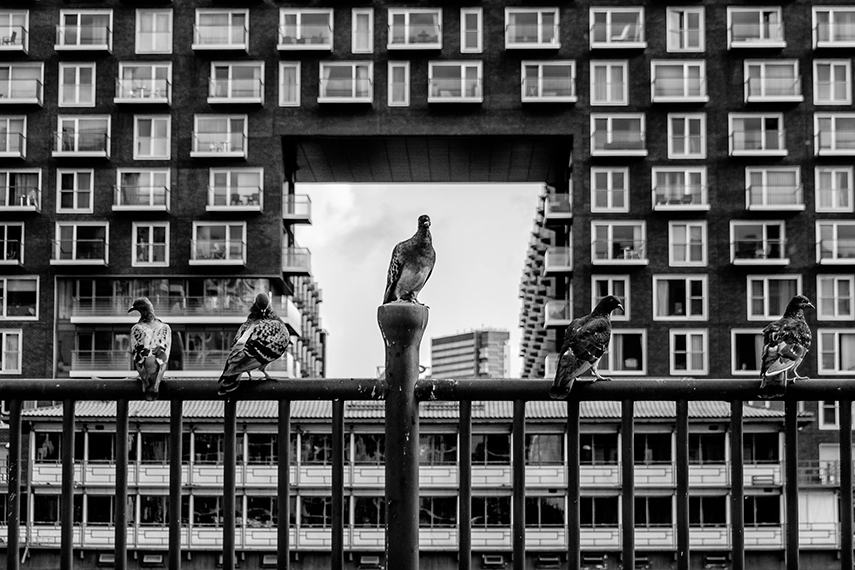 Aesthetics of Urban Geometry
The modern environment of a metropolis offers a whole lot of subjects and panoramic skylines to observe and photograph. It is possible to capture elements of the past and present in carefully composed scenes focusing on the interaction between architecture and people. The grayness of concrete fields, towering skyscrapers, and unavoidable urban decay have a lot of photographic potential because of their bold geometric structures. The allure of big cities is captured in cityscape and architectural photography – the former concentrates on framing the big picture, such as skylines and their silhouettes bordered by sky and sea, while the latter emphasizes the individual buildings and their details.[2] Many well-known cities across the world have vantage points on nearby hills or along rivers, but in order to capture something extraordinary it is usually better to stick around common alleys and learn to be a great observer. A good example of this approach is Gilad Benari's photograph entitled The Urban Legend. It is a fairly simple scene but thanks to the proper timing all the elements in motion have formed an interesting unity charged with metaphor and layered complexity. At the same time, this photograph relies on the principles of design such as alignment, balance and repetition, which are among crucial factors for the aesthetics of urban photography. An additional aspect to have in mind when shooting cities is certainly the time of day – both buildings and people take on a different look after dark. Many experienced photo-makers claim that the best period to take pictures is around 15 minutes after sunset, but late night images can also add a unique dimension to metrpolotan photography due to vibrant neon colors and bright trails caused by long exposures.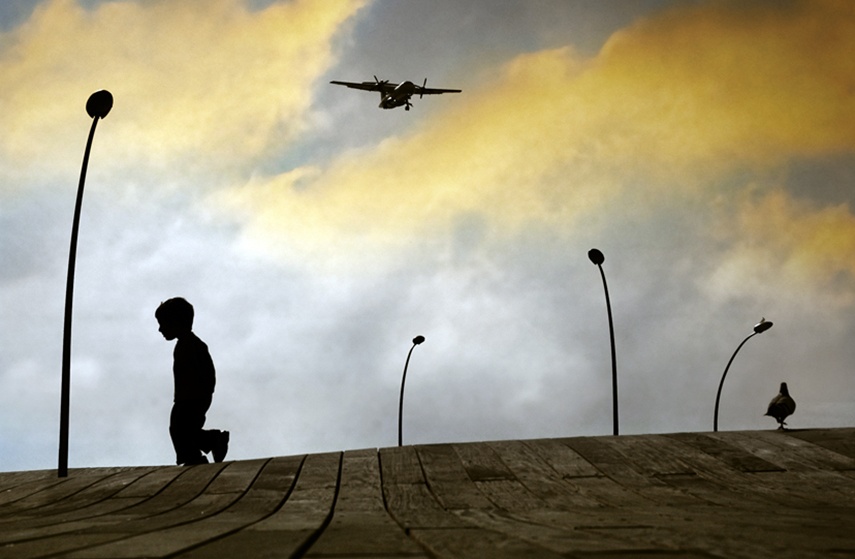 Portrait Photography in the City
Going decades back, street portraiture has been shot mainly with high-contrast black and white film. This created a certain dark mood that we often associate with traditional photography of the sort. However, a lot of things have changed in the meantime and cities around the world became dynamic and colorful backdrops for innovative portraits. Urban portrait photography and environmental portraiture started to flourish because image-takers realized that each modern city has its own flavor. Some cities are famous for their futuristic steel-and-glass towers, while others have a nostalgic yet warm look because the old-fashioned brick walls. Nevertheless, what's really important is how subjects interact with surrounding architecture. For a photographer, this means framing elements of a building with colors, lines, and shapes that complement or contrast the subject's clothes or personality.[3] This is true for both candid and posed urban imagery, which can be seen in Spencer Tunick's photograph of Europarking Building in Amsterdam. In fact, this image is a great representative of non-traditional, experimental urban photography merged with the concepts of installation. Even though the people are present in this photograph and carefully posed, we can't consider them the main subject. In Tunick's artworks, human bodies extend into the urban landscape and become abstractions which form a certain aesthetic relationship with their environment. This concept brings the relationship between portraiture and urban photography to the very extreme.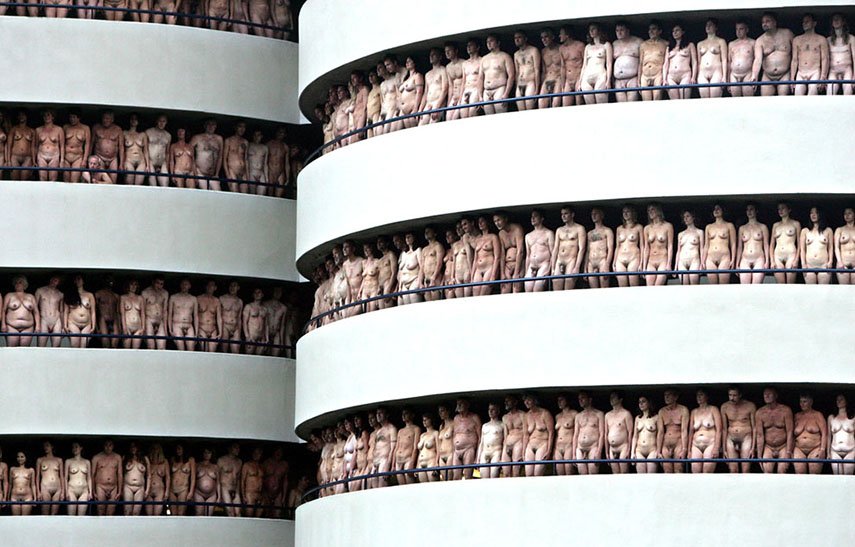 Capturing the City - Famous Urban Photographers
Over the years, the way urban photographers captured public space and those in it evolved alongside available technologies and followed the needs and trends of modern times. From the earliest snapshots of the impact of the Industrial Revolution in the 19th century and the Pictorialist poetry of cityscapes, to comprehensive documentations of struggling societies and photographs that celebrated the young Street art movement, these artists broadened their views of the world with every step of the way. With every candid shot, "decisive moment" and revealing portraits of both cities and their inhabitants, this genre of photographic art continues to expand the priceless visual archive it has been building since the advent of the medium and proves to us that there is always a new perspective on life around us the and a story yet to be told.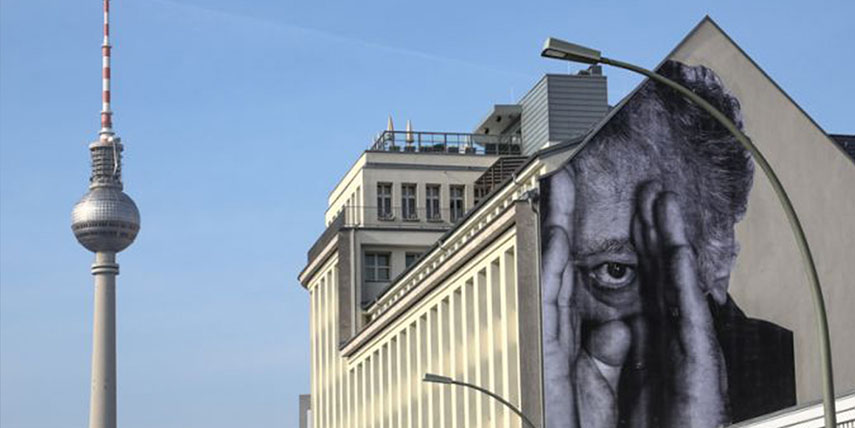 Eugène Atget
In 1898, a man who liked to call himself an "author-producer" rather than a photographer began documenting a vanishing metropolis. Over the next thirty years, Eugène Atget worked on his acclaimed "Vieux Paris" (Old Paris) series, featuring architecture and urban views in their last days before modernity and urbanization took over. In fact, these images of storefronts, shop windows, historic buildings, bridges and banks of the Seine, stairwells and apartments, all stand as a testimony of another period, of a moment in history we wouldn't have known and appreciated the way we do today otherwise. Eugène Atget did not see long enough to see the glorious success he became, but he's got Berenice Abbott to thank for rescuing and publishing his extraordinary photos.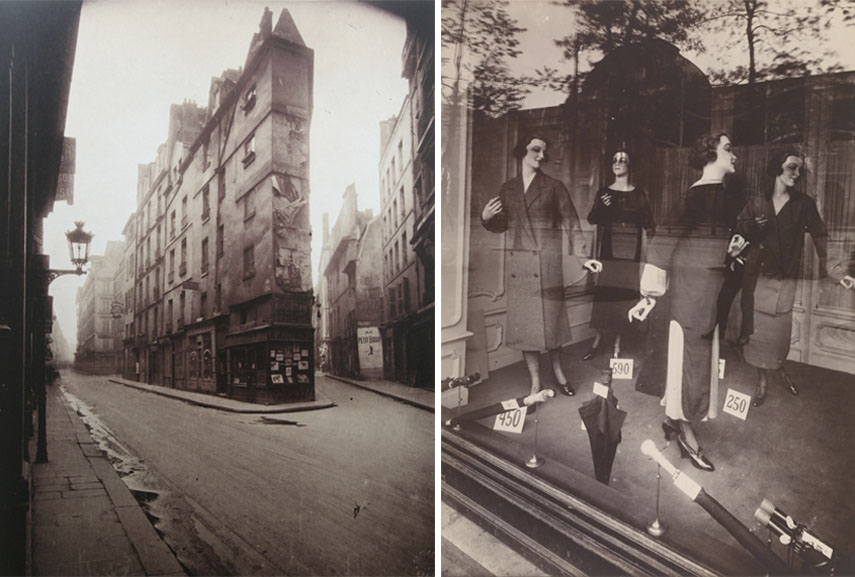 Edward Steichen
Although he was mainly a successful portraitist and fashion image-taker - most successful of his time - Edward Steichen also donned impressive pictures of urban landscape, inspired by the European influences like Rodin and Whistler and guided by the Pictorialist will to turn photography into art. But apart from creating imagery himself, Edward Steichen was also responsible for the development of this genre in the United States, having been in charge of two major exhibitions at the Museum of Modern Art in New York[4]. These shows featured photos by French artists Brassaï, Cartier-Bresson, Doisneau, Ronis and Izis and examined the gems of post-war photography, of which works created outdoors were a large part at that point.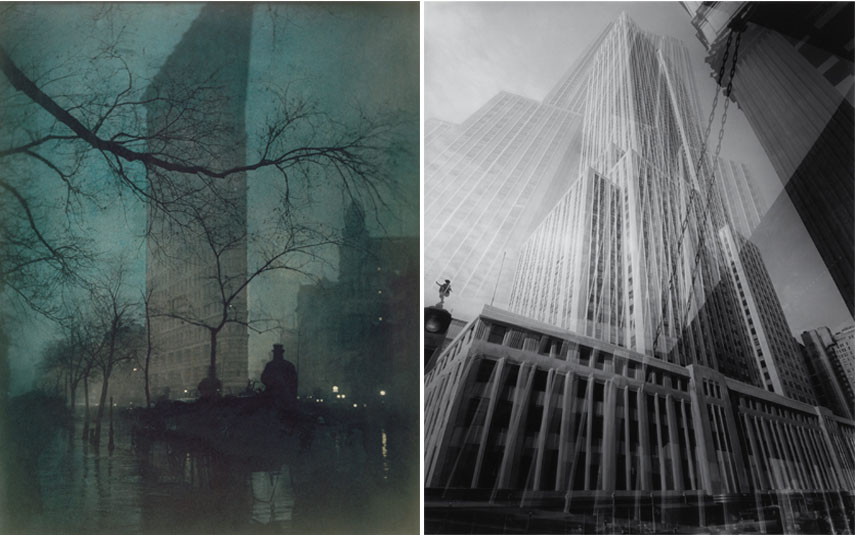 Robert Frank
Robert Frank's seminal 1958 book The Americans[5] stands as one of the most important projects of its kind, for which the artist traveled the United States to provide an outsider's view of its people. During the two years of road trips, he made some 28,000 shots, and although the book is noted for its haunting portraits, it also gives us an insight into the versatile urban and rural landscape of the country in an equally powerful manner. A witness to changing times, Robert Frank got the best of them with his camera, so accurately it feels as though we went on that trip with him. His is a groundbreaking achievement that showed a place of darkness and hope, changed the course of photography and set a very high standard that many still admire and respect.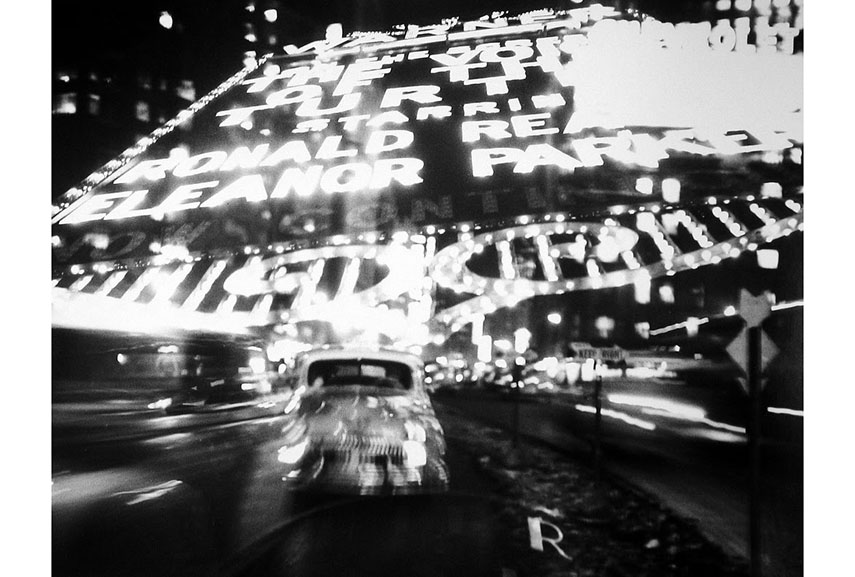 Henri Cartier-Bresson
He is not just a significant figure for street and urban photography, for the medium's history at large. Henri Cartier-Bresson is the father of the "decisive moment"[6], the idea carpe diem, or moment, of image-making. His originality and creative potential continues to amaze so many years after, because his eye for details and composition is still so undeniably relevant and without compromise. Henri Cartier-Bresson captured life on the run, as he spent most of it on the road with his 35mm film and a camera. He was ever-present and attentive, able to grasp the sprit of whichever country he was in, creating a global visual diary of the highest of quality. His pictures are the long-lasting legacy of artistic traditions and a spectacular safe-keeper of the fleeting moments in everyday life.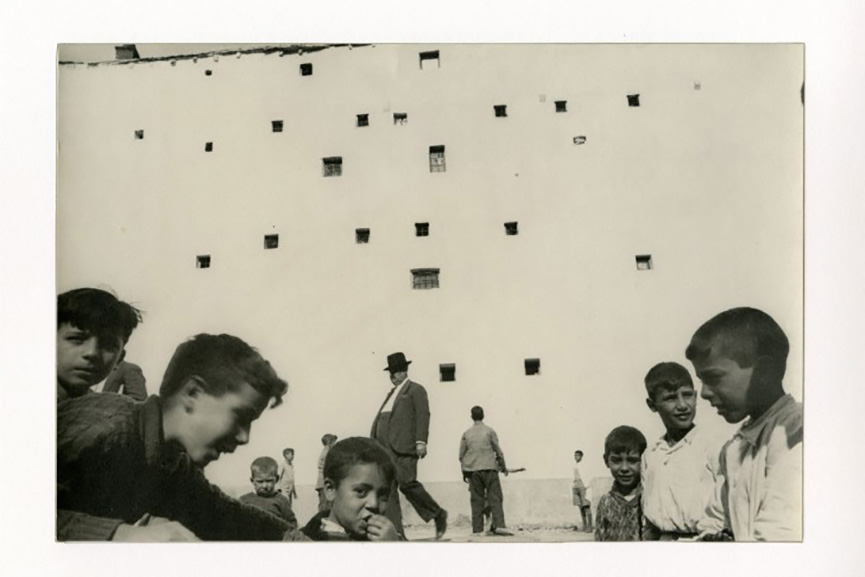 Daidō Moriyama
His images are grimy, brutal, yet poetic - in three words, they are "Are-Bure-Boke", to use the Japanese term describing a particular style of photography that became increasingly influential in the 1970s Japan and of which Daidō Moriyama is the master. Literally meaning "rough, blurred and out-of-focus", it perfectly fits for the imagery of post-war socio-political situation in the country that the artist managed to transmit so well. Daidō Moriyama was inspired by William Klein, another great urban photo-maker who used to dedicate entire volumes of books to individual cities. Moriyama followed a similar pattern with Tokyo, photographing every strata of society living there, in particular the lowest one, in a unique spirit that evokes a lively, unstaged, almost painfully realistic theater.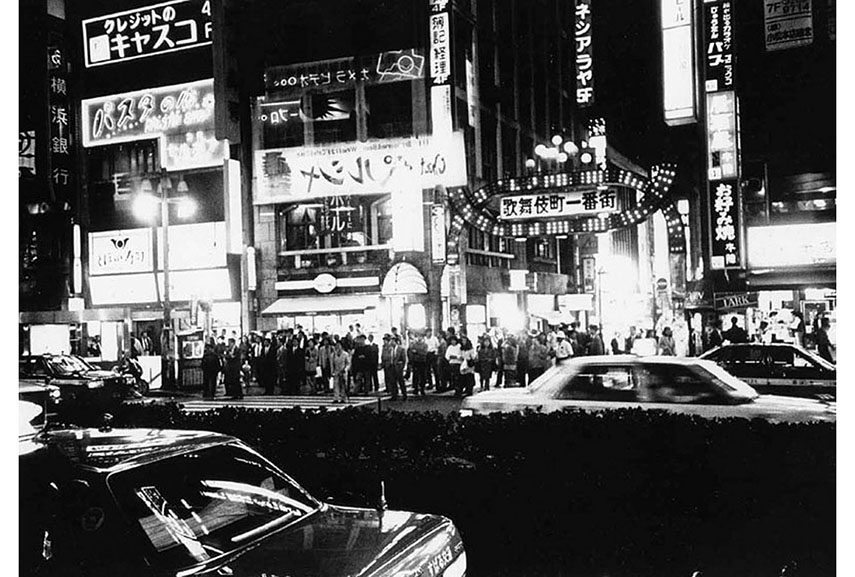 Joel Meyerowitz
Although photography has been produced in color almost as long as it was in black and white, shades of grey have always been dominant, especially in the world of photojournalism and documentary image-making of different kinds. But it all changed when Joel Meyerowitz started working with color in 1962, inspired by the aforementioned Robert Frank[7]. His pioneering use of hues as a powerful of expression of geometry and particular elements in architecture and landscape brought him a very fruitful, fifty years long artistic career and dozens of photobooks, important exhibitions and awards. "Photography takes place in a fraction of a second," Meyerowitz says. "There isn't a lot of time to think about things. You have to hone your instinct. You learn to hone that skill and timing so you're in the right place at the right time."
Joel Meyerowitz - Urban Photography of New York, 1981, video
Martha Cooper
A wanderer of the streets from an early age, Martha Cooper is an experienced photojournalist who was attracted to the illegality and the excitement of a young art movement just getting on its feet in New York - graffiti and urban art. Introduced to its members by a friend artist HE3, she began documenting traces of spraycans on the underground walls and train cars, this way "preserving" all the artworks in their natural state. Ever since the early 1980s. Martha Cooper has been on the job, creating a magnificent portfolio of images that are crucial for an art form as ephemeral as this one. She is an active defender of the movement's artistic concept and her work paved the way for many other artists involved with the movement.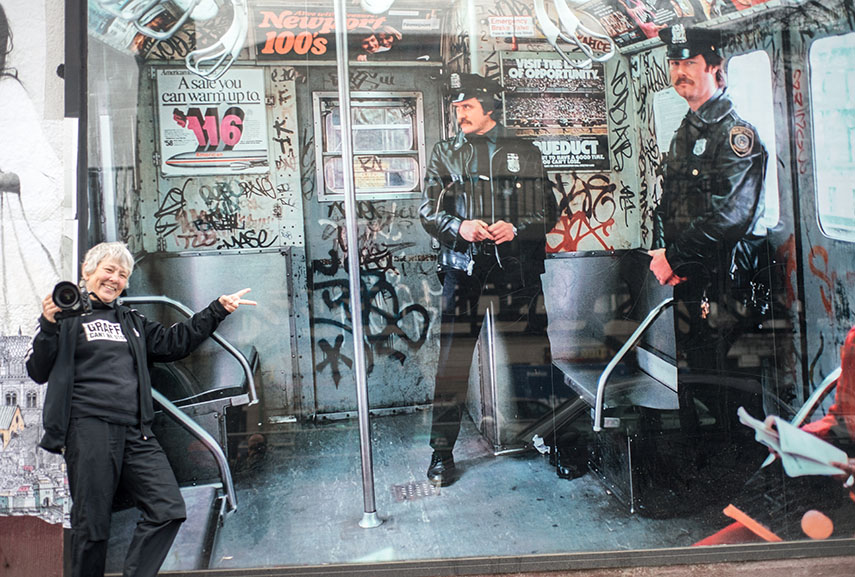 JR
His artworks are nothing less than monumental, both in size and meaning, and they have turned him into a versatile artist who, as the final act, takes pictures of his own photographic artworks in a public setting. The activist work of the beloved artist JR consists of many things, but the core of it is in the way he married the concept of printed photographs and landscape. In fact, his prints grace the streets, buildings, roofs and walls of many cities around the world, featuring the faces of people living in those communities, thus creating a beautiful direct link between the two. JR uses architecture as an element as significant as the imagery he produces for it, equally using the concepts of street art and photography to create a one-of-a-kind hybrid.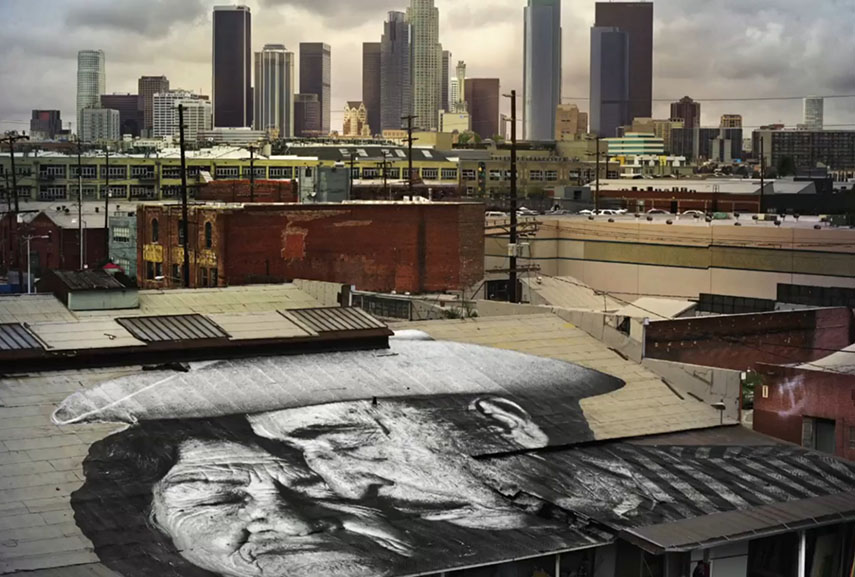 Nikola Tamindžić
Remember how Spencer Tunick photographs hundreds of naked people in cities? Nikola Tamindžić also found a clever way to incorporate portraiture into urban photography, by shooting pure, unadulterated humanity. His models are stripped down, and I don't mean of their clothes only, but also of any kind of judgement or prejudice, as they evoke desire, restraint, darkness and humor. They inhabit all kinds of exteriors and interiors, like the famous buildings of New York in Nikola Tamindžić's acclaimed book Fucking New York, in which fashion and erotic art seem to entwine for a stunning portfolio. Even his other works, which focus solely on urban landscape, ooze with a certain kind of modernity and nostalgia in one.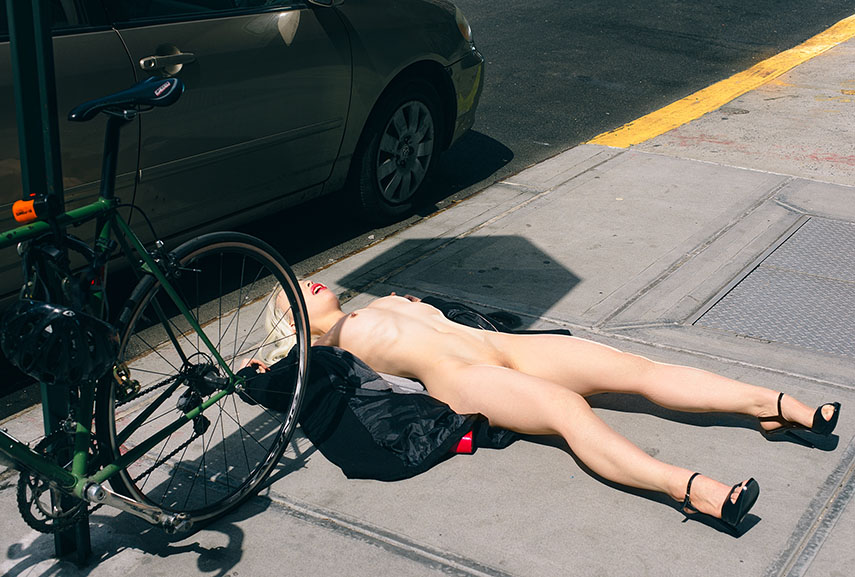 The Allure of Ever-Changing Cityscapes
In a nutshell, urban photography is more than typical street photography, because it includes everything that can be found within a modern city – architecture, decay, human subjects, various inanimate objects and all that is in between them - any kind of correlations, either figurative or abstract ones. Certain subcategories of socially engaged urban photography tend to be critical rather than simply consumable and they usually have a deeper meaning under the veil of appealing aesthetics. The best way to understand urban photography is to see it as a natural extension of street photography – lifestyle and culture are evolving across the world and the same is true for photography. What remains unchanged is the powerful symbiosis between us humans and cities we call our home. Despite the phenomena such as social alienation and regardless of the seemingly lifeless concrete jungles we have built around us, we are programmed to connect with our surroundings. The challenging task of urban photography is to document the surprising nature of these ever-changing modern connections.
 Editors' Tip: Street Photography Now
This comprehensive volume features forty-six contemporary image-makers who are noted for their candid depictions of life on the surface and in the subways, at shopping malls and movie theaters, on beaches and in parks. Included are luminaries such as Magnum members Bruce Gilden, Martin Parr, and Alex Webb (who are still "seeing what is invisible to others," as Robert Frank put it), along with an international group of emerging artists whose individual biographies illuminate the stories behind their pictures of New York, Tokyo, Delhi, or Dakar.
Written by Jacqueline Clyde and Angie Kordic.
References:
Davidson, C. (2012) What is Urban Photography?, Toronto Urban Photography Festival [August 19,2016]
Rowse, D. Photographing Urban Landscapes, Digital Photograpy School [August 19,2016]
Paxton, S. Urban Portrait Photography Tips and Tricks , Picture Correct [August 19,2016]
Anonymous, Edward Steichen, Museum of Modern Art [August 20, 2016]
Frank, R., Kerouac, J., The Americans, Steidl, 2008
Cartier-Bresson, H., The Decisive Moment, Steidl, 2015
Rawlings, N. (2012), Taking His Time: A Look Back at 50 Years of Joel Meyerowitz's Photographs, TIME [August 20, 2016]
Featured images in slider: Artworks by Joel Meyerowitz, William Eggleston, Henry Chalfant, Garry Winogrand, Brassai. All images used for illustrative purposes only.