The 44309 Street Art Gallery, located in Dortmund, Germany, has announced details of an exciting new group show that will feature screen printed works by a selection of European street artists. The Urban Pott group show will present the works of nine European street artists, bringing together a range of artistic styles and techniques through screen printed works. 44309 Street Art Gallery, which has a focus on graffiti, street, urban and contemporary art, has gathered together a selection of street artists from across different generations to offer an oversight of the whole creative spectrum of street art in Europe. Previous exhibitions held by 44309 Street Art Gallery include Night and Day by the renowned Mad C and Breaking Borders by Rodrigo Branco and L7m.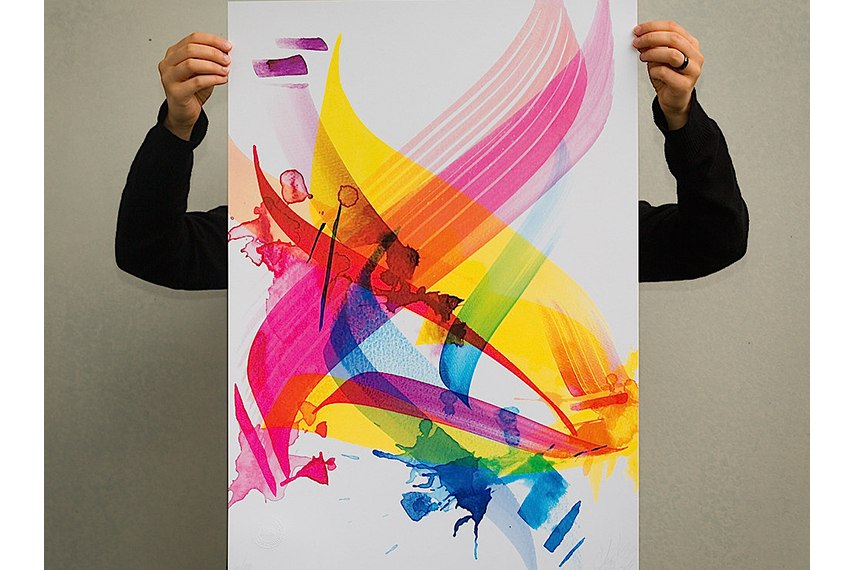 Screen Prints at 44309 Street Art Gallery
The Urban Pott group show at 44309 Street Art Gallery will be in the form of a street art print group show, with all the selected street artists presenting their works as screen prints. Each of the street artists exhibiting has their own distinct styles when it comes to street art, from stencil to graffiti art and beyond. By uniting them in a print group show, it offers the chance to see how the street artists can experiment with their techniques and imagery within the medium of screen printing. The Urban Pott group show will also be uniting street artists from different generations under one gallery roof, including legends of the street art scene up against some of the young upstarts from the current street art world. You may enjoy exploring the history of graffiti and street art in Graffiti Hits the 21st Century and 20th Century & the Rise of Graffiti.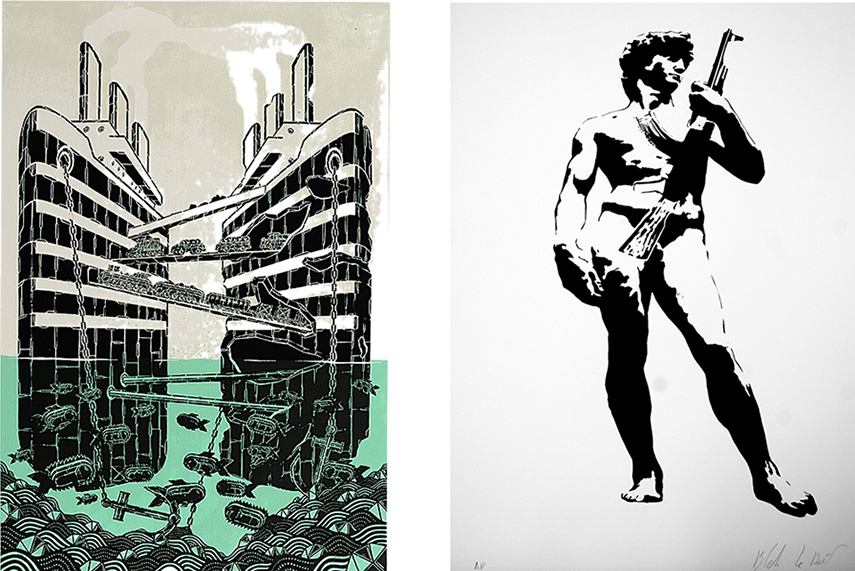 Street Artists at Urban Pott
One of the legends of street art and the father of stencil art, Blek le Rat is one the older generation street artists to be exhibiting in the Urban Pott group show at 44309 Street Art Gallery. Considered to be one of the first artists to create street art with stencils and to be an influence of Banksy, Blek le Rat has been creating street art since 1981 and will have a number of his iconic images on show at Urban Pott, including David with AK-47, His Master is Voiceless and Diana in Paradise. Charles Uzzell-Edwards, better known in the street art world as Pure Evil, also known for stencil work, will have two works on show at the Urban Pott group show, one of which is inspired by Jean-Michel Basquiat.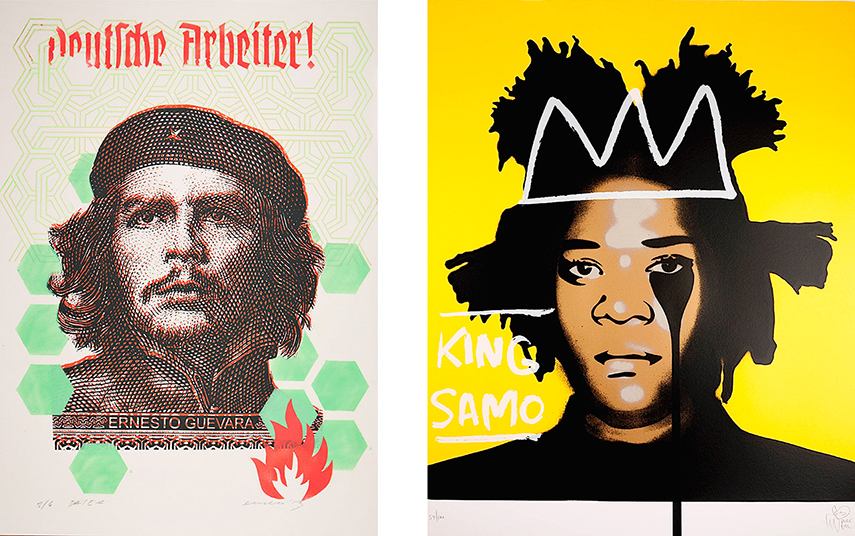 Street Art in Europe
The remaining street artists offer a broad selection of contemporary street art styles from across Europe to challenge the masters. Mad C is prominent in the current street art scene and Urban Pott will present prints by the German street artist demonstrating her love of lines, letters and graphic compositions. Also from Germany will be Doppeldenk, with their graphic design inspired computerised images and Emess with politically inclined images. Polish street art M-City is also exhibiting, including his Traffic Design image first created on the wall of a house in 2012, but presented on paper in Urban Pott. Also exhibiting will be Italian street artist Alice and the Dutch duo of Telmo & Miel.
Full list of street artists exhibiting: Pure Evil (UK), Blek le Rat (France), Mad C (Germany), Doppeldenk (Germany), Telmo & Miel (Netherlands), Emess (Germany), M-City (Poland) and Alice (Italy).
The Urban Pott group show at 44309 Street Art Gallery opens on 6th April, 2015 at 3pm, during which Blek le Rat will paint live, creating one of his life size stencils.
For all the latest exhibition news sign up to My Widewalls today!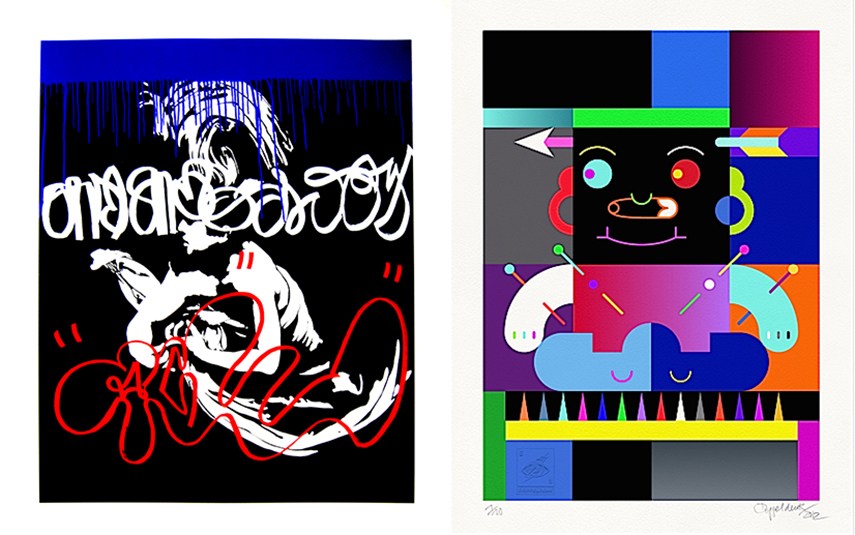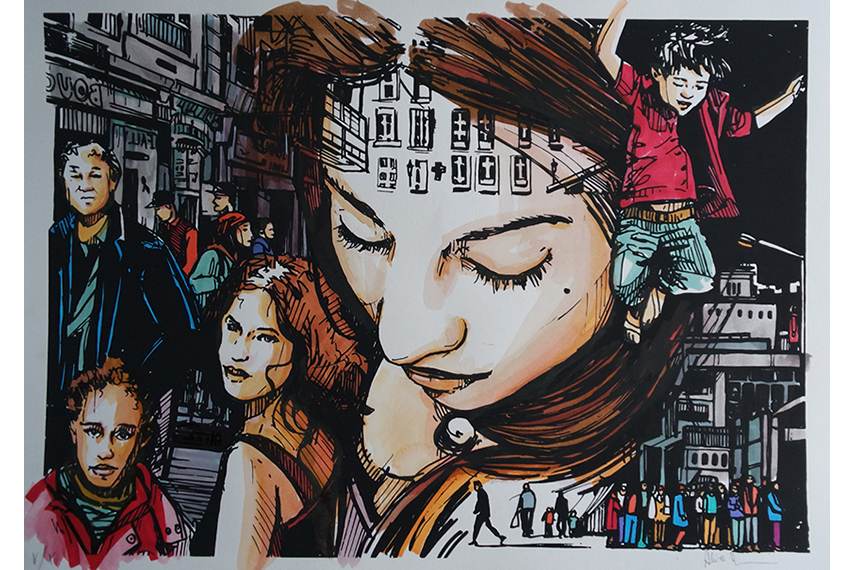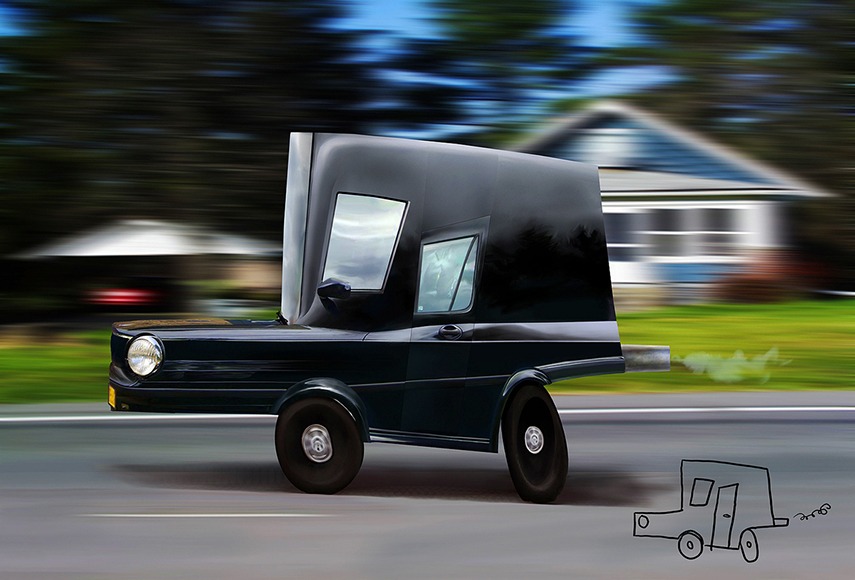 All images courtesy of 44309 Street Art Gallery.