At the very first edition of Urban Art Fair, which will have artists, collectors, gallerists and fans flock to Paris this weekend, Urban Spree and artist Above are preparing quite a treat. Just two days ahead of the opening of an event that promises to be seminal for one of the most important art movements of our time and will bring together some 30 international spaces specialising in urban art, we've had a chance to catch up with our Berlin friends and get an exclusive sneak peek of the four brand new canvases that the artist has created especially for the gallery's presentation in the Frensch capital, along with the works of six other prominent names from the field!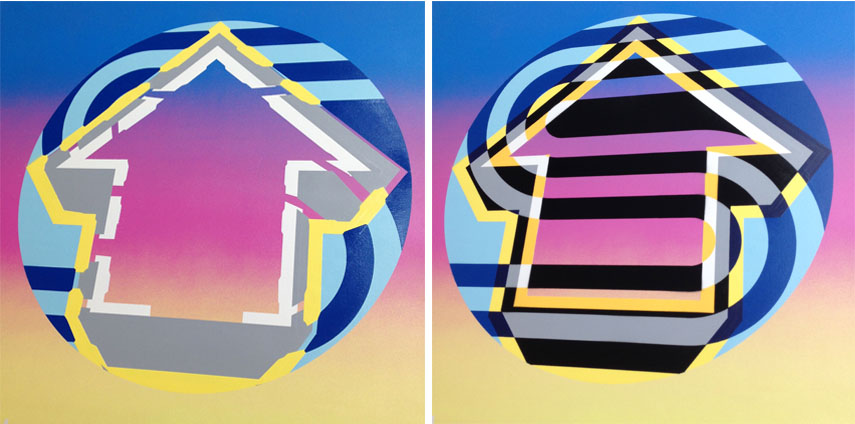 Above and his New Arrows
Known for a distinguished practice that's been tackling the topics of socio-political issues of contemporary society through the means of stencil art and murals for over twenty years now, Above is one of the pivotal figures of the international street art scene today. His instantly recognizable signature arrow pointing up became a recurring symbol of his abstract and vivid visual language, which he uses to speak up from walls all around the world. Being caught in perpetual evolution, Above's favourite typographic mark never ceases to absorb new shapes, colors, meanings and representations, while making up enormous, mesmerising murals and hypnotic canvases.
Speaking of canvases, Above has been busy creating four new artworks for the occasion of Urban Art Fair in Paris, as a proud representative of Urban Spree Galerie Berlin. You'll guess, it's all about arrows, once again. "During the past months, my studio works have been progressing towards a direction of more abstract forms based on my iconic arrow symbol. The arrow has a multitude of different shapes that collectively create the shape of the arrow. I've selected different sections of it and transformed them into new and different compositions," the artist said of his work. Created with stencils and acrylic paint, the paintings are all about the symmetry and balance of his mark. "The canvas titled, 'Balance' has a nice fusion of the intersecting lines of each arrow. 'Kaleidoscope' canvas' has a balance of curved symmetry, while the arrow icon appears to be somewhat erratic. The four canvases I've painted for this exhibition illustrate well the goals I was aiming to achieve for these designs."
After the showcase at Urban Art Fair in Paris, Above will attend to his busy schedule in the upcoming period, which includes a project for Art Basel in Basel, a solo exhibition in New York City, as well as numerous mural paintings in the United States in late June and early July 2016.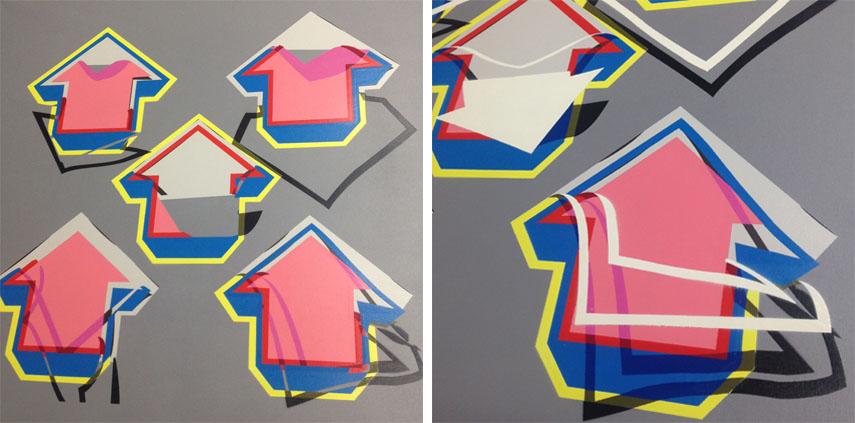 The Artists of Urban Spree Galerie
One of the most important galleries dedicated to street art in Berlin and beyond, Urban Spree dedicated its 1700-square-meters of exhibition space and artist studios to fostering creation in the field. Present on the ever-flourishing and eclectic art scene of the German capital since 2012, the galerie is home to a number of our favourite creatives, most of whom are based in the city. In Paris, fairgoers will have the opportunity to enjoy abstract graffiti works of artists like Kid Cash and Mik Shida, the imaginary landscapes of Hendrik Czakainski, video game-based art of Mafia Tabak, the iconic murals of TWOONE and the portraits of Joshua Smith.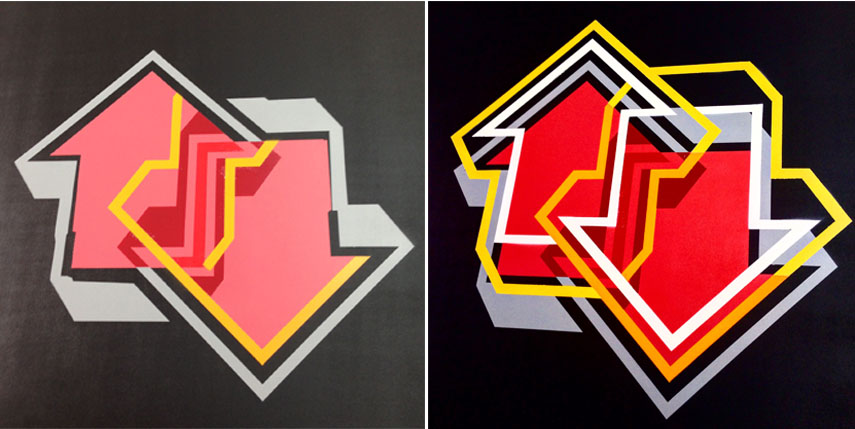 Celebrating Urban Art Fair Paris
Between April 22 and 24, 2016, the first fair dedicated to urban art will be the very hotspot for anyone interested in a showcase of the very best artworks today and a series of talks and events not to be missed. When in Paris, make sure you stop by the booth of Urban Spree to check out Above's new canvases. While there, don't miss Hendrik Czakainski's sculpture located in the public area of the hosting venue, Le Carreau du Temple!
Featured images courtesy of Above and Urban Spree.