Just when you thought that Berlin couldn't get any cooler than it already is, one of its most prominent art spaces is introducing yet another exciting format. The first Urban Spree Art Residency is already underway and it represents a brand new way of experiencing artworks, as it provides the public with an opportunity to witness the creative process in person from the beginning. Anyone interested to get inside the mind of an artist can now observe them work and engage with their pieces even in their absence, thus fostering an inverted, yet dynamic approach which goes both ways. Renowned artists from around the world will have the chance to turn the spaces at Urban Spree into their studio, for an experience which will culminate in an exhibition of artwork produced during the Art Residency.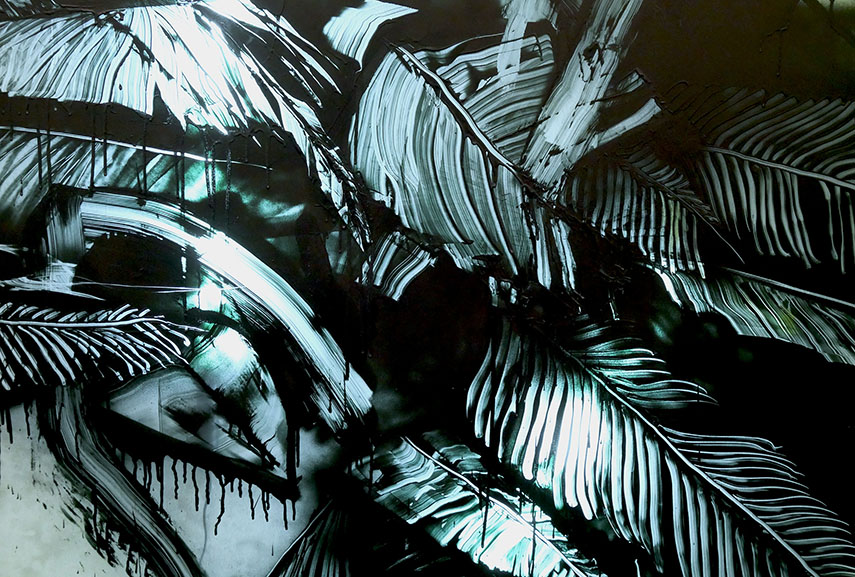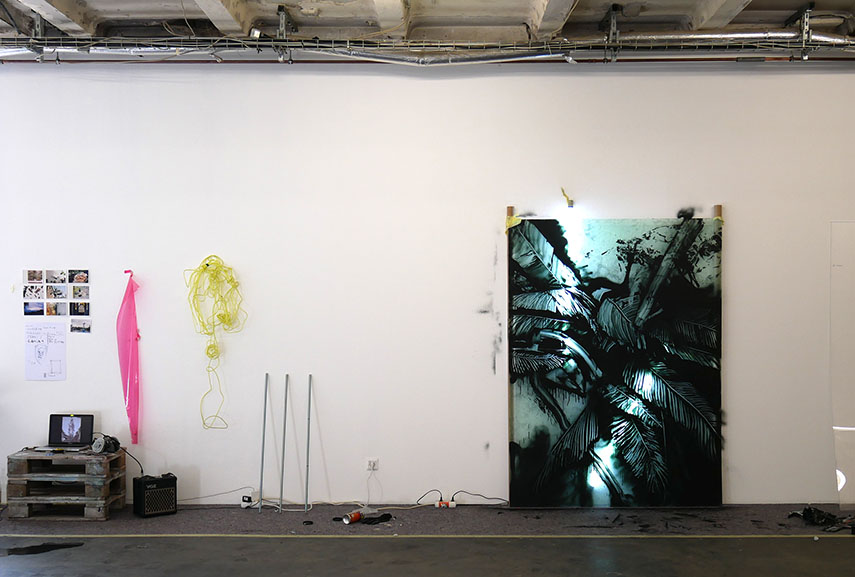 TWOONE - The First Art Residency at Urban Spree Berlin 2016
The first to embark on the Urban Spree Art Residency journey is TWOONE, aka Hiroyasu Tsuri, a Japanese-born Berlin-based creative who has been painting at the gallery since July 6th. Previously a part of numerous group shows which took place there, he's never done something inside their space. During the three weeks he will be spending there, the talented artist will create a series of site-specific artworks presented at the Opening of his solo show on July 23rd, 2016, which will officially mark the end of his residency. Painting both outdoors and indoors, TWOONE will form a bond between the two spaces through the connection between the artworks themselves, which will traditionally draw inspiration from nature, animals, abstract shapes and color. His inspiration, he says, comes from the old Urban Spree warehouse, which allows him to create big, and bold. "I have been creating some big body gestural paintings, which I think are inspired by rough but beautiful street view of Berlin - composed by big concrete building, overgrown parks and garden, DIY shop front, and shitload of graffiti, and street posters. I'm using the photos that I took in Berlin as a reference," said TWOONE.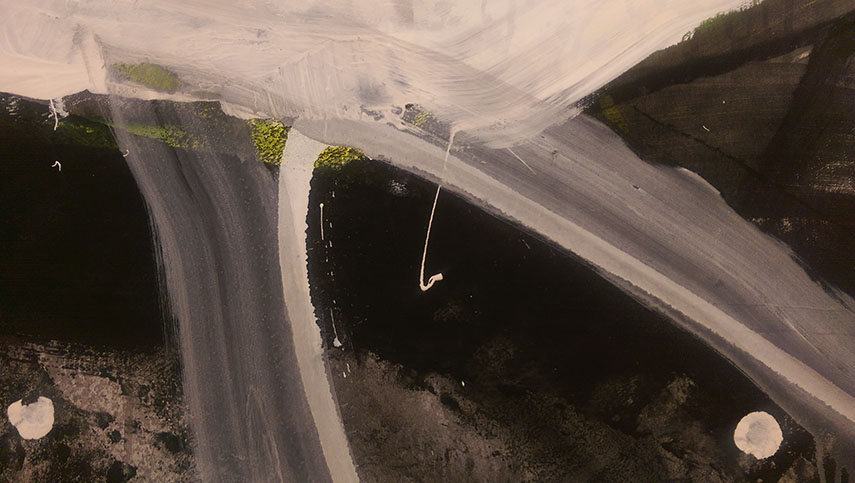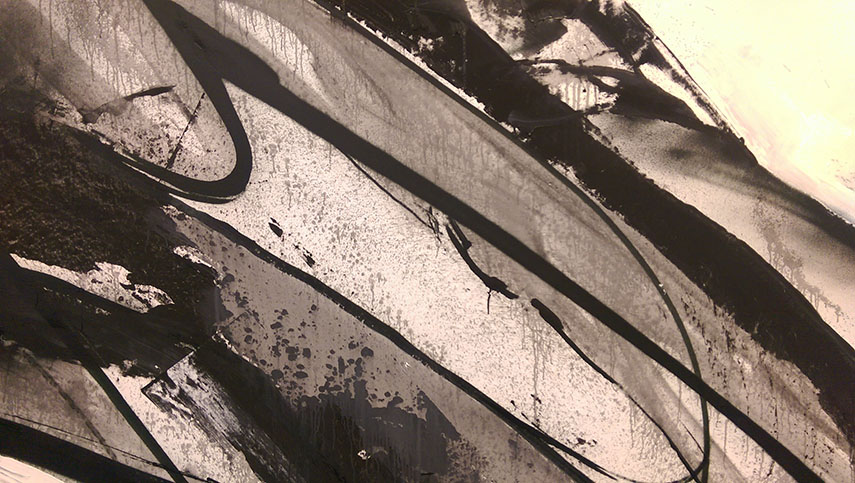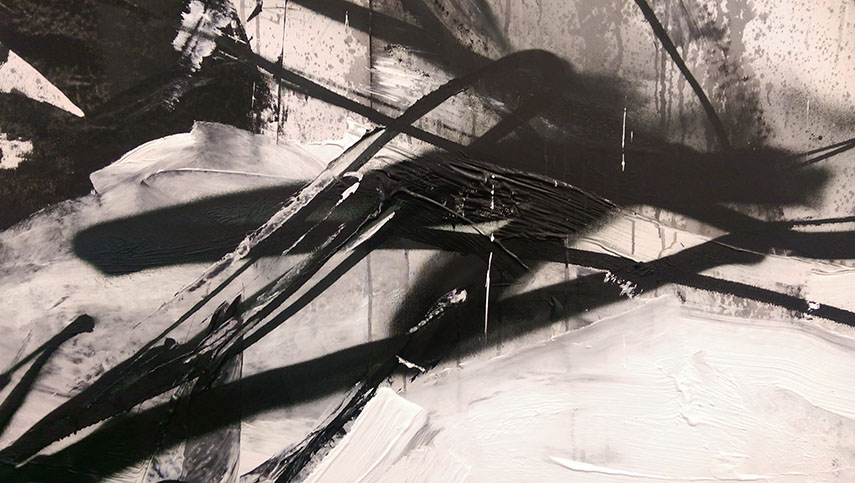 Working in Front of an Audience
What makes the Urban Spree Art Residency so promising and intriguing already is the fact that the audience can be a part of the creative process in a quite direct way. For an artist, this can create a certain kind of pressure. For TWOONE, that pressure is a positive one. "When I'm working I just focus on my painting. I put out the fact that other people are watching, but the pressure is still there, so sometimes it gives me good mental tension." An experienced mural painter, TWOONE certainly is used to being observed while working, although he wasn't always comfortable with that. However, he decided to put that to good use and to use that energy to improve his painting. "When you don't move or paint confidently in this process, that's when you feel more uncomfortable, as you are exposing your weak part (in your head), and resulting in weak painting too. This is visible to me, when I see some painting, of graffiti which are painted with high energy body movement, with bold decision. It makes strong mark, strong painting. I like that type of work. Painting in front of audience is good training to push this side, so working in front of public could put a good kind of pressure."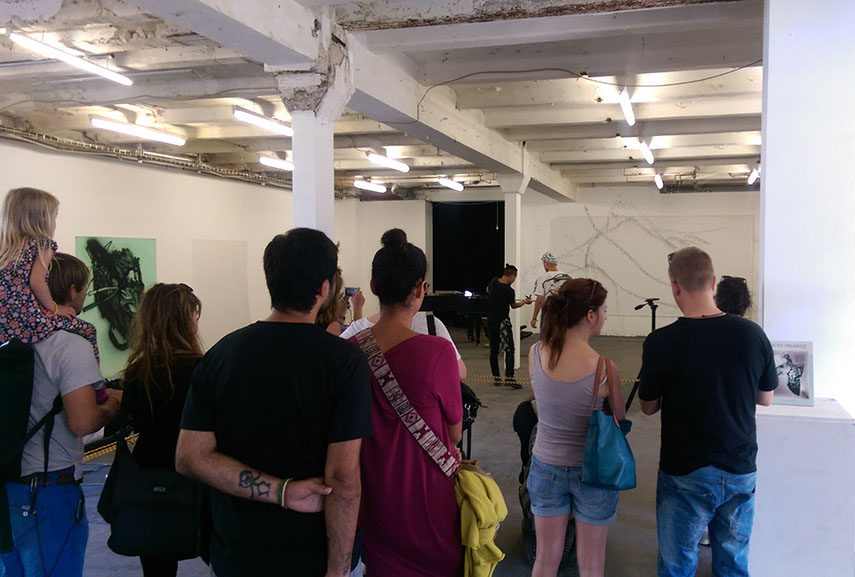 Painting with Jun Inoue
Over the weekend of July 9th and 10th, TWOONE had also welcomed a guest painter, Jun Inoue. Together, they made two large canvases, 4.5 x 2.1 meters in size, as a result of an intense, dynamic body movement in painting that both artists appreciate very much. TWOONE and Jun Inoue go back a long way, as they had become friends at the time TWOONE lived in Japan and they've painted together before. About his colleague, TWOONE says: "I enjoy painting with him, as he is the master of dynamic body movement in painting and I thought it will set a good energy to start this residency. We finished the first painting in 3 hours, because when Jun paints, it is full performance, but he is very focused." Their joint project was caught on video the second day at Urban Spree, which you can check out below.
TWOONE and Jun Inoue at Urban Spree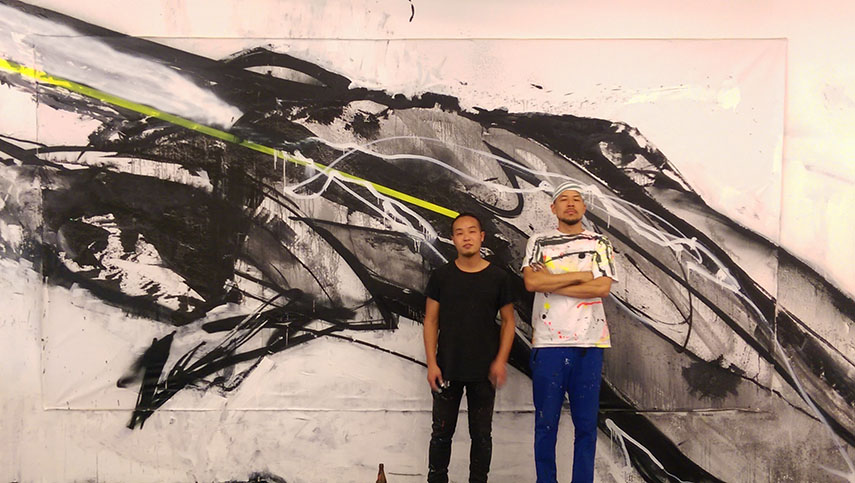 What to Expect in the Exhibition?
TWOONE's residency at Urban Spree will end with an exhibition opening on July 23rd, 2016 at 7pm, but make sure you be there then, as the show will only stay open through July 24th, 2016. Of course, you can always stop by the gallery to see him paint in person! So far, the artist has created two plastic glass paintings, size 2.5m x 1.6 meters, based on ferns from Berlin gardens. With ten meters of canvas still standing blank, he will rely on his usual ideas and distinct style to finish the experiment the best possible way. By the end of his stay, he will also play around with some Neon light that he found in Urban Spree's basement and perhaps he will welcome some more guests for a collaboration. In any case, it will be quite a treat to see the final fruit of his interesting endeavor…
Featured images in slider taken by Christiania Krueger. All images courtesy Urban Spree Berlin.