We've said it before and we'll say it again - the urban art movement surely is becoming a force to be reckoned with in the world of contemporary arts. During the Madrid Art Week in the Spanish capital, we will be able to enjoy another festival dedicated to the art and artists in the field, thanks to the very first edition of Urvanity. Taking place this February, this New Contemporary Art Fair is bringing together 17 international exhibitors and will showcase some of our favorite names like Banksy, D*Face, Jef Aérosol and Moses & Taps. The debuting edition of Urvanity definitely promises to be nothing short of spectacular, so let us see what we should expect at the Neptuno Palace.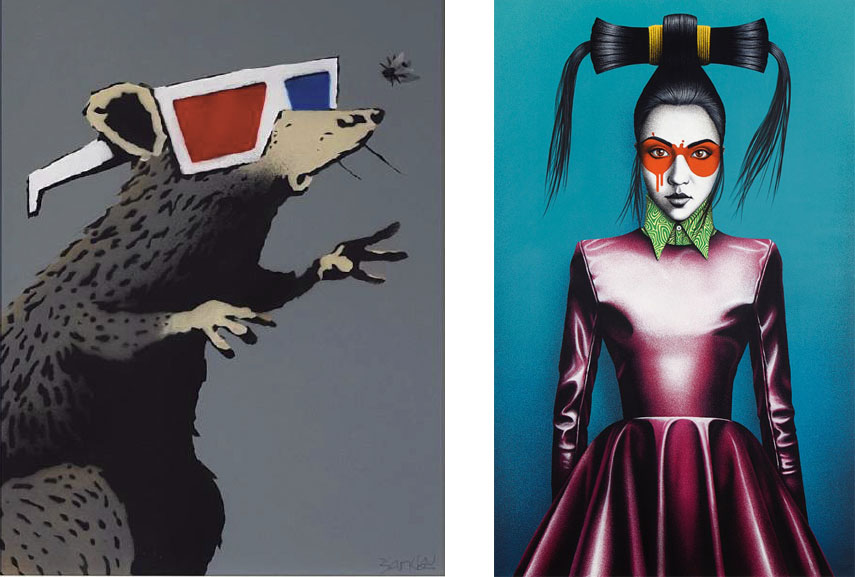 Participating Galleries and Artists
Some of the world's most renowned art spaces will be coming to Madrid's Urvanity to showcase the very best of what they have to offer. Among the distinguished names, we have D*Face, represented by the famous Stolen Space gallery from London, UK, along with Gary Stranger, Felipe Pantone and Jason Woodside. At Kolly Gallery's booth, we can find the abstract-expressionist works by JonOne, alongside those by Tilt and Moses & Taps. Belgian Gallery Martine Ehmer is bringing Jef Aérosol, with whom we've recently had the pleasure of talking, while Pretty Portal Düsseldorf will bring the "urban aesthetic" of Fin DAC. Our friends at OPEN WALLS Gallery have once again prepared the captivating works by Jordan Seiler, Vermibus and OX.  Fousion Gallery will bring great pop surrealist artists such as Bruno Pontiroli, Peca or Juan José Surace and also some works of the amazing Miss Van.
List of Participants
Celebrating Urban Art
The incredible Neptuno Palace, one of the most important and exclusive venues for events in Madrid, is also ready to host Art Areté gallery , who are bringing artist Suso33 and Sixe Paredes, as well as other international participants such as Andenken Gallery Amsterdam, with Drew Leshko, Evan Hecox, Mando, Jaime Molina and Adrian Landon Brooks; PDP Gallery from Paris, with Mesa, Renk, Mohammed LGhacham and Íñigo Sesma; Station 16 from Montreal with Logan Hicks, Ricardo Cavolo, Laurence Vallières and Stikki Peaches; The Don Gallery from Milan with Solomostry, Bo130 and Doze Green, and Urban Art Gallery Stuttgart with Marc C. Woehr. A special mention goes to Vroom & Varoussieau from Amsterdam, which will host a solo show by Banksy, with six works by this legendary artist. The Spanish galleries are Fousion Gallery (Barcelona),Swinton & Grant (Madrid), Montana Gallery (Barcelona), Mambo (Vigo) and Plastic Murs (Valencia).
Location of Urvanity Madrid
Urvanity Madrid - Practical Information
Urvanity, the International New Contemporary Art Fair, will be held from February 23rd through 26th, 2017 at Neptuno Palace in Madrid, Spain. The preview for collectors and press is scheduled for February 23rd, from 6pm to 9pm. A private vernissage is set for 9pm. Fair hours will be 4pm to 12am on February 24th, 12pm to 10pm February 25th, and 11am to 7pm February 26th. Admission is free for ARCO VIP Cardholders, while general ticket is 10€ at the event box office, 8€ online. For more information, please visit the official website.
Featured images: Logan Hicks - BELLA FLORCHI, detail, courtesy Station 16 Gallery; Jon One - Renaissance, courtesy Kolly Gallery; Jef Aérosol - father and son, courtesy Galerie Martine Ehmer; D*FACE, courtesy Stolen Space London. All images courtesy Urvanity.