Speaking of calligraphy of the Far East, it's easy to imagine a Buddhist monk engaging in creation of ethereally beautiful letters, as a segment of his way towards enlightenment. Aware of the aesthetical value, but preoccupied with concealed meanings and symbolism of a sign or a word, the monk is led by his mind's eye, the inner vision guiding him forward on his creative journey. A group of Japanese artists follows the same approach, uncovering layers of history and philosophy within their ornamental artwork. They are named Shinganists, led by Usugrow, the contemporary calligrapher. Shingan, meaning mind's eye in Japanese, is the key concept of the group, suggesting their creativity comes from within, rather than being directly influenced by surroundings. Believing in the philosophy of the innate and the inherent, these artists form a coherent circle.

Usugrow The Calligrapher
Having been drawing all of his life, Usugrow emerged as an artist in the 1993, when he began designing flyers for underground punk and hardcore bands. Influence of traditional lettering combined with modern symbology, inevitable macabre elements and the hints of pop, was what set his designs apart from the rest, launching the artist into more and more design endeavors. Soon, he was creating album covers and various merchandise for the musicians of every genre, collaborating with skateboard and streetwear companies as well. Still, as the ink was flowing onto the paper, Usugrow could not resist the urge to create something less commercial and more sublime. His unique art became of prime importance and resulted with numerous shows he had since 2005. His artistic activities included book projects with Japanese artists, and a recent issue of his first comprehensive monograph called Works 2007-2013.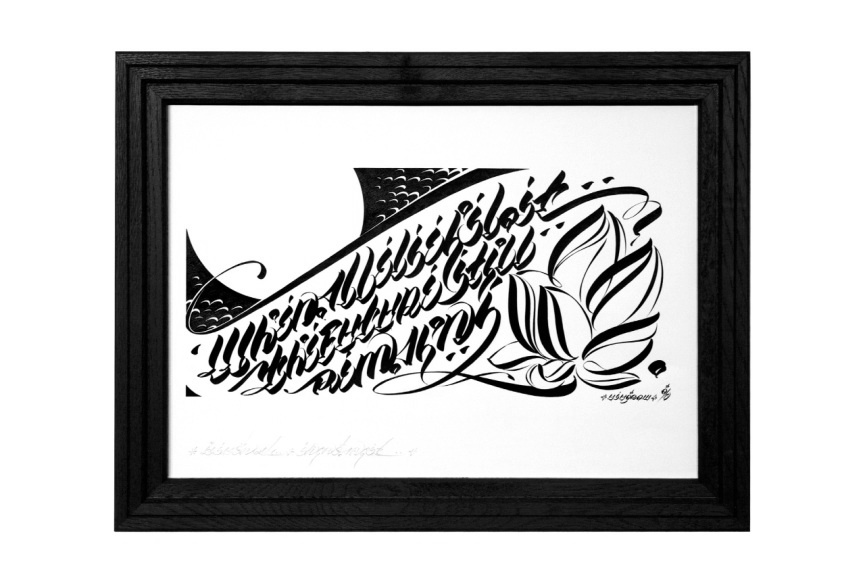 Inkflow - The Philosophically Graphic Stream
After a break of seven years, Usugrow came back to FiftySF Gallery, with a new series of ink drawings and prints, presented in an exhibition entitled Inkflow. True to his own originality, the artist presents artwork infused with various influences, featuring unequivocally Japanese approach to ink. Symbols, though, come from the marriage of the East and the West, evidently influenced by Los Angeles 'Cholo' style of graffiti, where Usugrow's famous skulls retain their prominent position, incorporated in most compositions. Interesting are the works featuring overtly Buddhist influenced iconography, while calligraphy is not only employed as a visual connection device, but as the key bearer of the artist's aesthetics. Elaborate in drawing, minutely executed, pieces displayed at Inkflow exhibit are persistently black and white, alluding to the ever-philosophical conversation of contrasting values, the ying and the yang, so deeply rooted in the heritage and personal views of the Japanese draughtsman. Along with the exhibition, Usugrow created a large calligraphic mural in on the Fifty24SF Gallery wall, engaging in the meditative process of handwriting a piece, which oozes powerful energy hidden in the script.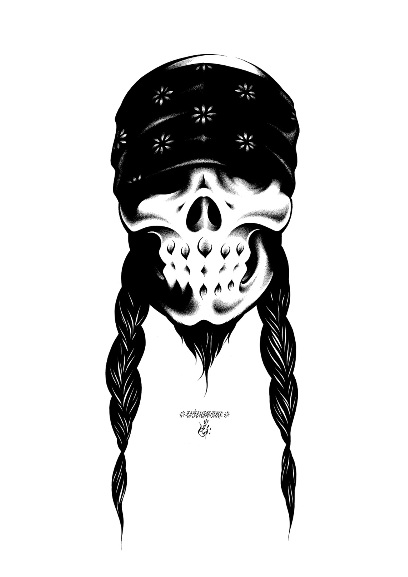 Exhibition at Fifty24SF Gallery
Currently on view at Fifty24SF Gallery, Inkflow exhibition opened on October 4, and it will run for about a month. The show was preceded by a book signing event on September 28, when Usugrow signed his monograph Works 2007-2013 to his admirers. One of the numerous group shows Usugrow participated in recently was A Study of Hair hosted by Backwoods Gallery.
Other artists who engage in calligraphy or repetitive, meditative processes of lettering are Nils Shoe Meulman, Retna, JonOne, and Stohead.
Pictures courtesy of Fifty24SF Gallery.