If you live in Bristol, or you've read any UK newspapers recently, you probably have by now. For the last five days, the British Twitter community has been having a lot of fun discussing the statue of Queen Victoria located in Bristol's College Green, which has been "defaced" by a feminist graffiti artist going by the name of Vaj Graff. Known for drawing female genitalia on buildings and monuments, she took upon herself to re-invent the 19th century statue the feminist way, by drawing a pair of legs, private parts and some pubic hair on the otherwise fully-dressed British monarch. The result? Divided opinions and lots of press, which Vaj Graff seems to be enjoying quite a bit.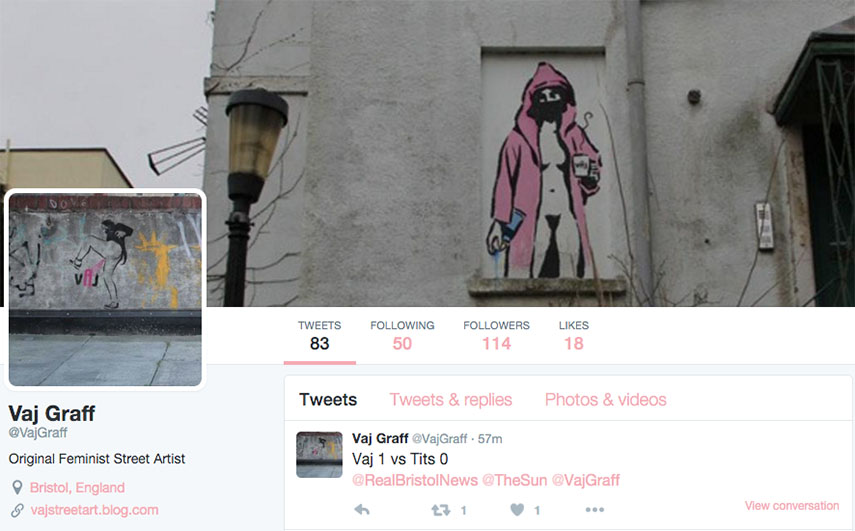 Queen Victoria Statue Gets a Feminist Makeover
It was the late afternoon on January 7th when the residents of Bristol - or better yet folks over at Bertram Fiddle - first noticed that the 127-year-old monument of Queen Victoria had been sprayed with graffiti. It immediately sparked an ongoing debate, split between two prevalent opinions: one, that it was "vulgar", "rude", "offensive" and "disrespectful" to Britain's second-longest reigning monarch in history, and the other, that it was simply "funny" and even "oddly beautiful". While many consider it an act of vandalism, so much so that they even started a (very unsuccessful) petition urging the artist to apologise, a large portion of others disagrees. Vaj Graff instantly claimed responsibility for the graffiti, saying it was a feminist statement. Speaking to Bristol Post, she added: ""Queen Vic was a power woman. She was the original feminist and she was proud. All I did was show her how she wanted to be seen. What's so offensive about that? Bristol loves shouting about street art but when it comes to something with a real message it can't handle it."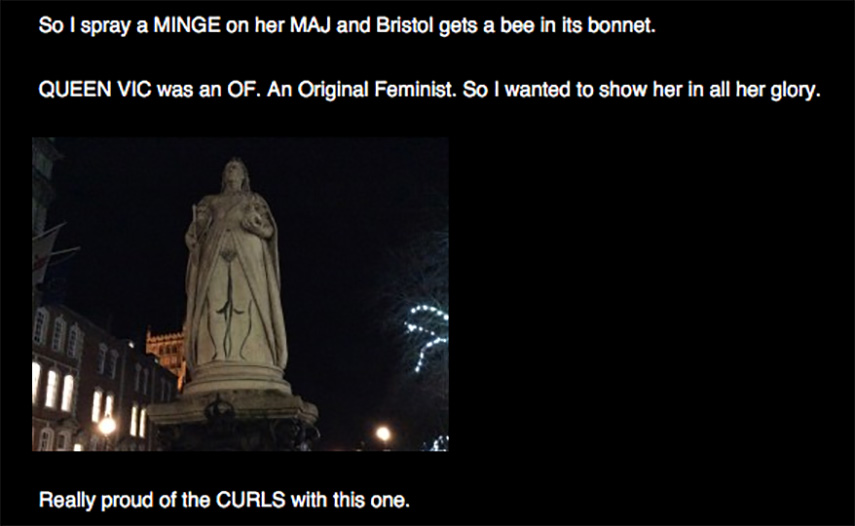 Vaj Graff and her Pubic Hair Graffiti - Girl Power Message or a Publicity Stunt?
From her artistic moniker alone we can conclude that Vaj Graff cares about feminism and spreading it out through the means of graffiti. On her website, the artist claims that her main goal is to fight male-dominant graffiti imagery in Bristol. "The art world is male dominated. Fact. Street art is male dominated. Fact. So I've got to represent. I've got to redress the balance." A few of her stencil pieces depicting vaginas can be found across the city, in support of her cause. Another thing that Vaj Graff is fighting against is the art of Banksy, whom she continues to criticise and whose name she uses to call out inequality and hypocrisy in terms of provocative street art. "If Banksy's allowed to paint a naked man hanging out a window of a sex clinic, then why can't Queen Vic be seen in all her glory?"
Although she makes some good points, it sounds to me she is a little bitter about Banksy's popularity, so at least now she's getting her own five minutes of fame too. According to reports, the graffiti "revealing" Queen Victoria have been washed off the statue since its feminist makeover occurred, but Vaj Graff's name continues to appear in almost every newspapers in England. It is probably safe to assume that the artist didn't really expect her local stunt to go nation-wide as it did, but any marketing is good marketing, and she seems to be indulging it unapologetically. Vaj Graff appears to be a young graffiti artist, active only since June 2015 and with no market for her art - which could change after all this. Let's choose to believe it was just the matter of the right moment for her, because I'd be really sorry to hear she used her feminist message just to get in the spotlight.
Do you think it's vandalism? Share your thoughts on our Facebook page!
Featured image courtesy of Vaj Graff.