One of the most important questions in art is visual perception. There have been hundreds of different attempts by a number of contemporary artists who challenged the traditional notion of visual possibilities of a human eye. What is even more interesting in this endeavor of challenging visual perceptions of spectators is that artists have created different ways of achieving this goal. We could mention Jackson Pollock and action painting for example; it had a significant impact on a way how visual perception per se is understood. Op-Art and digital art also contributed a lot to this magical visual representation. Italian artist Valerio Nicolai is doing the same thing, more or less, but with unique and original method – through probing and interrogating the limits of pictorial composition. Treti Galaxie from Turin presents his exhibition entitled Permanent Transformation of a Magician in Ant and curated by Matteo Mottin.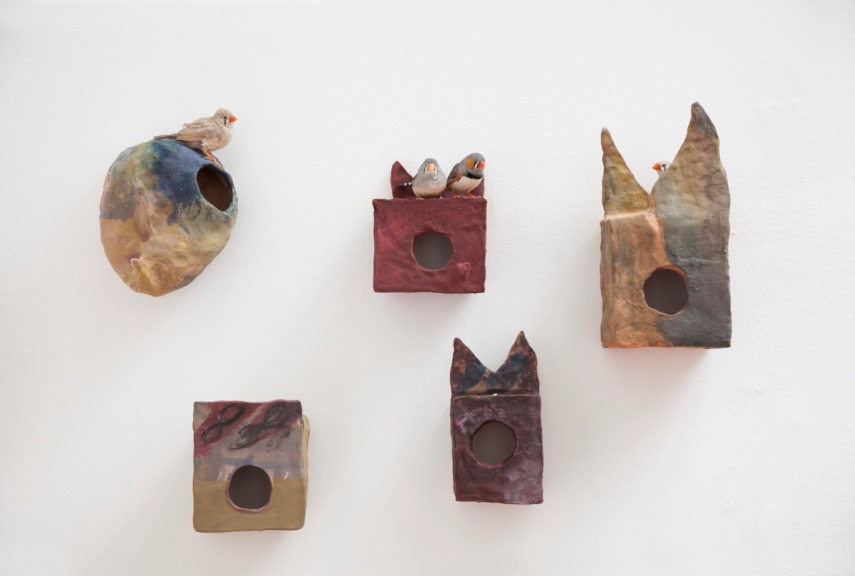 Transcending the Structure of Canvas – The Art of Valerio Nicolai
Valerio Nicolai is an Italian artist, born in Gorizia in 1988. He lives and works between Gorizia and Venice. In 2011, he was awarded a study grant at the Bevilacqua La Masa Foundation in Venice, where he is currently attending the Academy of Fine Arts. Among many projects and exhibitions he participated at, he was part of SHIT AND DIE exhibition, produced by Artissima Turin and curated by Maurizio Cattelan. SHIT AND DIE was defined as a contextual experience: its point of departure is the city of Torino, which provided the characters, stories, objects and atmospheres that have become the primary material with which to elaborate a visual tale. Permanent Transformation of a Magician in Ant will feature living birds free to fly all over the exhibition space and a huge painted canvas will cover the whole floor. Nicolai also made little terra cotta sculptures in the shape of bird's shelters, along with new paintings. It is expected to be a peculiar show. In his research Valerio Nicolai probes and interrogates the limits of pictorial composition, extending it beyond its own canonical borders through installations that constantly question their structure. For this exhibition, the artist has used his unique sense of intuition and sensibility to paint a canvas that completely covers the floor space employing color fields, shapes, and proportions which could be attractive to a bird.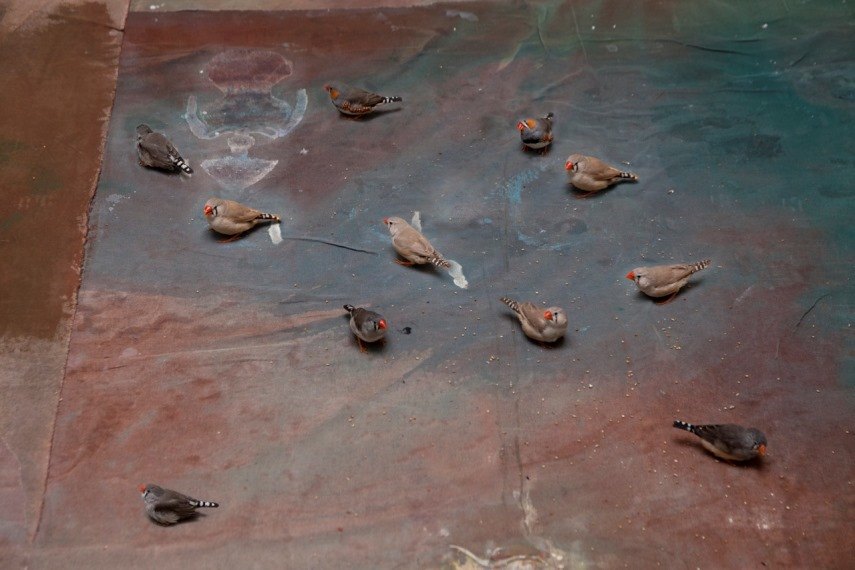 Permanent Transformation of a Magician in Ant
In addition, to a new series of paintings and a group of sculptures inspired by the shape of shelters for birds, each element of the canvas floor is designed as an integral part of the pictorial composition; the painting also encompasses the spectators, who are intended as movable elements perpendicular to the painted surface. The real target audience of the show is a group of birds, free to fly around the exhibition space and coming to rest on the works and on the canvas. The artist combines the paradox of being able to paint for a bird with the inability of the group of birds to see themselves as protagonists of a piece of artwork. He then mirrors the whole concept onto the viewer, who also cannot have a total perception of the pictorial composition to which he belongs. And here is Nicolai's statement that was exclusively shared with Widewalls: For this show, which is a big pictorial installation, I thought about something that could totally detach itself from the painted surface, a further point of view, but that couldn't let us see what's really going on in the painting. I wanted to give another point of view, but a one that could not be accessible to the human viewer. The whole composition has been thought for the birds, and we people are excluded from its perception in an almost complete way.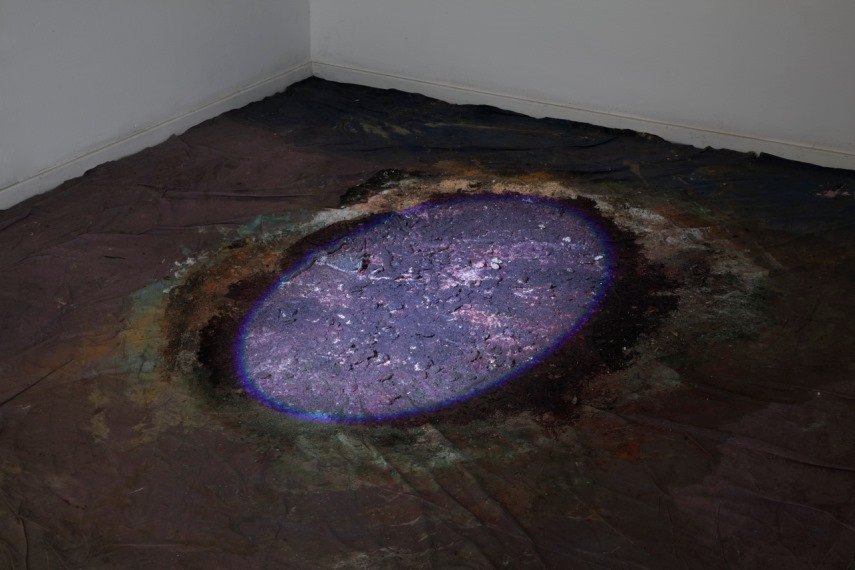 Valerio Nicolai Exhibition at Treti Galaxie
The work that gives the exhibition its title and that ideally ends it and reverses its theoretical basis, consists of a light spot that highlights the place where a magician, we do not know whether due to an error or voluntarily, irreversibly transforms himself into an ant. An extensive knowledge, laboriously acquired during a lifetime of work and studies, is employed to take on an exposed form and obtain a point of view far away from the human perspective. This extraordinary show is organized through Treti Galaxie, which is a nonprofit association founded by Matteo Mottin and Ramona Ponzini (a Japanese-trained musician). Permanent Transformation of a Magician in Ant will be on view from March 15 until March 22, 2016, organized by Treti Galaxie - Via Saluzzo 23 bis, Turin, Italy.
Featured Image: Valerio Nicolai, Permanent Transformation Of A Magician In Ant, installation view, courtesy of the artist and Treti Galaxie, photo: Sebastiano Pellion Di Persano. All Images courtesy of Treti Galaxie.