30works Galerie is proud to present the newest series of works by Van Ray, a German artist whose pieces, mostly characterized as street or urban art, make great use of various stencil techniques and vintage materials.
For this upcoming show, titled One Dollar Bill, the Dusseldorf-based artist combines techniques commonly found within the street art scene with the motifs and imagery of Pop Art, creative segments that fit in perfectly with one another.
These conceptual pillars of Van Ray's work are a part of a whole that utilizes everything street and Pop art have without compromising their individual creative punches.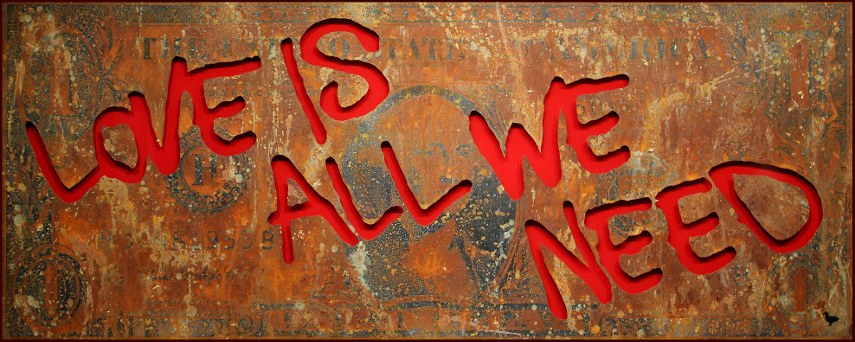 One Dollar Bill
For his newest series of works, Van Ray decided to use the dollar bill as a central theme, using this motif to discuss his views on the concept of currency and the famous "Pursuit of Happiness" slogan. Van Ray wants to reference Thomas Jefferson's call for "Life, liberty and the pursuit of happiness" found in the Declaration of Independence in order to show us the other side of that coin, a side where things like moral degeneration and hypocrisy thrive.
With that in mind, the dollar bill becomes a symbol that stands both for dreams and nightmares of our contemporary society - precisely what the artist wants to make us realize with his large-format works prepared for the One Dollar Bill show.
However, the main source of inspiration behind the One Dollar Bill exhibition is not money - Van Ray was heavily influenced by the first great publication about Pop Art, the famous 1 Cent Life. This landmark volume came out in 1964 and it featured impressive artworks that marked the scene at the time of the book's release. A compact visual manifesto of the sixties, 1 Cent Life was an assembled vision of artists emerging from Pop and European abstraction.
It was unlike anything published before or after. Van Ray was impressed with this publication's ability to fuse different styles and techniques into a singular being, so he decided to organize the One Dollar Bill show in order to do some unordinary combining of his own.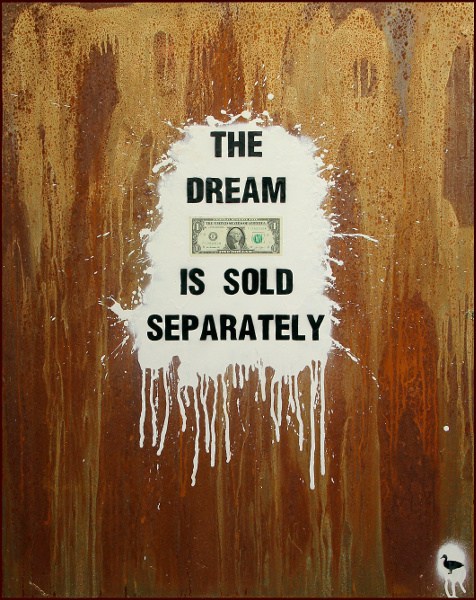 The Hypocrisy of Money
By giving preference to materiality, Van Ray plays across genres with stylistic devices and techniques from both urban and Pop art. Such a creative decision does wonders for the way the artist demonstrates his views on the current hypocrisy taking place whenever money becomes a question.
This concept is further enriched by Van Ray's direct suggestive statements like "What if it's all a lie!" and "Think outside the box". His proficiency with stencils also does not hurt at all - this latest body of work is definitely one of the more visually striking series Van Ray worked on so far in his career.
Excited by the upcoming exhibition, Van Ray spoke extensively about what we can expect from One Dollar Bill. Among many things he stated, the most interesting aspect of the show he highlighted is that his paintings became quieter - this factor is what strengthens the intensity and sustainability of the new works.
A keen eye will also be able to notice some links between Van Ray's works and abstract expressionism, most notably found on the surfaces the artist utilizes.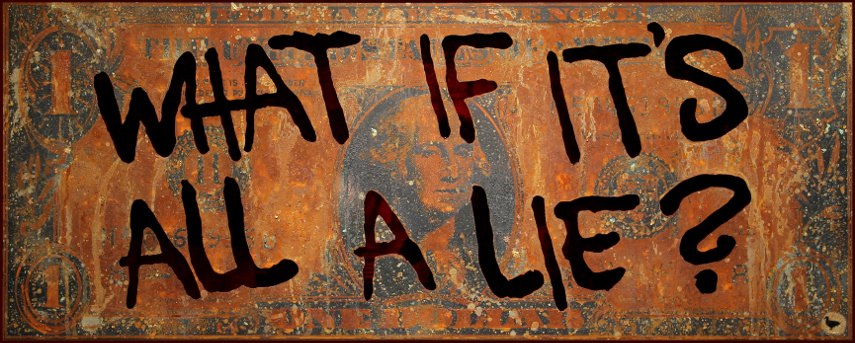 Van Ray Art Exhibition at 30works Galerie
With One Dollar Bill, Van Ray underpins his artistic maturity, an impressive point in development reflected in stylistic reduction and a tendency for strong materiality. The upcoming show will be a social criticism achieved with the ironical contextualization of cash, the unquestioned vital bloodline of our society, as well as a demonstration of how proficient Van Ray became with combined motifs, typography and different techniques/materials.
One Dollar Bill, a solo show of the Düsseldorf-based Van Ray, will be held between the 10th of November and the 1st of December 2017, at 30works Galerie in Cologne, Germany.
Featured image: Van Ray – Think Outside The Box. All images courtesy of 30works Galerie.