Clemens Wolf is an Austrian artist of younger generation who emerged from the world of street art, only to create immersive spatial installations and pieces for the gallery space today. Still essentially bound to his street art past, Wolf explores ideas of space, containment and freedom.
He is currently exhibiting at Galerie Steinek, in a group show entitled Verortungen, in which his concept fits ideally.
In this exclusive interview for Widewalls, Clemens tells us about his beginnings and current ideas in art, the importance of transparency and vantage in his work and his future plans.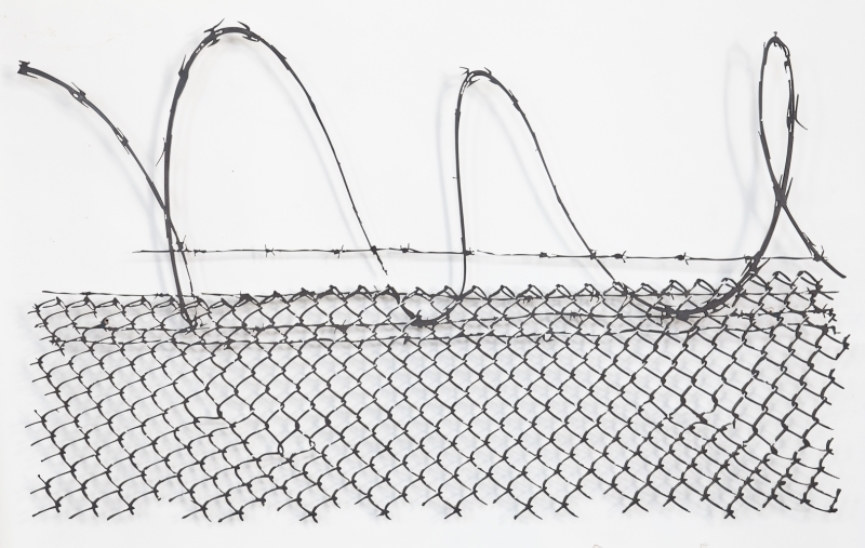 On Street Art and Art
Widewalls: You started out as a street artist. Could you please share the story of your transition into an artist whose work is produced in the studio and displayed in the gallery?
Clemens Wolf: The streets have a certain "Darwinism" - like "the strong will survive- system". It is a game about attention in which a lot of people and things are involved – it's not only about the work of the artist, but also about the struggling with property owner, the state, the media…and so on.
After I was caught and needed to pay back lot of money, I realized that if I want to make a living from my art I need to move on. So I decided to study fine arts. Today, my work is based on my graffiti and street art roots, but more focused on the fact that a gallery is a space designed for exhibitions and hosting an audience who is willing to watch it.
Widewalls: What kind of street art did you do? Are the stencils remnants of your past, since they are still very strong in your expression?
CW: I tried almost everything from stencils to different kind of pasting like stenciled, printed or drawn posters, cut outs, stickers.
I started concentrating on the stencil as a kind of tool to react on the things I paint like industrial buildings, ruins and fences.
I enjoy sitting in the studio cutting them by hand and listening to music. That's a very quiet, meditational, slow moment and it is also the time where I have a lot of time to think of how the painting will turn out later on.
Widewalls: Why do you think street art is so popular today? Do you see this as a good thing or as a corruption hazard of the whole movement?
CW: I think because streetart is very readable, the imagery, the vocabulary and content is very well known to our visual awareness. Sometimes it also catches the spirit of time by having a lot of attitude or just being pretty. In comparison to graffiti which is a kind of "code language" to communicate on the streets, street art targets a larger group of people not involved in the "culture" or "movement" unquestioned, like advertisement.The numerous ways, styles and people doing street art today help the movement getting in the public's eye and stay there.
Sadly, in every movement there will be people doing things the hazardous way as soon as a lot of money is involved.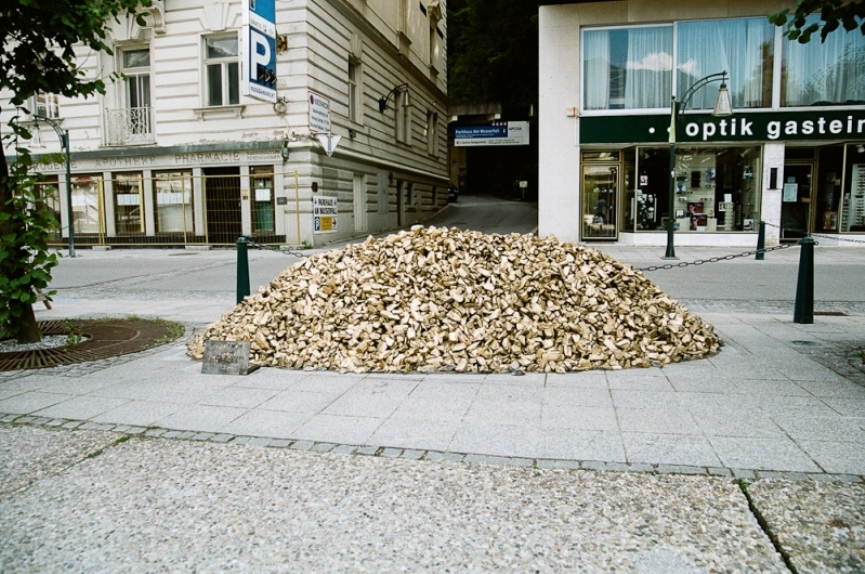 On Cities, Spaces and Fences
Widewalls: Other than living and working in Vienna, are there any other cities you feel at home at? Do you have any plans to work and travel? If yes, where?
CW: My feelings about Vienna are ambivalent – I love it and sometimes hate it the same way. But that's the challenge with this city.
After Vienna one of my favorite places is L.A.. I have a lot of friends there and in September this year I will head to L.A. again for working there some time.
Next working travel will be Paris in April for my first solo show at Backslash gallery on 9th of April. After the show I will go to Antwerp, Rotterdam and Maastricht to meet my old friends from TSD. A trip to Zürich will be spring or autumn. Overall traveling is very important for my work.
Widewalls: Looking at your work produced in the past several year, there is another trait, besides the ever-present fence, that strikes me. It's transparency. Fences are transparent, but so are the layers of your painted work. Is transparency deliberate? How would you explain its importance?
CW: The transparency of the layers are important for the appearance of the painting. Due to the many thin layers the viewer has a hard time to actually realize how it is done and then the speculations about the process start. That's a way to gain attention even more.
In other words the layers vanish the traces of production and add a magical dept to the color and the image. As you said, they are like fences almost not visible when you get to close.
Widewalls: Fences provide your work with new perspective, ambiguous vantage points. How crucial are they?
CW: The vantage points are chosen very carefully. They are important for the tension in the painting. I am always looking for depth and perspective to get a deepness. The perspective or vantage points can also be used for a kind of abstraction.
Widewalls: Sometimes, these architectural productions create interesting visual effects. Is there any influence in the art history you were thinking of when making them? Op-art perhaps?
CW: There are a lot of visual effects which influenced me like the romantic landscape painters such as Caspar David Friedrich, the technique of the grid to enlarge a painting, silkscreening in pop art, or the geometry and contrasts of op-art. But when I am working I am not focused on influences they are just embedded in my artistic vocabulary.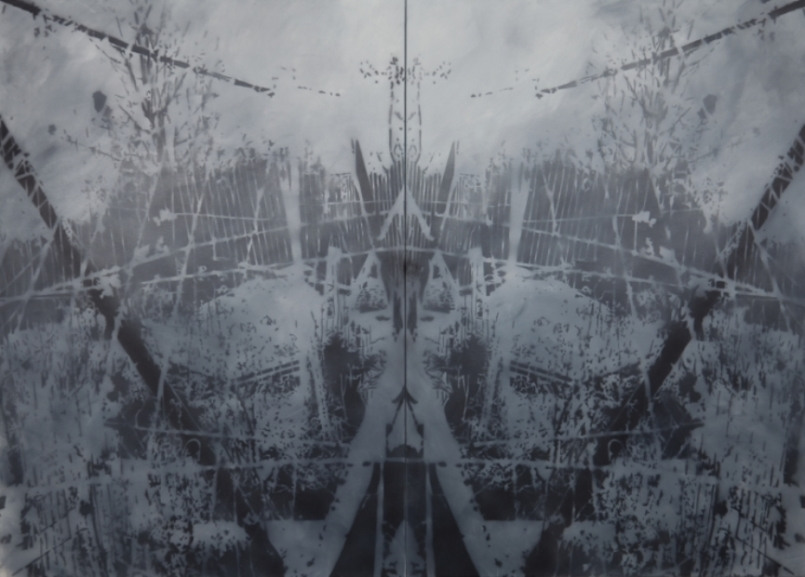 Verortungen Exhibition and Plans
Widewalls: What are you going to show at Verortnungen? What is your perception of the show and its title?
CW: Actually I really like the title which seems to be made for my work. I will show a floor sculpture which I just showed once during my residency in Bad Gastein last summer.
It is called "the planet of holes" and consists of cut out steel holes of mash wire fences.
It is about the perception of a hole, because it is something immaterial and I wanted to reveal that in a sculpture. Furthermore I didn't wanted to show just the negative form of a fence, I wanted to illustrate the "planet" of nothing else like a "black hole". But how do you show something which doesn't actually really exists?
The title has its roots in the optical appearance of a planet. Through arranging the holes by size it creates the illusion of having a body which is shaped like a globe. Next to it I will show a new paper work. It is part of a series I am working on for a year now. These works are thick oil color prints I did with stencils. I call them "the other side of the rainbow".
Widewalls: Who, out of the other exhibiting artists at the show, do you feel artistically closest to?
CW: Georges Rousses does great work which enhances a street art in sito style I really like. My approach of using the urban decay and the fence as model and muse for my works is slightly different from his using them actually as kind of canvas.
Probably we share the same fascination for spaces with no trespass.
Widewalls: After the group show at Galerie Steinek, what are your plans?
CW: I am working on my solo show in Paris on the 9th of April. Other shows are coming up in Zürich at Gallery Clemens Gunzer and LA later this year.
I am also working on different other projects with the Viennese VJ collective like an audiovisual art project with HVOB. This project is a trialog between 3 artistically disciplines, music, fine art and multimedia art. The idea was to generate a loop between the disciplines so that they created through each other. It is based on the idea that starting a artistic project is similar to start a process which changes a certain material but is not under control like breaking a mirror. Every track is based on one process. the sound of the process recorded while filming the video footage can be found in the track and also be seen simultaneously in the music video or vj show at the life gigs. We wanted to break the barrier of isolated artistic techniques and let them arise out of each other.
Widewalls also talked to Verortungen curator, Sabrina Möller - read the interview here.
Wanna know what curators, artists and art players think? Sign up for My Widewalls and keep up!