An Urban art duo based in Berlin, Various & Gould are never short of innovative and wildly imaginative works. Working together since 2005, they continue to reinvent themselves. Working in a range of mediums, from screen-printing, collages, installations, to even public performances, they always create outlandish and colorful pieces of art that command attention.
The duo is soon coming to Pretty Portal to present their book Permanently Improvised and their latest body of work. The title of the exhibition, InterFace, comes after one of their latest screenprints by the same name.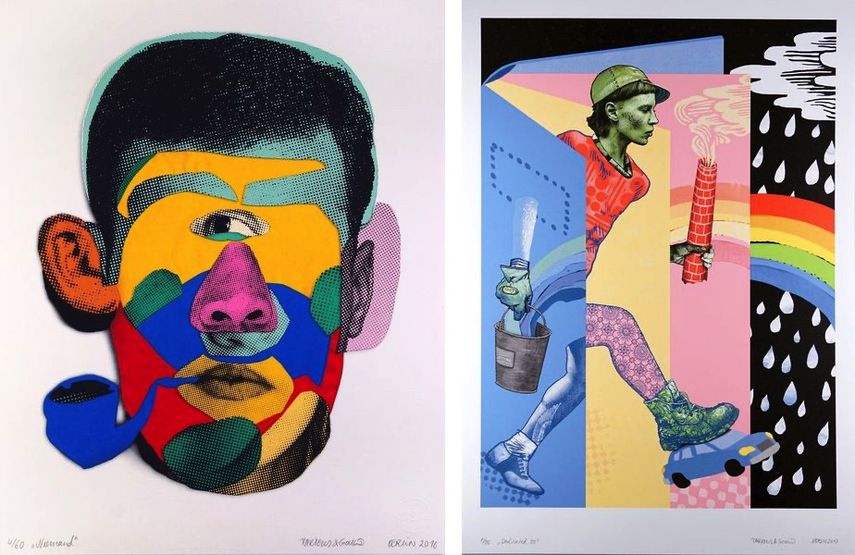 The Practice of Various & Gould
Various & Gould both studied and graduated from the prestigious Berlin-Weissensee School of Art (KHB), under the tutelage of Professor Alex Jordan, member of the legendary French graphic collective Grapus in 2010.
At the core of their practice is their mutual love for paper, enthusiasm for accidental beauty in everyday life and the importance of art in urban space. As they explain, their creation is based on the simple but striking formula 1+1=3. Their process is divided through three stages - screen printing, collage and screen printing again.
Through their art, Various & Gould they deal with socially prominent themes such as work, migration, gender, death, religion or the financial crisis in a playful, intuitive manner. However, they always deal with these subject matters in a playful and light-spirited manner. Drawing from political poster graphics, Dada and Pop Art, their work is characterized by vivid colors combined with typography and encrypted messages.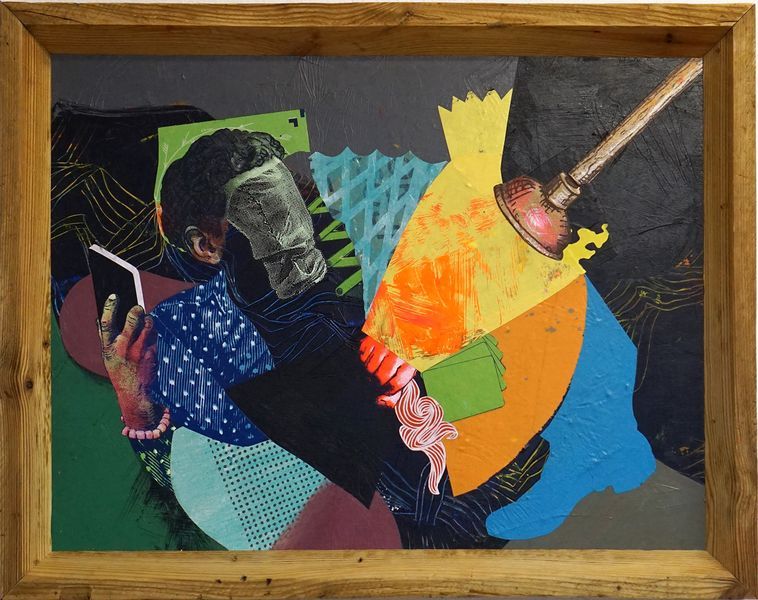 InterFace
The exhibition includes a range of works with the duo's distinctive gritty textures, vibrant colors and whacky arrangements. Among highlights is the screen print titled InterFace, depicting two figures connected through colorful stripes of paper. It symbolizes the close and profound connection between two individuals that goes beyond what is superficially visible; two people, independent and autonomous, connected in a special way at the same time by their ideas, sensors, thoughts and emotions.
The duo will also present their publication Permanently Improvised that was published last October, comprised of 15 years of urban print collage. Published on the occasion of the 15th anniversary of their collaboration, this bilingual book in German and English presents the full range of their work, enriched by essays by selected authors.
During the vernissage, the duo will present this book, but also discuss previous projects and share their thoughts on various murals.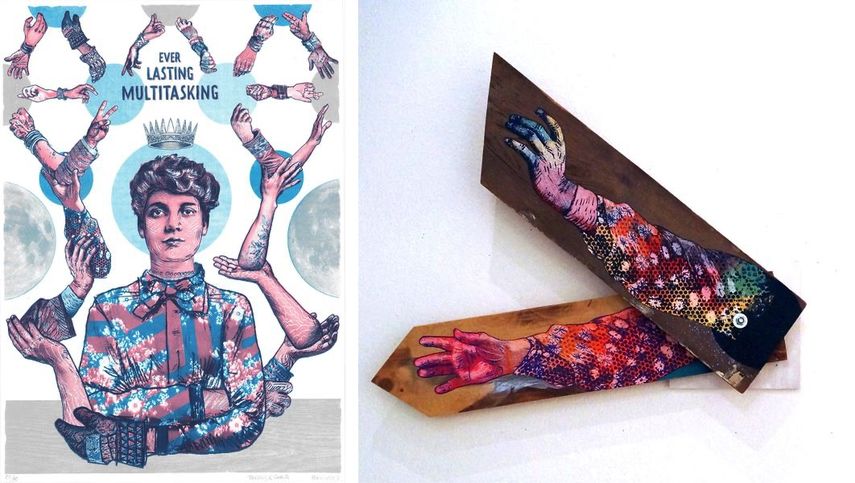 Various & Gould at Pretty Portal
The exhibition InterFace will be on view at Pretty Portal in Dusseldorf from March 6th until March 20th, 2020.
The opening reception and book presentation will take place on March 6th, from 7 p.m.
Featured images: Various & Gould - REIGEN; InterFace. All images courtesy at Pretty Portal.