The 56th Venice Biennale has just started on May 9th and is already heating up to be an exciting one with the staggering number of participating countries, 84 after Kenya and Costa Rica dropped out and even more bewildering in number of participating artists and groups – 136. Although it has just opened its gates to the world on Saturday it is already followed by some controversial events and actions. But considering that this year's Biennale, curated by Okwui Enwezor, is abundant with politically charged art it hardly comes as a surprise that a few political actions already took place in its first week.
All the Syria's Futures by Syrian Film Collective
Syrian Film Collective's Withdrawal
Syrian Film Collective Abounaddara has announced their withdrawal from All the World's Futures, Biennale's central exhibition at the Arena with a claim their short film All the Syria's Futures has been censored by not being screen on May 5th. The members of the collective are also dissatisfied by the fact that their screenings were scheduled to be shown in thirty minute blocks, between readings from Marx's Capital and musical interludes. Even though they were awarded with the special mention members of Abounaddara see the fashion their films are shown in as a form of censorship that will make it appear simply as amusing distraction from the main spectacle. The collective that consists of anonymous filmmakers set to show the world a different picture of Syrian society have declared this way of screening unacceptable and withdrew from this year's Biennale. They will continue to release a new film online every Friday.
Ukrainian activist group On Vacation recruiting international Biennale visitors to take part in their action
On Vacation barges into Russian Pavilion
On the other hand, Ukrainian group called On Vacation finds 56th Biennale a perfect ground for their protest against Russian overtake of the Ukrainian region Crimea that happened last year. The group members are organizing a contest for which they are giving visitors uniforms and encouraging them to occupy any of the international pavilions, with especial emphasize on Russian pavilion and post their photographs on social media with a hashtag onvacation. The contest winner will be awarded with a four-day stay at Crimea's seaside city Balaklava. The group's name On vacation comes as mocking of the statement by Russian separatist Alexander Zakharchenko who said that Russian occupying forces are merely enjoying a vacation among their brothers who are fighting for their freedom.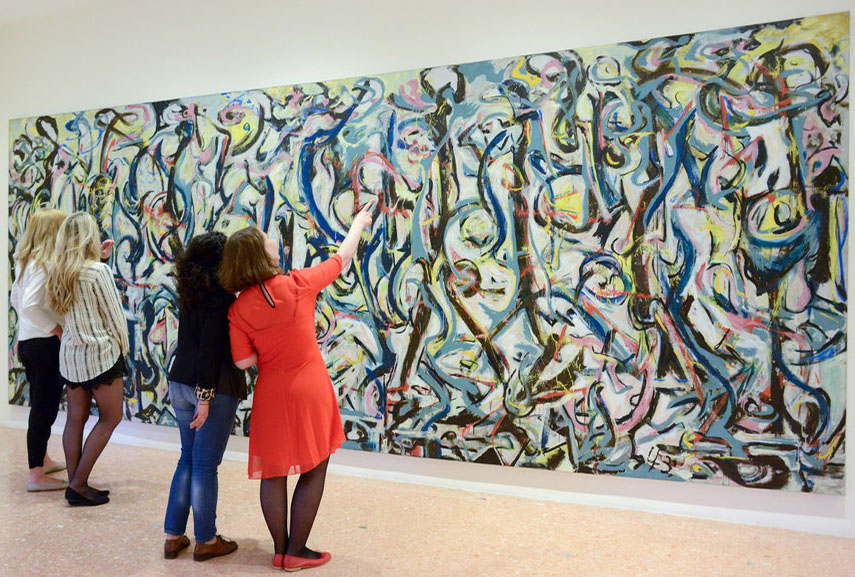 Jackson Pollock at the Venice Biennale
Thankfully, not everything is politically charged at the start of the 56th Venice Biennale. Peggy Guggenheim Collection in Venice is showing a rare painting by artist Jackson Pollock that is probably one of his least frequently shown works. Mural by Pollock titled Energy Made Visible is a twenty foot painting from 1943 that was commissioned by Peggy Guggenheim for her New York home. Apart from its impressive size and colors the mural is exceptional for being artist's first work of such magnitude and also one of his largest formats but it is also a painting that ushered Jackson Pollock's later works. This is a quite unique opportunity to see this mesmerizing piece of work. With such hot events taking place within the first days of the 56th Venice Biennale we are undoubtedly in for a lot more excitement. We will certainly make sure to cover all the happenings during the course of the Biennale All the World's Futures and share news from one of the greatest international events in culture.
What are your impressions of the 56th Biennale and these actions? Share your thoughts on our Facebook Page.
Stay tuned for more news and updates from the Venice Biennale by signing up for My Widewalls!
Images in Slider: 56th Venice Biennale, All the World's Futures -Bgl Collective, Ivan Binet, German Pavilion . Courtesy of the Blouinartinfo and 56th Venice Biennale, All the World's Futures - Ivan Grubanov, Serbian Pavillion. Courtesy of the Blouinartinfo