At a time when the art of trading art is thriving on a growing international and online marketplace, it's hard to be sure of an artwork's authenticity. But what if there was a place where one could check up on any artwork and get their final reassurance? Because Verisart will now offer just that. Aiming to become a universal digital database, this promising platform is taking on the great challenge to digitize and verify every physical work of art ever made, by enabling artists to create permanent and unassailable certificates of authenticity for their own creations. But ambition, determination and a team of professionals in the field are not the only things that make Verisart the plausible solution to fraud and ownership issues. In honor of this exciting project taking its first steps towards becoming a reality, we talked to Robert Norton, Verisart CEO and co-founder.
The Art World's Ultimate Record Keeper
In the last decade alone, the art market has evolved significantly, expanding to the realms of online trade as an even easier way to exchange artworks and collectibles. Such atmosphere, however, laid grounds for an increased number of forgeries and document tampering which, by consequence, created the need for an international art market register and a way to trace the provenance and verify the genuinity of works. In order to put together a permanent archive of artist-created certificates, Verisart is using a distributed, decentralized database provided by the blockchain, world's most secure technology of recording data introduced by Bitcoin. Functioning as a digital ledger, the blockchain maintains a continuously-growing list of records, each existing as a unique, irrefutable, timestamped item.
To begin, Verisart has released its first product in form of a free app, designed specifically for artists and collectors to generate certificates of authenticity for their works in two easy steps. Available exclusively for download via iTunes, the Verisart app also lets its clients check provenance securely and in real time, provides a trustworthy platform for inventory management and protects their identity. This way, artists and collectors can keep track of their works anytime, while also being able to check the legitimacy of other works in the database.
How do Artists Create a Verisart Certificate of Authenticity?
Just like an individual has an ID card that proves their identity and is issued by a single recognized authority, Verisart aims to provide an original permanent record of all physical pieces and assign them a unique certificate of authenticity. These proofs will only be issued by verified artists, who will first meet the minimum requirements for international cultural documentation standards. Once created, the certificates are indisputably the only evidentiary records of the given artwork, they are a permanent part of a tamper-proof database that is constantly ensuring their security, and they can be easily shared and subsequently transferred to the artwork's next owner. The Verisart platform seeks to make the process of transacting art and collectibles safer, faster and more secure than ever before. In addition to that, the information on the artwork owners is absolutely protected and based solely on what the users choose to share publicly.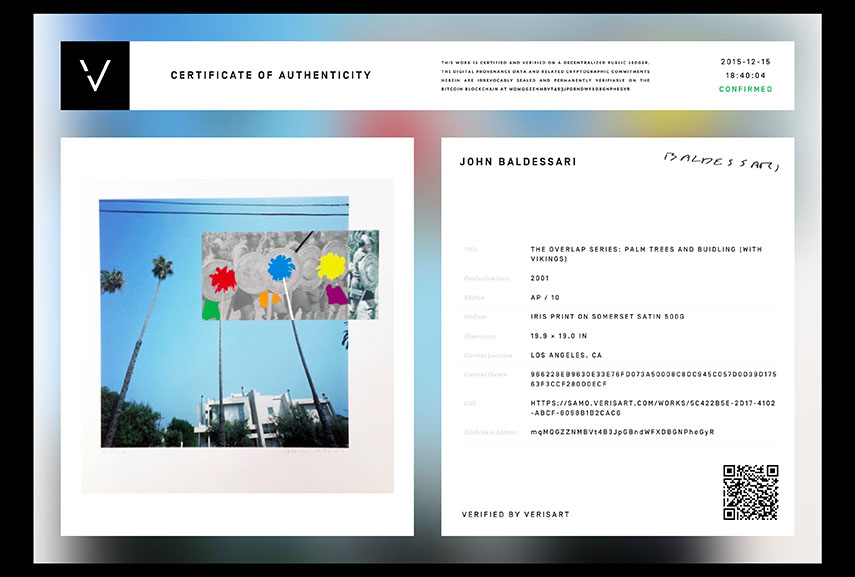 The Team Behind Verisart
Based in Los Angeles, Verisart was founded by a phenomenal group of leaders within digital media, contemporary art and distributed ledger technology. The CTO and co-founder is Adam Dinwiddie, former CTO of Collectrium, the leading collection management platform for high-value fine art and collectibles, but also Head of Product & Design for Paddle8, the prominent online auction house and marketplace. Joined as the Head of Artist Relations and co-founder is Bradford Schlei, Yale Law School graduate with extensive experience in forging new models across film, finance and art. Peter Todd, a core developer for the Bitcoin Blockchain protocol is a Board Adviser and provides guidance on security and decentralization.
Finally, there's the CEO and co-founder, Robert Norton, an Internet media executive and formerly CEO of art e-commerce sites such as Saatchi Online and co-founder of Sedition Art, a groundbreaking online platform for collecting digital art, supported by many renowned contemporary artists. In an exclusive interview for Widewalls, as part of our Interview series, Robert Norton talked to us in detail about the journey he just embarked on: the importance of ownership and copyright, the way the Verisart service works and just what it offers to artists, how it will benefit collectors and other art professionals, and much more.
Introducing Verisart
Get Your Verisart Invite From Widewalls!
While anyone can download the Verisart app, as it is a free service and will remain so for early members, the access to the service is currently available by invitation only. If you're an artist, you have the chance to win one of 10 VIP invites for Verisart app! Share our Facebook post to become a part of the draw, and good luck!
For more of our exclusive podcasts, make sure you follow Widewalls on SoundCloud!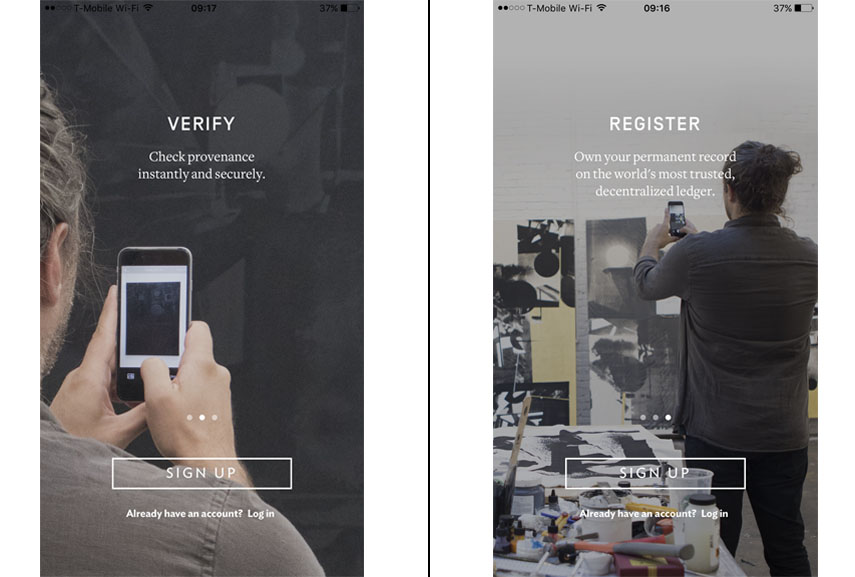 All images courtesy of Robert Norton and Verisart.