Even though Open Walls Gallery has been collaborating with Vermibus for over four years now, the upcoming show at the Berlin space will be the first official solo exhibition for this eclectic Spanish artist. On view there will be over thirty artworks, including those made especially for this occasion as well as some his early pieces, to testify to the remarkable artistic evolution that Open Walls Gallery has been overseeing faithfully and with dedication. Of course, this will also be a chance to see the art from Unveiling Beauty, the widely celebrated series and one of Vermibus' most elaborate projects to date.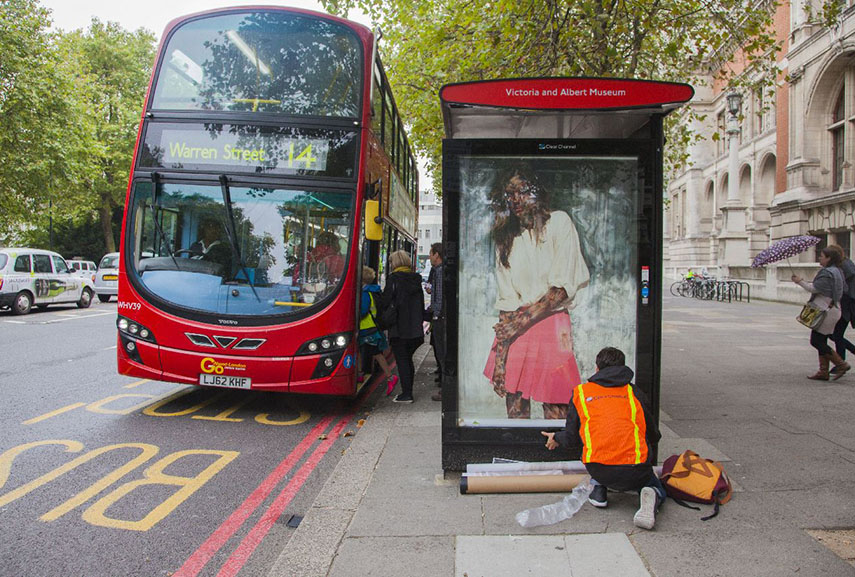 A Radical Act for the Truth
With over six hundred interventions in public spaces worldwide, Vermibus is one of the most prolific artists working in urban environment today. A rebel with a cause, the Spanish-born, Berlin-based creative has made his name on the international arts scene with a unique approach to the world of advertising and fashion. His bold and daring actions, often taking place in broad daylight, express a determined view of the power and the mass influence that ads have on people around the world, on both conscious and subconscious level. Refusing to let advertising impose itself on us without our consent and to affect us mentally and chemically, Vermibus took the matter into his own hands, quite literally, thus calling out the hypocrisy and the distorted image that these billboards and posters carry more than often.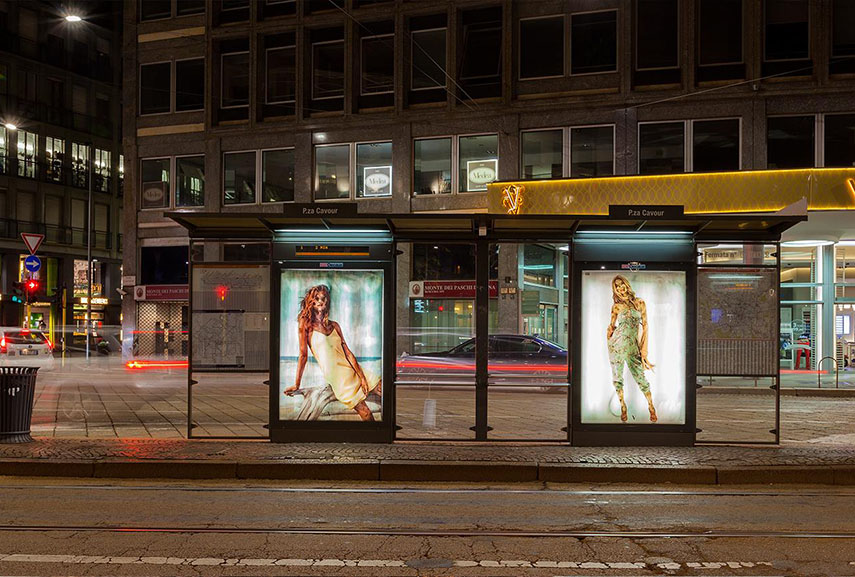 Unveiling Beauty
Using solvent, paper and a trusted lightbox key, Vermibus developed an original technique of transforming advertising posters into a new form of artwork. Once he removes a poster from its original setting on the streets, the artist covers its surface with transparent solvents that chemically break the colors apart. Then, he sets out to create a whole new image only loosely based on the previous one, by scratching, rubbing and further manipulating its parts. The results are haunting, short-lived images of mummified models and (re-)invented brands that question the standards of beauty in today's lifestyle-obsessed society and draw the attention of passersby by making them look closer and wonder what it is exactly they're seeing - because it's definitely not the objectifying, polished imagery they're used to seeing in that same lightbox.
Vermibus - Unveiling Beauty
Vermibus Exhibition at Open Walls Gallery
Radical and unapologetic, Vermibus calls out the artificial beauty created and endorsed by the fashion industry through the mass-reaching tools of advertising that leave a strong mark on our psyche, without us even noticing it. Instead, he creates a beauty of his own and proposes it to us on those exact terms, with a pure scope of making us realise and recognise its presence and existence. Unveiling Beauty, an exhibition of works by Vermibus, will be on view at Open Walls Gallery in Berlin, Germany, from June 2 through 25, 2016. The opening ceremony is scheduled for June 2 from 6pm to 10pm, and the artist will be present.
All images courtesy the artist and Open Walls Gallery.