An all-in-one Chicago art gallery, retail space and print studio, All Star Press focuses on limited edition artist prints from all over the world, with an emphasis on sports, Chicago culture, film, and concert posters. For the past 10 years, they have been curating shows in Chicago, bringing together illustrators, artists, street art, sports fans, and designers.
During the year 2020, All Star Press created a year-long print series It Was All a Dream, inviting artists to create prints for themselves. The focus was placed on a distinct dream that each artist had to postpone to make room for everything else waking-life asks of us. Throughout the year, the gallery has been releasing one or two prints per month.
In collaboration with Vertical Gallery, they will now present a retrospective exhibition bringing together the entire series, accompanied by an original work from each artist, and a special previously unreleased variant print held back for this special event.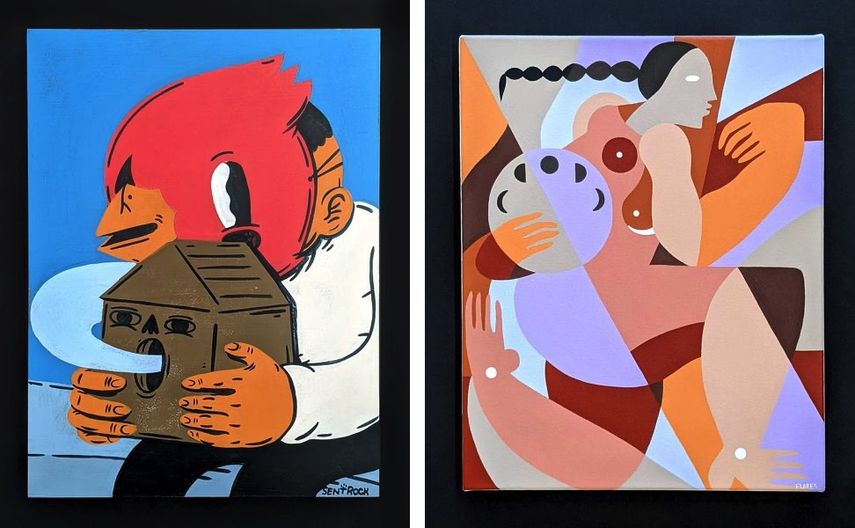 Participating Artists
The exhibition brings together a truly diverse selection of artists. A Chicago-based artist, Pizza in the Rain aka PITR is known for works that that harmoniously interacts with its surrounding environs. He finds inspiration in the concept of public art and the underlying deviance that goes along with creating and painting anywhere. Another Chicago-based artist, Liz Flores is known for painting the human form through shapes and colors, reacting to life, an emotion, or a memory.
On the other hand, Blake Jones creates works characterized by graphic line work and bright color palettes, illustrating narratives of complex worlds inhabited by distinct characters, objects, and landscapes. JC Rivera is best known for his signature 'Bear Champ' figure with boxing gloves, appearing all over Chicago. Made of twin brothers, the duo Skewville is best known for their sneaker cutouts - silhouettes of the shoes seen dangling from the wires reference the urban upbringing from which the two grew up in New York City.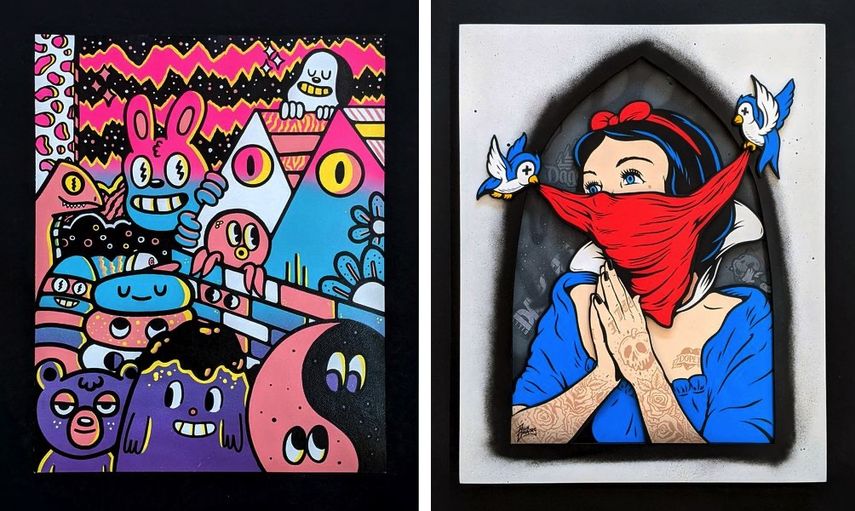 The Group Show at Vertical Gallery
The exhibition It Was All a Dream will be on view at Vertical Gallery in Chicago from February 6 through 27, 2021. The opening reception will take place on Saturday, February 6, from 11 a.m. until 6 p.m.
Participating artists are Anthony Lewellen, Nina Palomba, Junkyard, Brian Hoffman, Joey D, Sentrock, JC Rivera, Blake Jones, Liz Flores, Biafra, Pizza In The Rain, Billy Dagger, Aaron Craig, Griffin Goodman, Skewville, Matthew Crumpton, Steve Seeley, Cristi López, Curtis Readel, Sergio Farfan, Rocodrillo, Czr Prz, Adam Lundquist, Body Ruiner, Ant Ben, Kawaii Suga, Lefty Out There, Jenny Frison, Kate Lewis, and Zissou Tasseff-Elenkoff.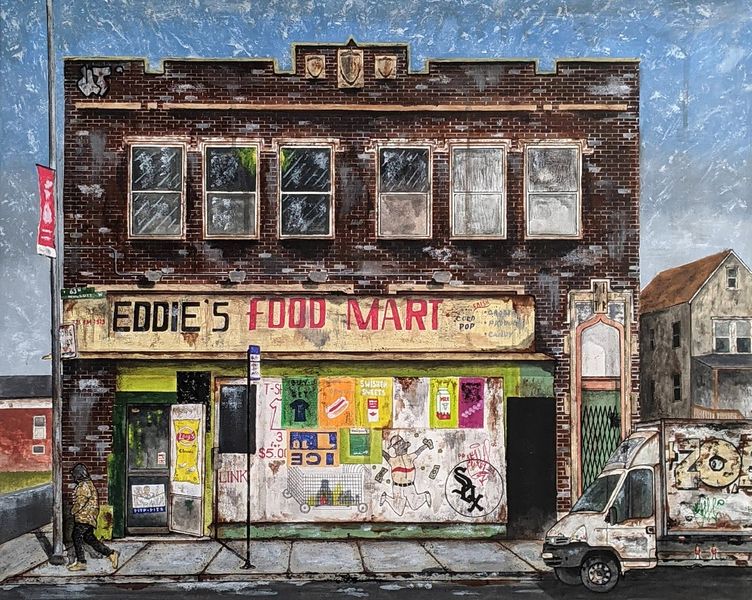 Featured image: Blake Jones (detail). All images courtesy of Vertical Gallery.