Mixing a variety of influences, Victor Castillo art is known for strange and sometimes even disturbing, pop-surrealistic imagery full of dark humor and political narratives. On the other hand, David Choong Lee art shows a notable shift from realism to abstraction in recent years, containing lush, vibrant landscapes and otherworldly figures. The work of these two artists will soon be on view at Jonathan LeVine Projects as part of two coinciding exhibitions. In the exhibition We Were All to Be Kings, Victor Castillo will present a bold new series of big and small paintings on canvas and paper inspired by vintage American animations. On the other hand, David Choong Lee's exhibition Gravity presents works that were inspired by the artist's studies of physics, integrating his findings in the process of painting with aerosol and latex.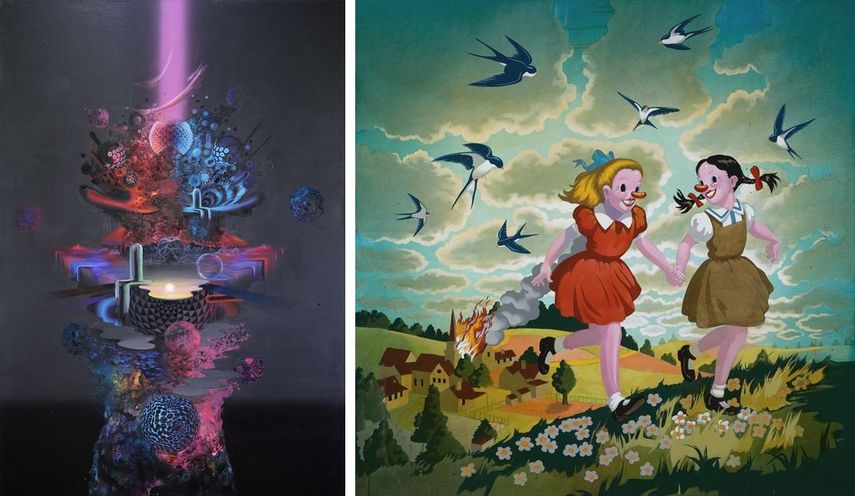 Victor Castillo Art - We Were All to Be Kings
Drawing from a variety of sources, the Chilean artist Victor Castillo uses narrative tools typical of painting and comics to tackle themes of chaos, abuse of power, destruction, consumerism, consumption, greed, violence, and ignorance, embodied in the blank eyes of his subjects. Whether showing their faces or wearing masks, his characters are always insincere and corrupt. This new psychedelic series is a departure from previous work depicting children in spooky chiaroscuro settings. The artist appropriates Technicolor imagery and characters from the classic animation studios Van Beuren and Walt Disney, notably from the Silly Symphony series produced in the 1930s. By collaging collected images, mixing backgrounds and comic characters to create new compositions and situations, Castillo reconstructs the given narratives like a puzzle, formulating his distinctive style of storytelling with a punch line.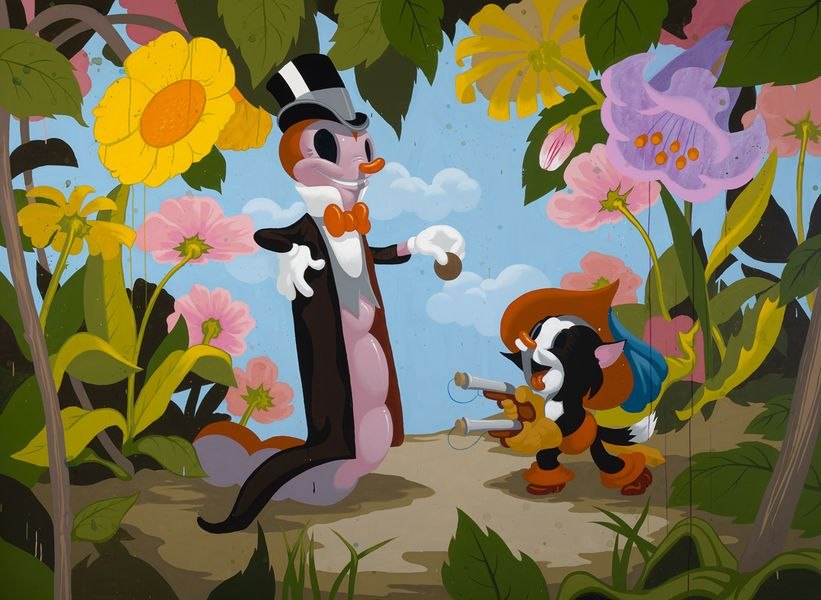 David Choong Lee Art - Gravity
The unique style of the Korean-born artist David Choong Lee combines elements of graffiti, collage, graphic design, portraiture, and classical realism. Despite being around for decades, the artist is just starting a new chapter of his career. Unlike his past figurative work where he depicted the diversity of San Francisco's population, his new imagery originates from his imagination only. This new visual vocabulary is the result of laborious studies, during which the artist has been painting and rearranging his work over and over. Created with acrylics, latex and aerosol paint, the visual language of this new body of work is moving between the geometric and seemingly organic. As the artist himself stated, "When someone understands one of these paintings, it's like they're hugging me really deep from inside". In this new body of work, the artist uses a Darwinian approach, slightly altering forms within each composition and bringing successful variations to the forefront.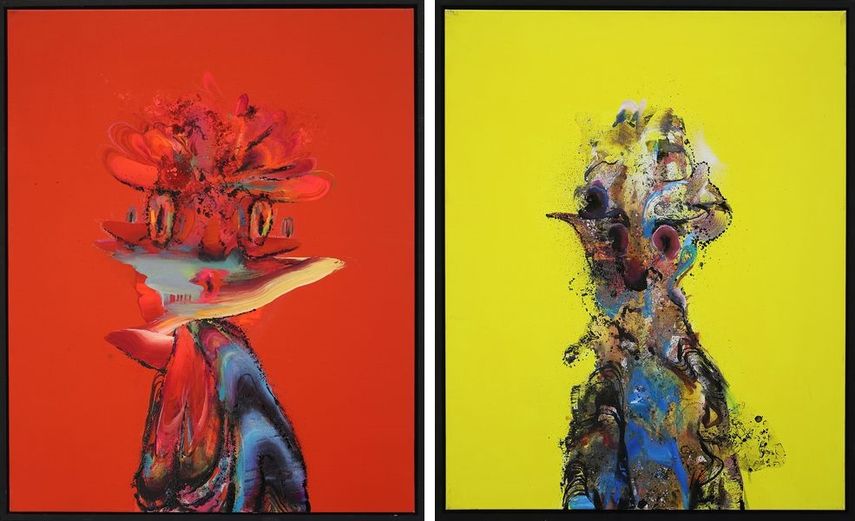 Castillo and Choong Lee at Jonathan LeVine Projects
David Choong Lee's exhibition will transport viewers to an otherworldly universe through a visual vocabulary of forms. As the artist explains, "maybe they are vast representations of space, an alien world, or an examination of life at a microscopic level". Following dreams of riches to a surprising end, Victor Castillo's exhibition offers medieval fables and a humorous reflection about the current state of society. Exhibitions We Were All to Be Kings by Victor Castillo and Gravity by David Choong Lee will be on view at Jonathan LeVine Projects in New Jersey from April 1st until April 29th, 2017. The opening reception will be held on April 1st, from 6 to 8 p.m.
Featured images: Victor Castillo - Let's Get Out of Here (detail); David Choong - Lee Home (detail). All images courtesy of Jonathan LeVine Projects.