Regarded as one of the greatest French authors of all time, Victor Hugo cemented his place in the history of literature with his epic books The Hunchback of Notre-Dame and Les Miserables. However, it is a lesser known fact that the acclaimed author also made some four thousand drawings over the course of his life. With his drawing practice being largely a private endeavor, these works were rarely exhibited in public during his lifetime.
The upcoming exhibition at the Hammer Museum will shed new light on Victor Hugo's drawing skills, which were quite experimental and enigmatic. Titled Stones to Stains: The Drawings of Victor Hugo, the show will feature over 75 drawings and photographs spanning the duration of his career.
A Prolific Drafstman
An adept and accomplished draftsman, Victor Hugo had left around four thousand drawings created over the course of his life, ranging from moody, dark landscapes and caricatures to surprisingly abstract compositions. Fearing that his drawings would distract him from writing, he kept them private and only drew for family and friends.
Initially creating caricatures born of a sharp and spiritual mind, it was after his trips on the banks of the Rhine between 1838 and 1840 that the artist developed his unique vision, inspired by the poetic scenes of castles on mountain shores. His extended exile on the Channel Islands of Jersey and Guernsey between 1852 and 1870 was a period of intense creativity in terms of drawing, resulting in astonishing works depicting Jersey seance tables and numerous seascapes. In this period, Hugo would often use stencils or screens with cut paper, lace prints or even leaves.
His strong political views, such as his struggle against the death penalty, were expressed in a range of masterpieces. He would also sometimes give visual expression to his literary creations, particularly The Toilers of the Sea, with Le Phare d'Eddystone (The Eddystone Lighthouse) and Le Phare des Casquets (The Casquets Lighthouse) described in The Man Who Laughs or the "front cover" of The Legend of The Ages or later in La Tourgue.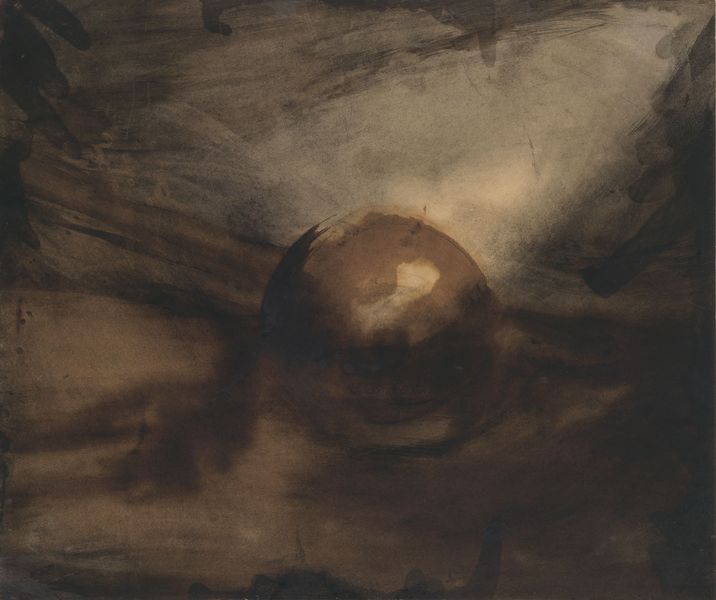 The Artistic Process
The subjects of Victor Hugo drawings range from ruined cathedral and castles to human figures often bent and grotesque to otherworldly daemons which evoke the works of William Blake. They were often taken directly from his own dreams and nightmares or other forms of hallucinatory, visionary experiences.
However, these works are imbued with a very modern sensibility. André Breton greatly admired Hugo's artistic methods which emphasized the role of chance and included scratching, smearing, experimenting in sepia and allowing images to emerge from the materials as well as from the artist's imagination.
Prone to experimentation, Victor Hugo would use soot, coal dust and coffee grounds when pen and ink were not available, or even draw with his nondominant hand or when looking away from the page. Cristopher Turner from Tate wrote of rumors that the artist had also used blood pricked from his own veins in his many drawings.
Hugo's son Charles, who always showed great support for the author's art practice, wrote he would always start drawing without a preliminary sketch with an extraordinarily sure hand, rendering each detail with great care.
He will begin his forest with the branch of a tree, his town with a gable, his gable with a weathervane, and little by little, the entire composition will emerge from the blank paper with the precision and clarity of a photographic negative subjected to the chemical preparation that brings out the picture. That done, the draftsman will ask for a cup and will finish off his landscape with a light shower of black coffee. The result is an unexpected and powerful drawing that is often strange, always personal, and recalls the etchings of Rembrandt and Piranesi.
Drawing incessantly and rising above contemporary conventions, the author created works which embody the boldness of execution and a sense of powerful creativity. Characterized by the remarkable skill, strong compositions, supernatural unreality, and often by theatrical effects of light and shade, these works continue to astonish the audiences even today. The French Romantic artist Eugene Delacroix apparently wrote to Hugo that if he had decided to become a painter instead of a writer, he would have outshone the artists of their century.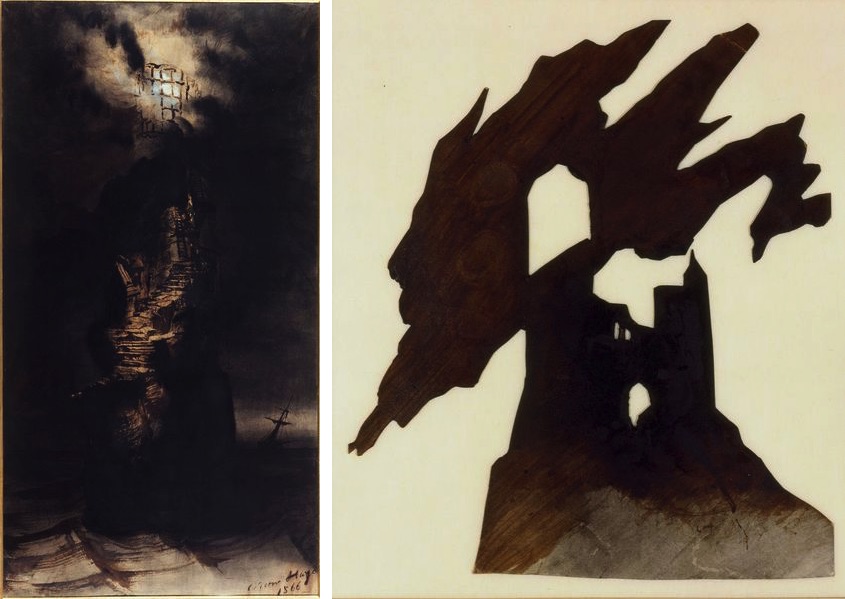 Stones to Stains
Until this day, the only American museum exhibition of Victor Hugo drawings was organized by the Drawing Center in New York in 1998. The new generation of audiences in America will now have a unique opportunity to see the exhibition which reconsiders the acclaimed author's experimental and enigmatic practice as a visual artist.
The exhibition will feature over 75 drawings and photographs sourced from major European and American public and private collections, including the Maison de Victor Hugo, the Bibliothèque nationale de France and the Musée d'Orsay in Paris, the Nationalmuseum in Stockholm, the Metropolitan Museum of Art and the Morgan Library in New York, and the Art Institute of Chicago.
The title of the exhibition, Stones to Stains, alludes to the development of the artist's idiosyncratic form of draftsmanship and its relationship to the transformative properties of water. Ranging from depictions of landscapes and architecture and the rendering of abstract forms and taches (stains), works on view evoke the phenomenon similar to that of water's effect on stone. The display will highlight his remarkable craftsmanship characterized by a characteristic spontaneous approach and receptiveness to the myriad possibilities of medium and materials.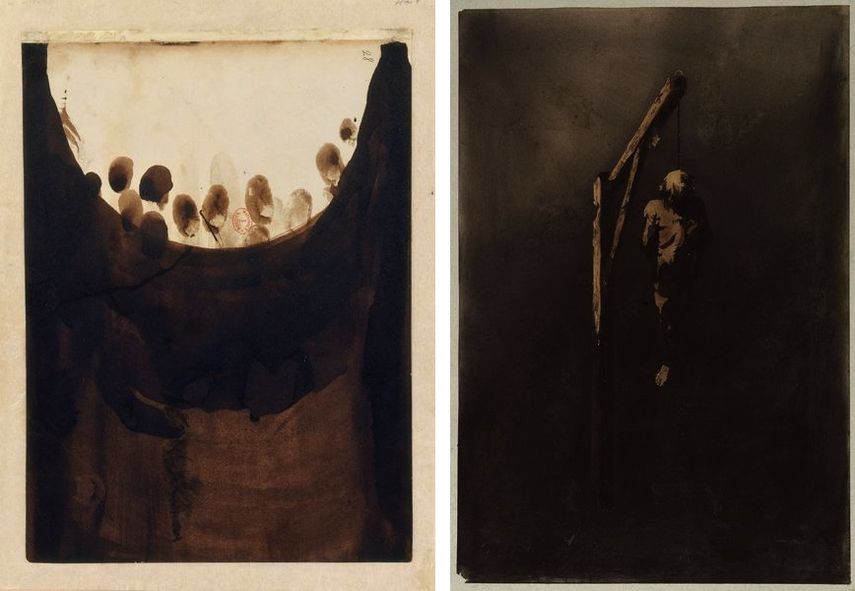 Victor Hugo Drawings at the Hammer Museum
The exhibition Stones to Stains: The Drawings of Victor Hugo will be on view at the Hammer Museum in Los Angeles from September 27th until December 30th, 2018.
It is curated by Cynthia Burlingham, deputy director, curatorial affairs and Allegra Pesenti, senior curator and associate director, Grunwald Center for the Graphic Arts, Hammer Museum, in collaboration with independent scholar Florian Rodari.
The show will be accompanied by a fully-illustrated catalog featuring essays by the curators Cynthia Burlingham and Allegra Pesenti, independent scholar Florian Rodari, and a chronology by Matthieu Vahanian, curatorial assistant at the Grunwald Center for the Graphic Arts. Related programming in Los Angeles will include lectures, concerts, and screenings with the support of the Center for European and Russian Studies at UCLA.

Editors' Tip: Shadows of a Hand: The Drawings of Victor Hugo by Florian Rodari, Marie-Laure Prevost, Luc Sante, Pierre Georgel and Victor Hugo
One of the most celebrate authors of his time renowned in literary history for his epic books The Hunchback of Notre-Dame and Les Miserables, Victor Hugo was also an accomplished painter. In a series of five essays, leading experts on the drawings of Victor Hugo describe and analyze his collections of works in this comprehensive catalog, which was published to coincide with the first ever exhibition of his art at the Drawing Centre, New York.
Featured image: Victor Hugo - Ma destinée (My destiny), 1867. Brown ink and wash and white gouache on paper. 6 3/4 × 10 3/8 in. (17.2 × 26.4 cm). Maisons de Victor Hugo, Paris / Guernesey, MVHP.D.927 © Maisons de Victor Hugo, Paris / Guernesey / Roger-Viollet; Taches (Stains), ca. 1875. Black and gray-blue ink and wash on paper. 17 7/16 × 21 5/8 in. (44.3 × 55 cm). Bibliothèque nationale de France, NAF 24807, fol. 41‒42 © Bibliothèque nationale de France. All images courtesy of Hammer Museum.