There is no doubt that one of the main advantages of photography is its ability to depict the deepest emotions of human beings. Of course, this can be achieved only by photographers – artists who create amazing pieces that at first may seem banal as pure representation of everyday life. Yet, the artists' virtue makes us sometimes completely enchanted by strong emotional, social and personal expression of an artwork. One of the most emotional and personal expressions an artist can create is the one that originates from the author's personal life experience. Photographs by Spanish artist Viky Garcia from her Mothers Milk series are like that – personal, emotional and beautiful. Additionally, when an artist decides to share his/her "personal secrets", as it is case with this amazing photographer and visual artist, it makes the visual experience even richer. Viky Garcia's photographs will be exhibited during evening-only exhibition at Subject_ Gallery in New York, curated by Juana Domenzain and Maria Luisa.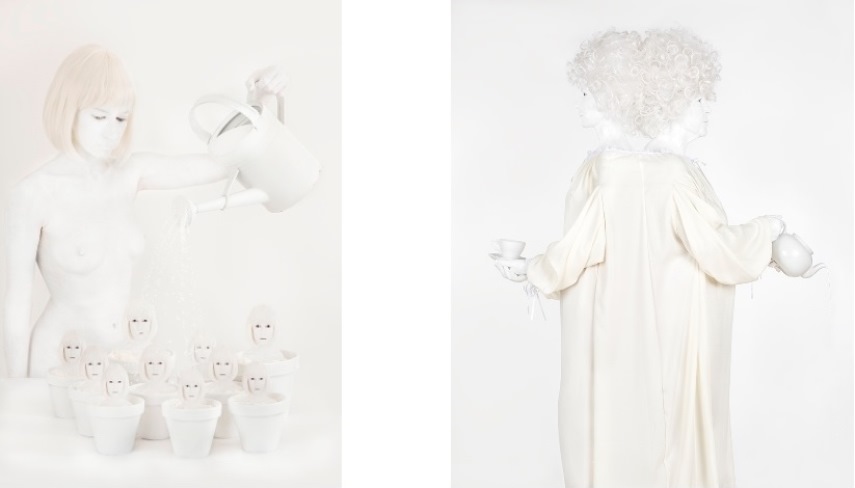 The Secret World(s) in the Art of Viky Garcia
Viky Garcia is Spanish photographer, born in Santiago de Compostela (take a look at our list of 10 women photographers). She studied photography at IDEP and Gris Art in Barcelona, at the International Center of Photography in New York. As a photographer she worked at the newspaper El Correo Gallego in Spain, and now she lives and works in Brooklyn, New York (if you like street art, you can check out our list of 10 urban artists from Spain). Photography is not the only medium she uses. Her process includes performance as well, and an interesting mixture of theatre and photography. For example, for the Mothers Milk series, Garcia worked with a body painter who colored the figures into white. The objects seen on photographs are found on street, or bought via Internet. She was preparing scenography, and even was a subject of the photographs as well (check out our article about the evolution of contemporary photography). So, the artist's process is quite interesting and complex, and we may even say it has some elements of conceptual art movement. However, the final products are amazing photographs.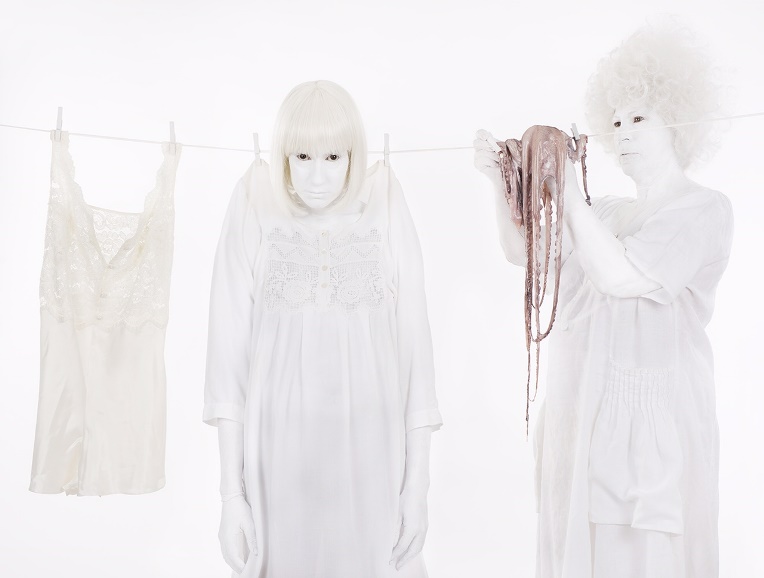 Mothers Milk at Subject_ Gallery
If you like movies, you are acquainted by masterpieces by Pedro Almodovar or Ingmar Bergman dealing with (sometimes complicated) relationships between mothers and daughters. Well, if you like photography, then you have to pay attention to Viky Garcia's Mothers Milk. In this newest work, Garcia uses images from the everyday life and from her childhood house to explore her relationship with her mother. The work reflects the artist's introspective thinking of her relationship with her mother and includes ideas of disconnection, chaos, tension, and acceptance with more or less of a comic perspective. Although coming from personal experience, the artist's photographs have a universal meaning – questioning general relationship issues between a mother and her daughter.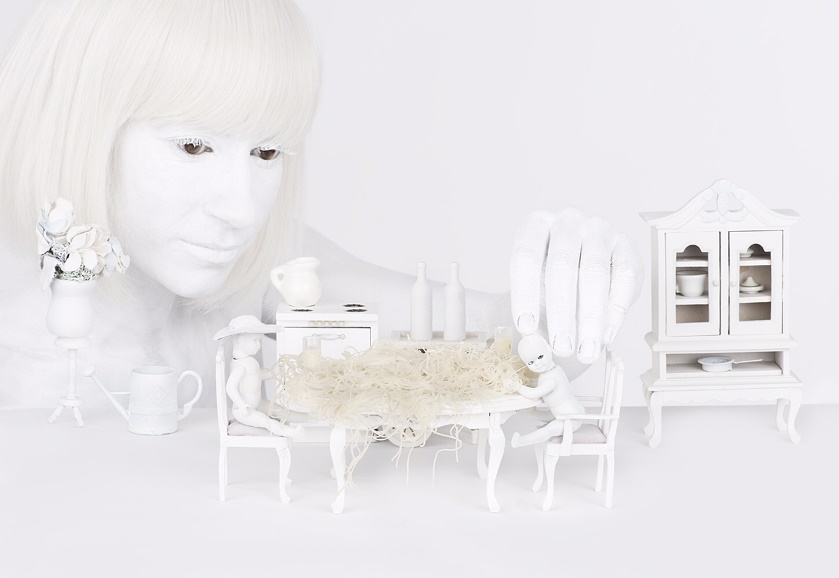 Viky Garcia Photographs at Subject_ New York
Mothers Milk is the first Viky Garcia's solo show of the artist in New York City. The exhibition is curated by Juana Domenzain, Gina Xaviera Moreno Valle and Maria Luisa Mendoza. This show is also important for the Subject_ Gallery. With this exhibition, the gallery celebrates its inaugural New York launch at the Ludlow Studios. The exhibition Mothers Milk with the latest photographs by Viky Garcia opens on May 28th 2015, 6:30pm, at Ludlow Studios – Subject_ Gallery, 40 Ludlow St, New York, NY 10002 - New York City.
For the latest news in the world of contemporary art, sign up for My Widewalls!
Featured Image: Viky Garcia - Mothers Milk exhibition
Image in Slider: Viky Garcia - Mothers Milk exhibition  (detailed)
All images courtesy of Subject_ Gallery.