Lithuania's capital had the pleasure of hosting the 3rd annual gathering of international artists. The Vilnius Street Art Festival 2015 took place from August 19th till September 23rd on five locations in the city, where the same number of creatives did some amazing murals in their trademark fashion. Apart from street art, the festival was accompanied by two photography exhibitions - one dedicated to artist Liudas Parulskis and the other a group show of five photographers, held at the Vilnius railway station, and three talks, tackling the topics of graffiti and its social and cultural aspects, the rebirth of the train station, and the concept of public space.
This year's edition saw the participation of Millo (Italy), Sepe & Chazme (Poland), Mobstr (Great Britain), Antanas Dubra (Lithuania) and Os Gemeos (Brazil). Scroll down to check out their murals!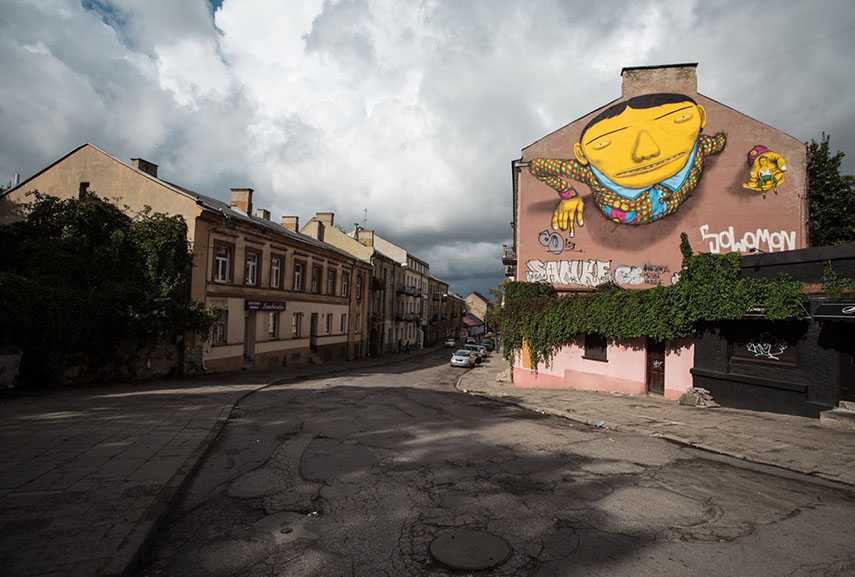 Os Gemeos
Brazilian twins Otavio and Gustavo Pandolfo, better known as Os Gemeos, took part at the Vilnius Street Art Festival for a reason quite close to heart. The duo created a large mural dedicated to their grandfather, Albinas Kanciukaitis, who was of Lithuanian descent. Their work, painted on Pylimo street, sees their beloved grandpa sitting on the palm of a giant's head, who seems to be coming out of the building. The brothers seem to have painted themselves as well, in the pocked of the giant's shirt, where we can see two little heads peeking out. Os Gemeos just gave a new twist to the art of their signature yellow characters.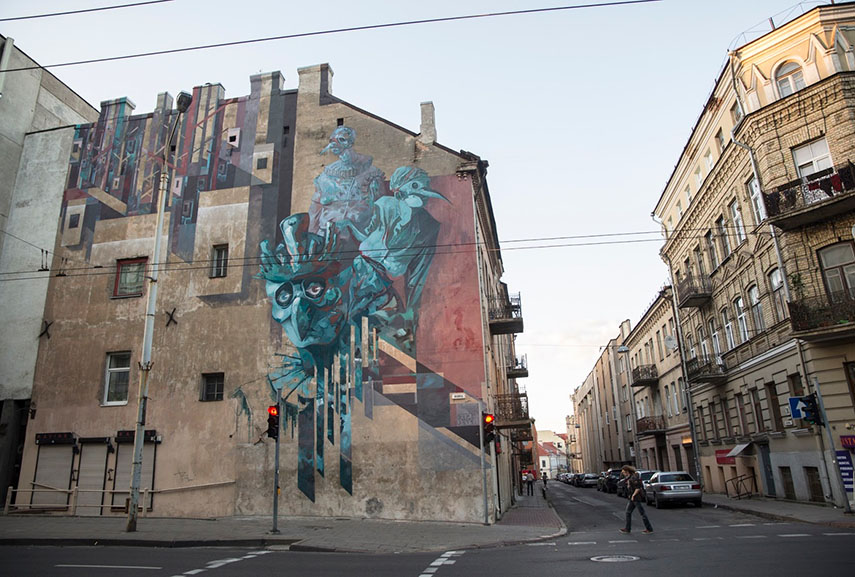 Sepe & Chazme
Another street art duo, but this time from Poland, created a mural named Corest Fity, located at Kauno 1. Michal Wrega and Daniel Kalinski, better known as Sepe and Chazme respectively, painted the turbulent relationship between man and nature, summing it up by saying "We destroy nature at a pace so that soon we will be forced to imitate it in the cities and play the animals ourselves". They also added "City that pretends being a forest, people that pretend being animals. It may be an impression about modern cities that often start to feel like being jungles full of animals or that nowaday people started to live far away from nature."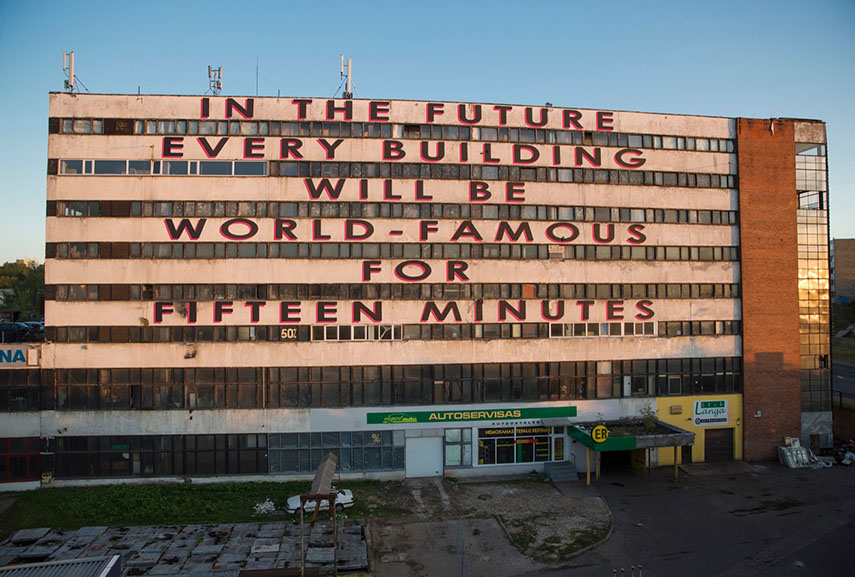 Mobstr
British artist Mobstr, only known by that name, left one of his recognisable writings on the wall of a huge building in Taksi Parkas at Pelesos 1. His latest mural reads In The Future Every Building Will Be World-Famous For Fifteen Minutes, paying a tribute to the famous Andy Warhol quote In the future, everyone will be world-famous for 15 minutes. Mobstr is one of street art's most famous writers, and his wise, sarcastic and clever words can be found on the walls around the world. He is also known for having fun with the authorities and graffiti cleaning squad, often painting over their paint and leaving witty comments that would drive anyone mad.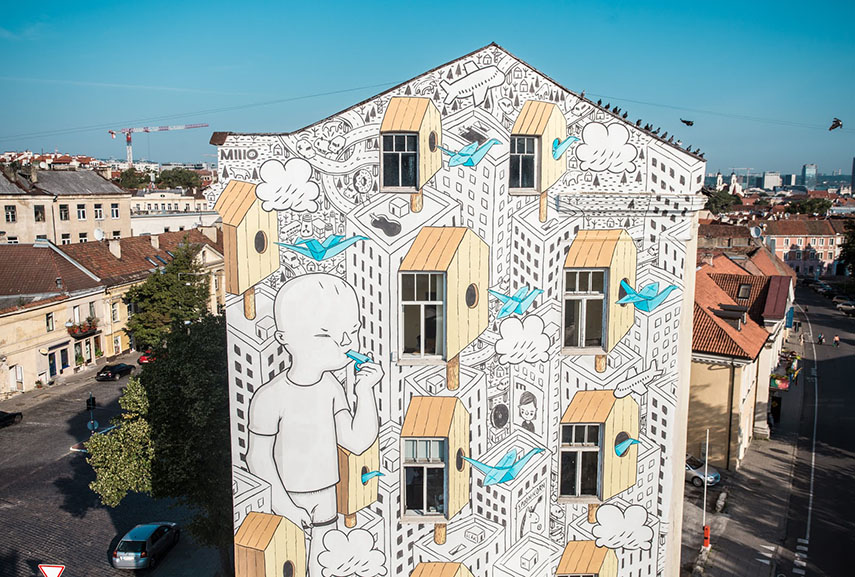 Millo
Millo's remarkable mural in Vilnius was part of our selection of Best Instagrams in August, and for a good reason too. What's so special about this work is that it is the first ever site-specific mural for the Italian urban artist. By his own admission, he is "a little bored with paper white plain walls", so he decided to play with building facades that have windows, like the one at Pylimo 56. Millo's background in architectural studies surely helped him in the execution of this mural, in which we see a boy flowing a whistle, and a series of blue-painted paper planes (or birds) flying around a series of skyscrapers. Beautiful artwork indeed!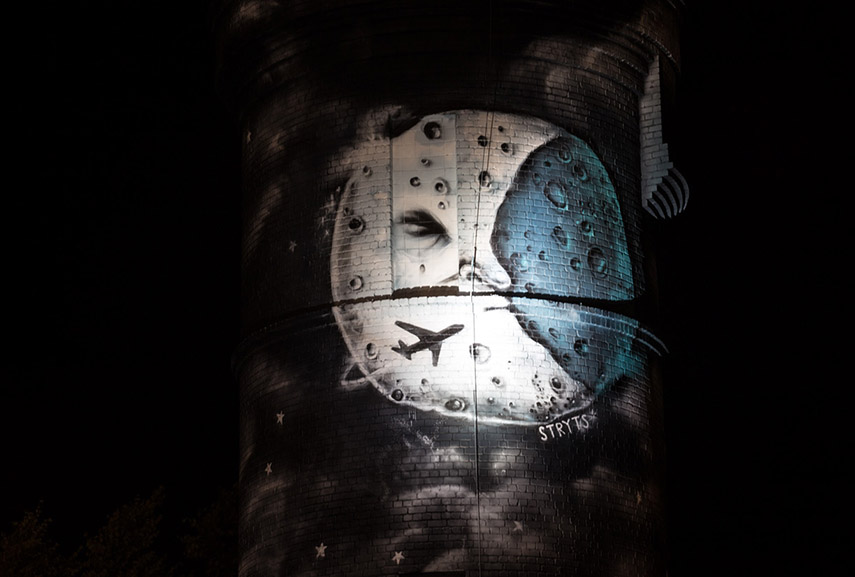 Antanas Dubra
Local artist Antanas Dubra surely got a unique painting location - the Vilnius Airport. There, he created a beautiful mural titled The grumpy side of the moon, located on an old metal water tower clearly visible from the planes. Sometimes going by the name of Stryts, the artist painted an image of the moon, stating that he sees it as the new limit of modern aviation, whereas sky is no longer a challenge. The mural is illuminated in a way that it can also be seen during the night, and its aspect in different lighting compared to the one in daylight gives it a whole new meaning every time.
All images courtesy of Vilnius Street Art Festival.