Every art piece demands a certain level of immersion and engagement from its viewers, but art experienced via VR googles takes things to an entirely different level. Virtual art, VR art or virtual reality art are all terms we use to describe the virtualization of art, made with the technical tools developed at the end of the 1980s. The development of computers and other technical tools such as "visualization casks, stereoscopic spectacles and screens, digital painting and sculpture, generators of three-dimensional sound, position sensors, tactile and power feed-back systems, and many others"[1] transformed the artworks into an entire virtual universe and allowed the viewers to get in and edit them. In return, this caused a higher level of immersion, and psychological impact as the observers were pulled directly into the VR artwork. This deep level of immersion and personal involvement and the application of specific technical tools are the main characteristics of what we often call virtual or VR art.
Virtual art can be broadly defined as art "that allows us, through an interface with technical tools, to immerse ourselves in the image and interact with it".[2] It emerges both from illusionist art of the ancient Pompeii and more recent genres such as Op Art, Kinetic art and immersive cinema that often explored phenomena such as virtual movement, vibration, light and colors. But only after VR casks, spectacles and helmets were invented virtual art could finally get its true shape, that uses virtualization of images to produce the masterpieces perceived as a different reality. Unlike many other art forms, virtual art cannot exist without the observer, but at the same time, it erases the difference between the viewer, the creator and the artwork itself. It merges all three in one by letting the viewers control their surrounding with gesture and movement, by giving them different paths of exploring the artwork and by integrating the participants into the piece itself (sometimes through breathing, speech or video clips, other times through virtual representation of the participant aka the avatar).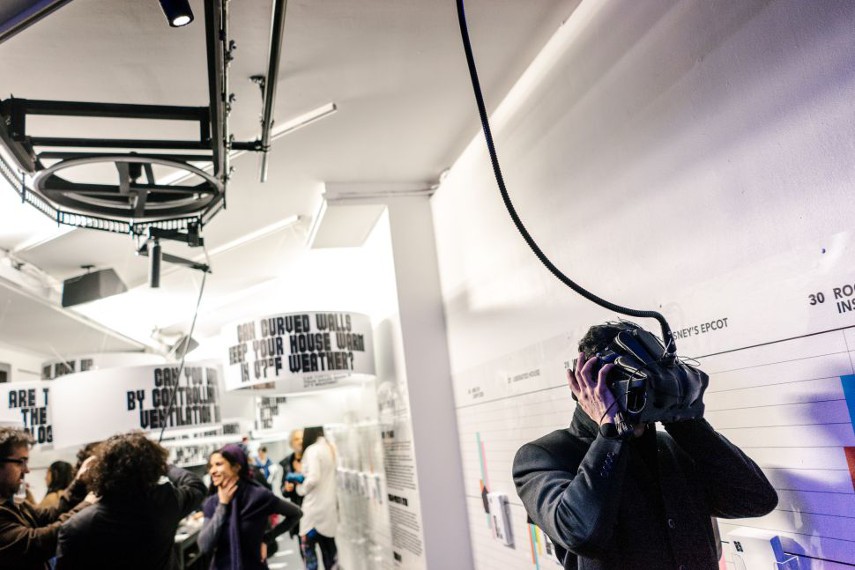 1990s and the birth of Virtual art
Virtual art began to establish itself in the 1990s when creators managed to master the tech, the internet, and holography. The tunnel Under the Atlantic was the first virtual reality installation made by Maurice Benayoun in 1995. This seminal televisual installation created a link between the Contemporary Art Museum in Montreal and Pompidou Centre in Paris. On the outside, the piece contained a metal tube that appeared as if it was dug into the ground. Between two tubes there was a virtual tunnel filled with recognizable images characteristic for both cultures lingering in mid-air. While traveling trough this tunnel the participants could talk to their peers from the other side of the tube or even meet them in virtual reality. On the same year, Canadian art-maker Char Davies created another virtual reality piece entitled Osmose an immersive VR installation that "incorporates 3D computer graphics and interactive sound, a head-mounted display and real-time motion tracking based on breathing and balance"[3]. After putting on VR goggles and an electronic vest, the participants were taken into one of many nature-inspired virtual environments including Forest, Cloud, Pond, Subterranean Earth and so on. The transition between these worlds was seamless which made the installation overwhelmingly calming. Most participants described the experience as profoundly intense claiming that they have "rediscovered an aspect of themselves which they had forgotten."[4]
Osmose by Char Davies
VR art in the 21st Century
The year of 2016 has seen the creation of various VR artworks. The 2016 edition of NEW INC's programs annual show contained an entire segment dedicated to virtual art-makers entitled Virtualities. Pieces in the Virtualities vary in styles and approaches thus proving that VR artists of today have a lot more possibilities than their predecessors. Artist Charles Sianty, for instance, used YouTube videos of automobile accidents to construct a virtual junkyard that visitors can explore by using Oculus Rift and video game controllers. Just like Andy Warhol's Disasters series the artist explores the people's morbid fascination with tragedies of all sorts but with an addition of VR the experience is even more disturbing than ever. His fellow virtual reality artist Rachel Rossin used VR art to guide the observers trough her vision of hell, full of life, architectural imagery, fragmented paintings, browser logos and haunted bananas.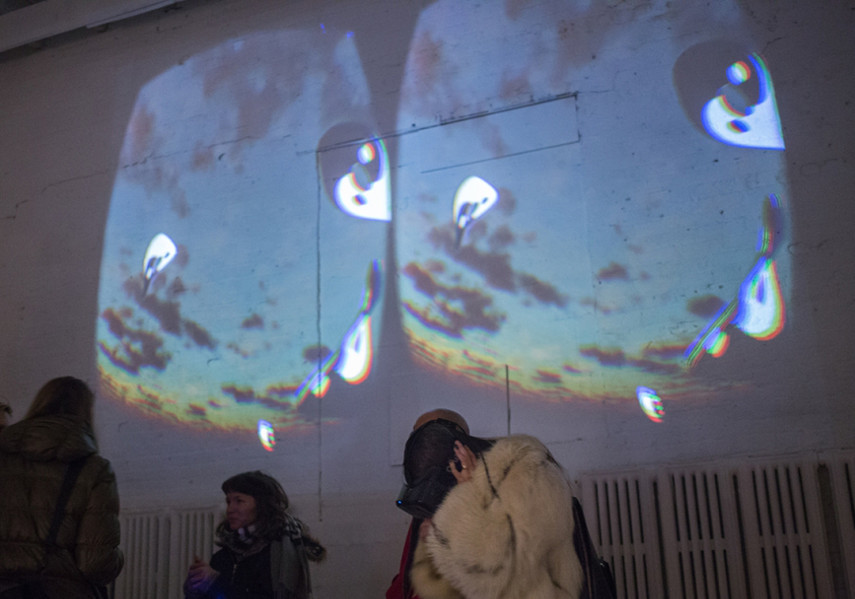 Virtual Reality and Tech - From Wires and Vests to Google Tilt
Since the 1990s VR tech has significantly improved. The times of wires and electronic vests have passed and nowadays all you need to enter the exciting world of virtual reality in the comfort of your home is a smartphone and a pair of VR goggles. And both are getting cheaper and more accessible every day. There has been a significant progress in the interface design as well and now the images look more vivid, the movement more natural, and the creative process easier than ever. With the development of Google Tilt program that allows art-makers to use HTC Vive goggles, virtual paint and a small electrical controller as a brush to produce various works, creating virtual art has become so easy that even an eighth grader could do it. This was proven in a test following the program's release when TIME invited seven different artists including a painter, a muralist, and a designer to make works by using the controllers as a brush. Works made with Google Tilt are visible only in virtual space through HTC Vive but they can be exported as video works or shared via animated gif. The inventions of products like Google Tilt had made VR art more democratic and with further development of similar tools that are intuitive and easy to use it's very likely that we'll see even more VR artworks in the years to come.
Sheryo uses a Controller brush and HTC VIVE in Google Tilt live painting session
What is the Future of VR Art?
The future of VR will in many ways depend on the development of electronic components that will become available to future art-makers. The first wave of VR art came instantly and gained immediate attention. Char Davies' Osmoses, for instance, was notoriously omnipresent in the news and widely praised as a groundbreaking masterpiece even though, due to the nature of the installation only several hundred people ever got the opportunity to experience the piece. But shortly after, virtual art begun to die down, since the possibilities of the new electronic components were quickly exhausted. Today however, with tools like Google Tilt and many others that will undoubtedly develop, the future of VR looks brighter than ever. Now you can make paintings, sculptures, even murals by using VR tools but still there's a long way to go. With its ability to simultaneously occupy all our senses, transcend time and space and present the work from numerous perspectives, virtual art offers something that no other art genre does: the complete and impeccable substitute for reality.
Editor's Tip : From Technological to Virtual Art (Leonardo Book Series)
For further readings on this exciting art genre look up this ground-braking book by historian of art and tech Frank Popper. In From Technological to Virtual Art, he traces the development of immersive, interactive art from its historical antecedents through today's digital, multimedia, and networked art. Popper shows that contemporary virtual art is a further refinement of the technological art of the late twentieth century and also a departure from it. What is new about this genre, he argues, is its humanization of hi-tech, its emphasis on interactivity and its multisensory nature. He argues further that what distinguishes those who practice virtual art from traditional art-makers is just their combined commitment to aesthetics and hi-tech.
References:
Popper, F. From Technological to Virtual Art (Leonardo Book Series), MIT Press, 2006
Grau O., Virtual Art: From Illusion to Immersion, MIT Press, 2003
Russett. R. Hyperanimation: Digital Images and Virtual Worlds Herts, UK: John Libbey Publishing, 2009
Anonymous, Virtual reality is for Artists, TIME [September 30, 2016]
Featured images : One of Tilt live painting sessions where professionals skilfully edit the reality with HTC VIVE, Oculus Rift, VR paint and controller brush via cnn.com, A viewer wearing HTC VIVE while observing virtual reality installation painted with controller brush via engadget.com. All images used for illustrative purposes only.