What started off as a collaboration between dealers and friends turned out to become one of the most important international fairs in the world. Coming back for the 12th time after a successful show in New York earlier this year, VOLTA Basel is without a doubt one of the crucial events of the contemporary art week taking place in the Swiss city, together with Liste and the undisputed Art Basel. Firmly dedicated to the needs of its exhibiting galleries, VOLTA Basel will once again feature both solo presentations and curated booths of the world's most renowned spaces, putting an emphasis on what fairs should be all about - artists and their work. Returning to the city's landmark venue of Markthalle, the event will bring together over sixty galleries from twenty countries and thirty three cities around the globe, promising another showcase not to be missed.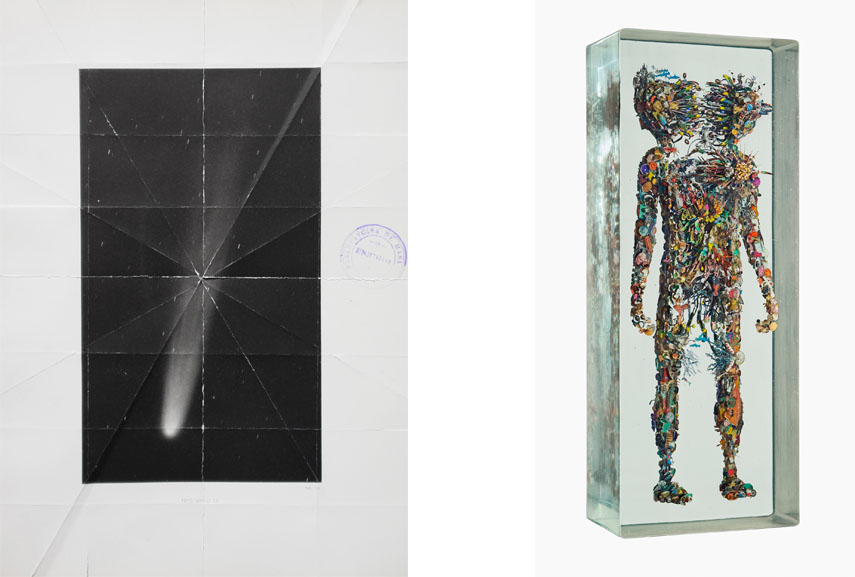 Program Highlights - The Debutants
While some 90% of the exhibitors have already participated at VOLTA Basel and New York, the fair will introduce six brand new participating galleries, as part of an ongoing effort to expand the global arts community. Among them, we have knoerle & baettig from Winterthur, Switzerland, bringing a pair of emerging Cuban artists Alejandro Campins and Frank Mujica; Project ArtBeat from Tbilisi, Georgia, with three local artists focusing on Post-Soviet explorations; Paris's Galerie l'Inlassable, with a solo presentation of works by young French artist Caroline Corbasson; at New York's Causey Contemporary there will be Kevin Bourgeois' site-specific socio-political installation; two Romanian artists will be shown at Bucharest's Anca Poterasu Gallery, while taubert contemporary from Berlin will show a site-specific wall painting by Dutch artist Jan van der Ploeg.
List of Exhibitors
Participating Galleries
Among the booths you should definitely visit is the one of BEERS Contemporary London, as they will present new works by painters Jonathan Lux and Thrush Holmes. Also there will be ROCKELMANN& from Berlin, with a ritualistic installation by Yasmin Alt. Make sure you also don't miss the presentations by New York's The Hole as well as Copenhagen-based V1 Gallery. Other highlights include several long-time exhibitors looking back to the 1970s: beta pictoris will show rubber and mixed-media "tough paintings" by Mono-ha artist Yoshishige Furukawa and Austrian-German conceptual photography duo Barbara and Michael Leisgen. Slovenia's P74 Gallery will show local artist Milena Usenik and her Op-Pop art paintings. As for the solo and duo projects, we will have Tschabalala Self at Thierry Goldberg Gallery, Eric Pina at Ed Cross Fine Art and Alpin Arda Bağcık at Galeri Zilberman. Duo presentations will include Tracey Snelling and Ulu Braun at krupic kersting galerie, Masashi Hattori and Stitch Dog at Osaka's YOD Gallery, as well as Fanny Allié and Diana Sirianni at Brooklyn's Fresh Window.
Location of VOLTA 12 Basel Fair
VOLTA Basel 2016 - Practical Information
VOLTA 12 will take place between June 13 and 18, 2016 at Markthalle in Basel, Switzerland. The Guest of Honor Preview is scheduled for June 13 from 10am to 12pm. The Press Preview will be held from 12pm to 2pm, while the public vernissage is from 2pm to 7pm. Fair hours will be from 10am to 7pm on all days, with Basel Nacht on June 16 from 5pm to 9pm. Ticket prices range from 18 CHF for General Admission, 14 CHF for students and 14 CHF for groups of 10 and more. For more information, please visit the official website.
Floor Plan
Featured images in slider: Alpin Arda Bağcık - Abizol, 2016. Oil on canvas, 80 x 120 cm. Presented by Zilberman Gallery, Istanbul/Berlin; Ángel Marcos - En Cuba #18, 2004. Inkjet on paper between Plexiglas, 300 x 150 x 15 cm. Presented by Hilger BROTKunsthalle, Vienna; Christine Boillat - Silent Circus, 2014. Charcoal, graphic, and ink on paper, 150 x 280 cm. Presented by Studio Sandra Recio, Geneva; Derek Lerner - Asvirus 62, 2016. Ink on paper, 60 x 98 in. (1.5 x 2.5 m) Presented by robert henry contemporary, Brooklyn; Irene Grau - NCS S 2370-R 112 cm, 2016. Ultrachrome on baryta paper, 53 x 80 cm. Presented by Ponce+Robles, Madrid; Li Daiyun - Dark moon, 2011. Acrylic on canvas, 119 x 176 cm. Presented by Ethan Cohen New York, New York. All images courtesy of VOLTA Basel.