Urban areas are naturally subject to urban decay, while the common notion is that it can be fixed by sheer repair. However, if cities are perceived from another angle, as living, breathing organisms, then urban decay is disease and the affected city is in need of cure. A collective from Rochester, New York sees the cure, not in tools, paint and hardware, but in art spread across the walls of the distressed urban area, providing it just the right medicine and giving it a chance for a new life, while respecting the old one. This collective stands behind a mural project named Wall\Therapy. Many of the paramount street art figures took part in the project over the past two years, while the practice continues.
Oriented towards healing the city, Wall\Therapy project contains a strong philanthropic note as well. Initiated by Dr. Ian Wilson, it's engaged in healing urban areas, while its sister initiative IMPACT! is devoted to organizing diagnostic image centers in developing countries, enabling radiology aid via long distance links.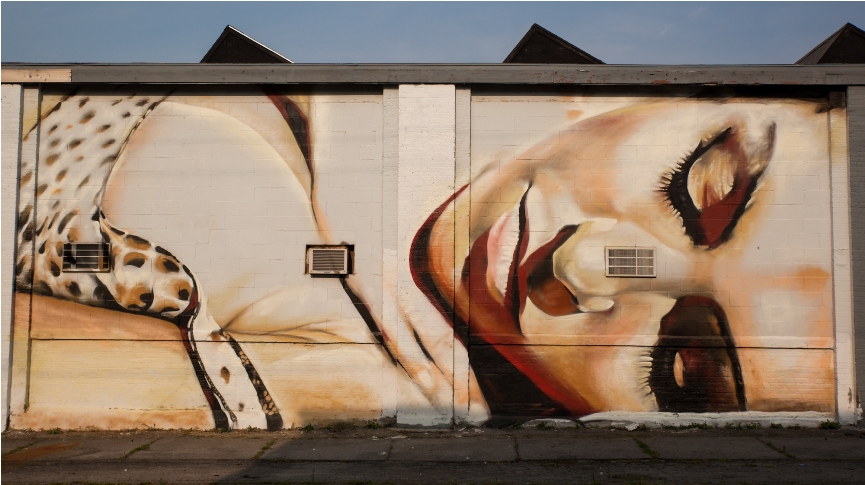 Inspiration Runs Both Ways
Inspiration is what drives the Wall\Therapy team. Artists get inspired by various topics, creating amazing large-scale artwork and thus inspiring the locals on a whole different level. Society is in dire need of inspiration, while the therapeutic effect of the one provided by multiplying murals in Rochester is beyond measure. This year's curatorial topic for the project was portraiture, where the artists were depicting imaginary or real individuals, all filtered through their personal visions.
At the end of June, Wall\Therapy main event was announced by a stunning wall piece by Alexis Diaz that can be seen in a video, but the key street art intervention on the cityscape occurred in the second half of July, over a week-long period, birthing a series of 15 new creations by 13 artists. Roster for 2014 included Jarus, Addison Karl, Alice Mizrachi (took part in Surplus Candy project), OMEN, OVERUNDER (participated in Open Walls Baltimore), Alice Pasquini, Sam Rodriguez, Ernest Shaw JR and David Walker, accompanied by local muralists Shawnee Hill, John Perry and Caitlin Yarsky.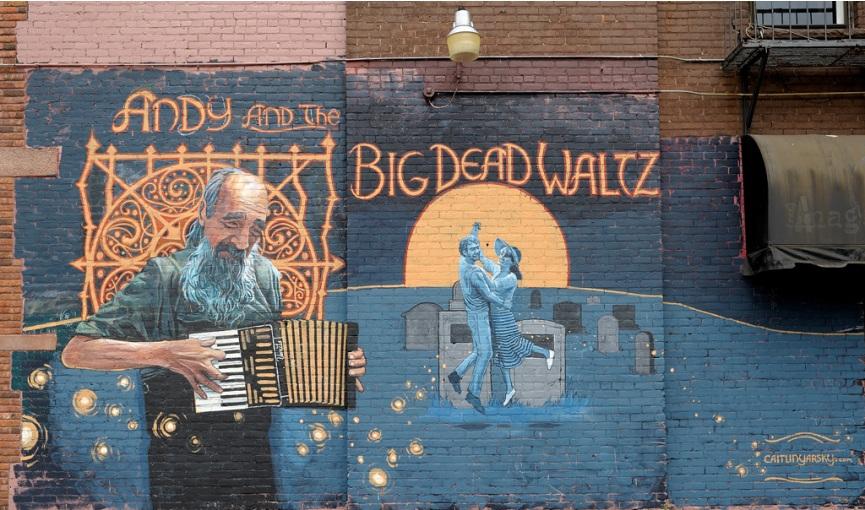 Murals of Rochester 2014
Sam Rodrigues painted a stylized female face, with signature lettering over it. OMEN graced the town with two polished murals of women, both depicted in states of melancholy and sweet, erotic daydreaming. Canadian street artist Jarus painted two murals as well, one of a woman with a cat on a very deep red sofa, and another on a silos, portraying a local beauty, garnering much praise from the local community. An homage to Jimi Hendrix was made by Ernest Shaw Jr, and another one to a local celebrity of Rochester, Andy and his accordion by local Caitlin Yarsky. Eliscer Elliot and John Perry added a welcome note of humour to the murals, taking on old age and seriousness, whereas Shawnee Hill took a turn towards a slightly darker aesthetics. OVERUNDER made a true masterpiece, fusing natural elements with human aspect, and Addison Karl created one of the largest pieces of the project so far - a 4 story tall wall work. Alice Mizrachi involved children from a local school to paint a very long mural bearing a universal message of peace, and another Alice, Pasquini, painted the most dainty piece of Wall\Therapy 2014. One of the most striking murals is the one executed by David Walker, painting two sets of equally worried and inquisitive eyes, gazing into the sky, the future, the unknown, depicted in his multi-colored signature style.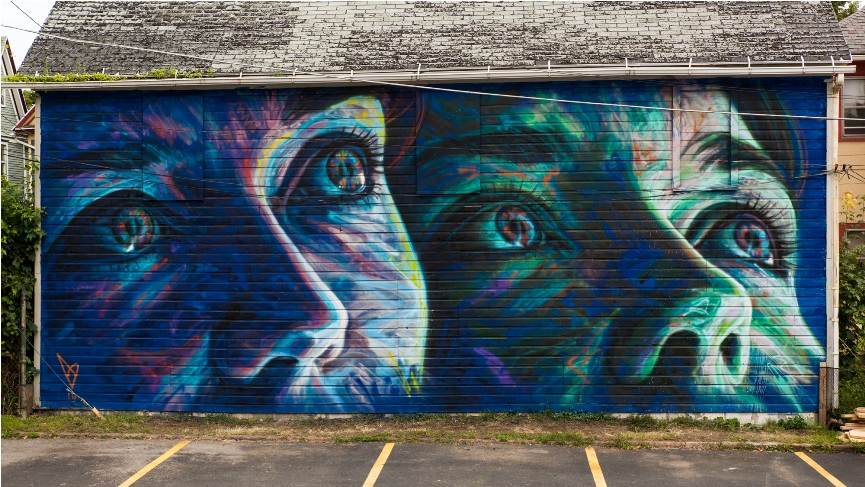 Wall Needs Therapy
Wall\Therapy 2014 was a tremendous success and the artists proved once again their valor in the world of renowned global street art. As the project is continuing, and growing in the forms of satellite events, we hope to see more public paintings coming to Rochester, the new Image City of the States.