Wang Guangle makes artworks in various typologies and minute detail. Being one of the leading abstract painters of his generation in China, his work simultaneously references traditional memento mori, temporality, repetition, and abstraction. Time is a central concept in his works, and his canvases represent markers of time passing. As he stresses himself, his work doesn't react against the fast pace of change, but it reflects his personal relationship with time. A selection of Wang's recent works will be presented in the exhibition Yellow at Pace London this month. The name of the exhibition references the unparalleled presence of yellow in his work. Even though he doesn't assign any meanings to this colour, he welcomes its various associations.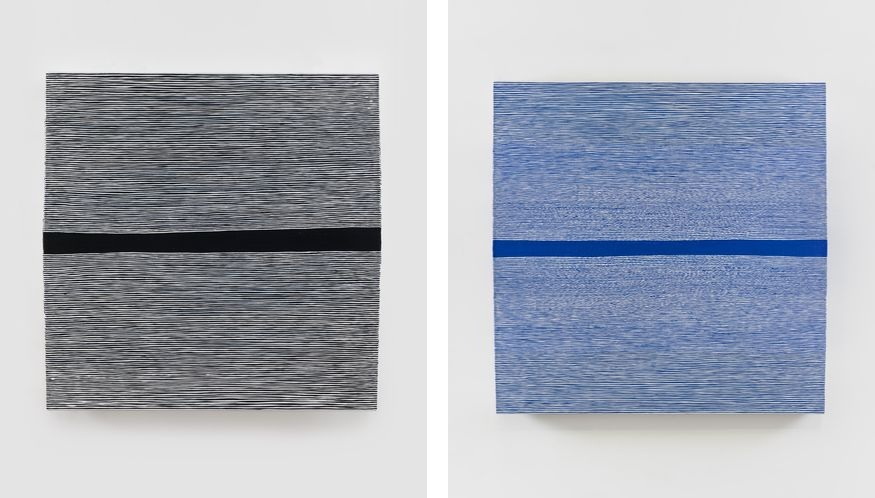 Memento Mori
In his Coffin Paint series, Wang uses layers of paint to build up heavy surfaces that evoke the material's physicality. Working with the canvas lying on the floor, he subsequently applies layers of acrylic paint in alternating colour creating a striped effect. Waiting after each application, Guangle applies the colour twice a day in a mechanical repetition of the same movement on one surface. In this way, time is encoded in these three-dimensional layers. The Coffin series was inspired by a burial tradition he witnessed as a child in Fujian province in China, where elderly people would acquire a coffin and paint it each year as a celebration of their survival, but also as a reminder of their mortality. Guangle's method reflects this temporal element, relating to the Chinese cultural identity, but also conceptual art practices.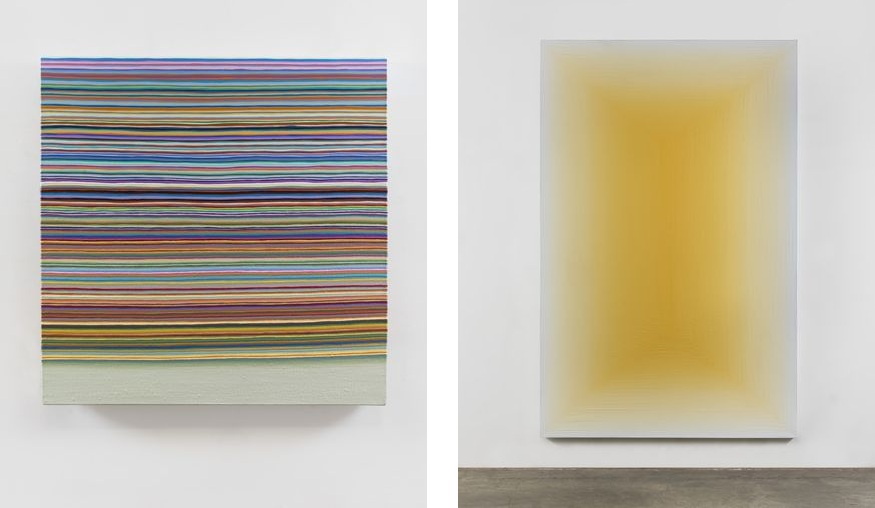 Paintings Made of Light
An extension of the Coffin Paint series, his Untitled works evolve from the same technique. Placing a greater emphasis on geometry, Wang paints rectangular fields progressing to the centre, creating subtle gradation in brightness and colours resulting in an illusionistic depth. Since the lighter tones of the composition are acting as a framing device, the paintings radiate energy and look as if they were made from light. Again, the main focus of Wang's work is time and its slow progression. Each layer of paint represents a moment in time and his works become meditations on temporality. Reflecting this progression in time, the numeric titles of the paintings indicate the year, month, and day of completion.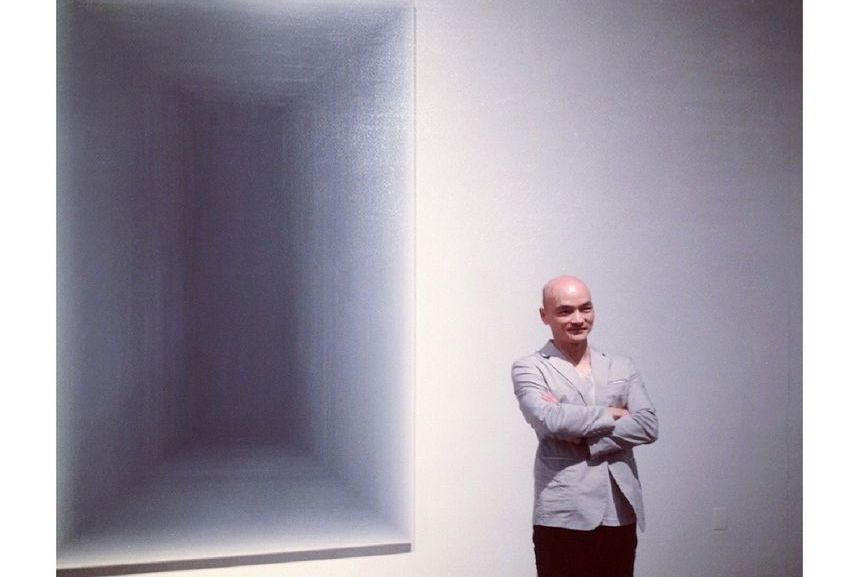 Wang Guangle Exhibition at Pace London
Wang has had five solo exhibitions and his work has been featured in numerous international exhibitions, but this is his first solo exhibition in Europe. The exhibition at Pace London will include a selection of recent paintings by the artist that reflect the spirit and style of his work from the previous decade. The exhibition Yellow will be on show on the ground floor gallery at 6 Burlington Gardens from March 18th till April 16th, 2016.
Editors' Tip: Wang Guangle edited by Christoph Noe
Hatje Cantz has recently published a Monograph of Wang Guangle's work edited by Christoph Noe. Perceived as one of the most promising artistic talents from China, Wang contemplates passing of time as the main motif in his work, and his canvases serve as a marker of its slow progress and a personal archive. He is famous for his series Terrazzo, based on meticulously rendered floors, Coffin Paint, inspired by the tradition of buying one's own casket and lacquering it, and Untitled, that mirrors the process used in the Coffin series. His paintings radiate a spirituality and are that are indebted to Chinese tradition but borrow formally from the West. The Monograph features texts by Thomas Berghuis, Bao Dong and Philip Tinari, and graphic design by Xi Jiajia.
All images © Wang Guangle, Courtesy Pace London.