Wang Yigang exhibition at Centre Artasia Paris will be the first retrospective and solo exhibition of the Chinese artist in France. The retrospective will include works from his earlier periods, as well as the most recent paintings. Look in the past will start with some of his art pieces from early 1990s when contextual circumstances influenced the Yigang's positioning on contemporary international art scene as the one of the pioneers of modernist expression, in China in particular.. Independent curator and art critic Ami Barak made the design for the exhibition.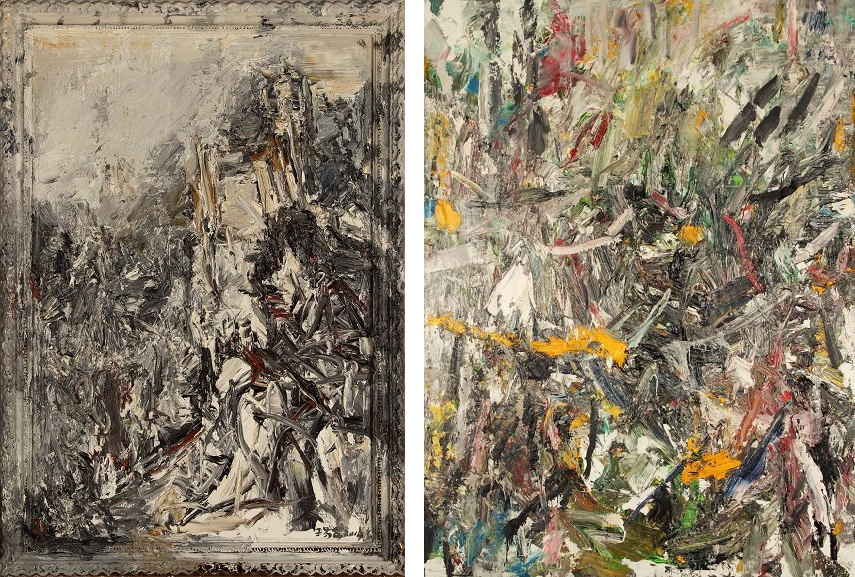 Four Phases of Yigang's Abstract Art
Hailed as a representative of Chinese contemporary art, Wang Yigang started his career in early 1980s. Art critic and theorist He Guiyan from Sichuan Academy of Fine Arts in China describes Yigang's style of painting as multi-polar: ranging from expressionism, abstract art to spectrum painting. Four phases of aesthetic and thematic development of his art closely correlate with contemporary circumstances in China, and the development of modernist tendencies in art in this country. First phase is characterized by formulated abstractionism in which Yigang is inspired by Western abstract art and Picasso in particular. For him Western abstractionism is a tool for releasing emotions but also a safeguard against unrestrained sentiments. In 1980s, however, abstract art was observed in China as a Western style that is alien to ideological postulates of the communist regime and therefore marginalized from mainstream visual practices. Second phase of Yigang's abstract art is marked by his Themeless Series in which he is preoccupied with the pure effects of the material he uses. The works are roughly divided in two groups – in the first he explores the language of the medium while in the second he becomes aware that material explorations need to be enriched with Chinese social and cultural context in order to make his work more relevant. Phase three started with a turn towards investigations of cultural and individual identity of the artist. In his Deep Red Series the motif is Chinese landscape as a symbol of cultural tradition that is slowly fading behind the abstract brushstrokes. The staple of phase four is investment in anti-abstractionism, where abstract form is conceptually imagined as a statement against Western abstract art. It signals the abandonment of modernism by Yigang.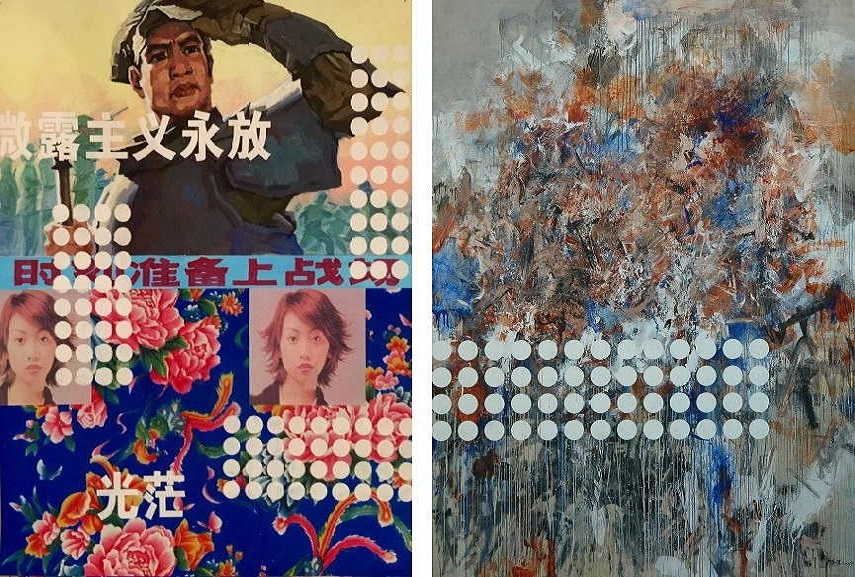 Incidentality of Wang Yigang Recent Works
In his works from 2015 onwards the impulse towards leaving modernism and abstractionism behind is the most prominent. Although his paintings remain abstract in the strict sense of the word as no figurative forms are present, his abstractionism is overlaid with paint which removes even a hint of a studied pattern from a painting. Incidents and constant augmentation of layers free the artist from Western postulates of abstractionism as planned execution of previous ideas. His paintings thus become incidents of layered paint that is the opposite of Western abstract art.
Featuring Wang Yigang
Wang Yigang Exhibition – Abstractionism of Anti-abstractionism
Constantly negotiating the possibilities and limits of abstract art, Wang Yigang moved from the initial fascination with the Western abstractionism towards the inclusion of national motifs of China that usurped the simplicity and conceptual framework of his works. Instead of proceeding towards full figurative paintings, Yigang tuned in his later works to new form of abstractionism of anti-abstractionism or conceptual abstractionism. In his rich career spanning over thirty years, Yigang found his unique position not just on Chinese but also on international art scene.
The Exhibition Believe Your Eyes will open on 29 September at the Centre Artasia Paris in the presence of the artist, and will run until 14 November 2016. The opening is scheduled for 18h.
Featured images: Exhibition poster; H14; Portrait of Wang Yigang; 19 - 1991; Artist in his studio; H7; Artist in his studio 2; Exhibition flyer. All images courtesy of Centre Artasia Paris.