Following a sustained and escalating campaign of protests and days after eight artists pulled out of The Whitney Biennial, the vice-chairman of The Whitney Museum of American Art in New York Warren B. Kanders stepped down amid criticism of how his company's law enforcement supplies are used. In a resignation letter to the board, which was first reported by the New York Times, Kanders wrote:
The targeted campaign of attacks against me and my company that has been waged these past several months has threatened to undermine the important work of the Whitney. I joined this board to help the museum prosper. I do not wish to play a role, however inadvertent, in its demise.
This might be the final outcome of the campaign against Kanders that began in November after Hyperallergic reported that his company, Safariland, which produces munitions for police and military forces, is the manufacturer of tear gas canisters that had been fired at migrants on the US-Mexico border. Decolonize This Place, an activist group which led the charge on the matter, said in a statement:
We welcome this step by the museum leadership as an act of good faith, responsive to the staff, community groups, activists, organizers, artists, and thinkers who have demanded the removal of Kanders.
View this post on Instagram
The Campaign Against Warren B. Kanders
A businessman who founded Benson Eyecare Corp. and who has been at the helm of 14 different companies, Warren B. Kanders had been on the Whitney Museum's board since 2006. In 2012, Kanders bought defense manufacturing company Safariland for $124 million from BAE Systems, stating in a release that it has a "tremendous track record of commitment to safety, reliability and superior product design."
After tear gas canisters have been launched at migrants along the border between San Diego, California, and Tijuana, Mexico in November 2018, the journalist Patrick Timmons revealed that they bore Safariland logos. Two days after, Hyperallergic detailed Kanders's Whitney connections in a lengthy article, explaining that the vice-chairman of The Whitney Board, who is listed as a "significant contributor" in the recent Andy Warhol exhibition, From A to B and Back Again, is also a giant in the weapons manufacturing trade.
Upon further investigation by artists and journalists, it was revealed that Safariland canisters have also been used against protestors in Ferguson, Missouri, Turkey's Gezi Park, the Gaza Strip, Standing Rock in North Dakota, and, most recently, San Juan, Puerto Rico.
In response to the article, nearly one hundred museum staff members, including curators Marcela Guerrero, Rujeko Hockley, and Chrissie Iles, signed a letter addressed to museum leadership that urged them to consider asking for Kanders's resignation. Kanders and Whitney director Adam Weinberg responded to the letter to leadership, where Kanders said he is "not the problem the authors of the letter seek to solve," and Weinberg making a plea for conversation in his note to the staff.
Taking the matter into their own hands, the activist group Decolonize This Place held one action in December and nine weekly protests through the spring, in the run-up to the opening of the biennial. These protests tied Kanders's involvement in Safariland to larger histories of colonialism, racism, and queer erasure, with the last one culminating in a march to Kanders's home in Manhattan's West Village.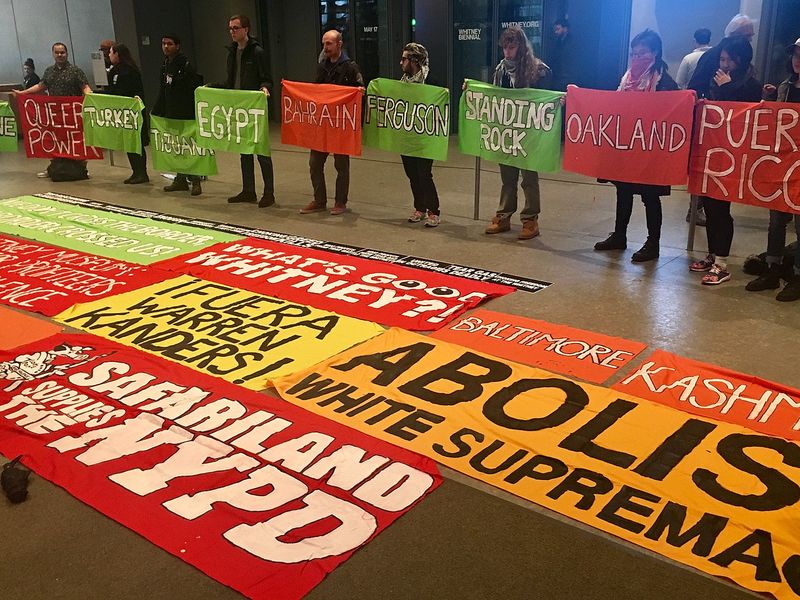 The Whitney Biennial Controversies
Shortly before the Whitney Biennial opened on May 17, nearly half of the exhibition's participants signed an open letter published by the Brooklyn-based publisher Verso that demanded Kanders's resignation. The lists included artists Andrea Fraser, Hans Haacke, Barbara Kruger, Zoe Leonard, Cameron Rowland, and Laura Poitras, as well as art historian Douglas Crimp. Michael Rakowitz declined to participate in the show altogether.
There were several works at the Biennial which addressed the issue. Forensic Architecture, a multidisciplinary research group that uses architectural techniques and technologies to investigate cases of state violence and violations of human rights around the world, invited Laura Poitras's Praxis Films to help create Triple-Chaser (2019), a film focused on Kanders's philanthropy and the use of ammunition produced by Sierra Bullets, another company in which Kanders has a stake, in Gaza by Israeli soldiers. Eddie Arroyo exhibited a painting of a Decolonize This Place protest and Pat Phillips included a tear gas canister in his expansive painting.
After publishing the essay The Tear Gas Biennial on Artforum's website on July 17th, Hannah Black, Ciarán Finlayson, and Tobi Haslett called on Whitney Biennial participants to withdraw their work in protest of Kanders. Two days later, four more artists, Korakrit Arunanondchai, Meriem Bennani, Nicole Eisenman, and Nicholas Galanin, also called on the Biennial's curators to withdraw their work from the exhibition, while Eddie Arroyo, Forensic Architecture, Christine Sun Kim, and Agustina Woodgate followed suit a day later.
View this post on Instagram
The Toxic Philanthropy
This debate comes as many institutions around the world have come under scrutiny from activists over "toxic philanthropy." We recently saw the departure of the CEO of the Serpentine in London, Yana Peel, due to her connections to an Israeli tech firm that had been using its products against Saudi Arabian dissidents, and a commitment from many museums to no longer accept funding from the Sackler family. The action against Kanders joins the previous ones in raising some crucial general questions about the issue of ethical philanthropy. Amin Husain, a member of Decolonize This Place, said to ARTnews that Kanders's resignation marks another step toward institutional change:
There not be a gap between the shows that go up and that money that's funding them, and what that does in terms of artwashing. Whether it's the Sacklers, whether it's BP oil, whether it's the Boycott, Divestment, Sanctions movement in the art world—all of these things are pointing to a politics of accountability. It's the recognition that these museums are not neutral. They're just not neutral.
In a statement about Kanders's departure, Whitney's board expressed its "profound gratitude" to the couple for their "extraordinary generosity," while the museum's director Adam Weinberg acknowledged their "unwavering commitment" and lead gift toward the museum's downtown home. A museum spokesperson said that a stairway named for Kanders and his wife will not be renamed.
Featured image: The Whitney Museum in New York, via gigi_nyc.