When we think about the fact that Wassily Kandinsky artwork was considered the first example of abstract art in the history of arts, perhaps it will come as a surprise to learn he dedicated himself to art at the age of 30. A remarkable student of law and economics, he worked as a professor in Moscow before moving to Munich in 1896, where he enrolled at the Academy of Fine arts and began his painting studies. After he realized his revolutionary ideas found no support in his homeland Russia, he became the permanent resident of Germany, where he left his mark as an artist and most of all the teacher of the famous Bauhaus school of art and architecture. Without a doubt, Wassily Kandinsky reformed art in his own manner, particularly during his Blue Rider Period and the Great Synthesis. His conceptual ideas changed the way we look at and perceive art and pushed the boundaries of visual representation.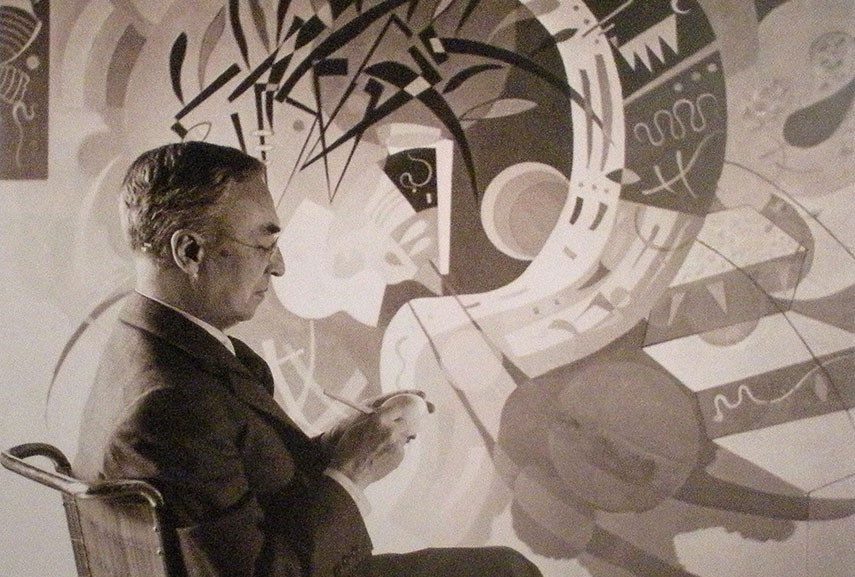 Wassily Kandinsky Artwork - From The Blue Rider Period to the Great Synthesis
Since the very beginning of his art studies, Wassily Kandinsky began to emerge as both prominent painter and a theorist. Inspired by Claude Monet, Pointillism and even Fauvism, he painted rather flat landscapes and towns, using vibrant colors and recognizable forms. The colors were used to express the painter's experience of the subject matter, rather than describe it in any way, and it was probably with the 1903 painting The Blue Rider that Kandinsky announced his interest in the abstract, the non-representational. His figures are prominent, but never clearly defined, inviting the viewer to actively participate in the creation of the painting. This tendency continued through The Blue Mountain painted in 1908 and 1909, and culminated with the Blue Rider Period (1911-1914), in which Wassily Kandinsky artwork is expressive and large. The colors seem to be living independently from equality important forms and lines, relying on the notions of music as well; the artist often described his artworks as "compositions".
In the latter period, between 1934 and 1944, Wassily Kandinsky focused on biomorphic forms with supple, non-geometric outlines, suggesting microscopic organisms and expressing the artist's inner life. Evoking Slavic popular art, he used original color compositions to mark a prior known as the Great Synthesis. Highly contrasted, the pieces from this time evoked powerful lining and bold coloring that marked geometric abstract art, accompanied however by intriguing elements and symbols such as hieroglyphs and filaments that add a special touch to the whole composition. With these, Wassily Kandinsky established himself as one of the most prolific and influential abstract artists of all time, and his artwork can be found in esteemed institutions, museums and galleries around the world. Here's where you can go see it.
 Editors' Tip: Concerning the Spiritual in Art
A pioneering work in the movement to free art from its traditional bonds to material reality, this book is one of the most important documents in the history of modern art. Written by Wassily Kandinsky himself, as the famous nonobjective painter, it explains Kandinsky's own theory of painting and crystallizes the ideas that were influencing many other modern creatives of the period. Along with own groundbreaking painted pieces of Kandinsky, this book had a tremendous impact on the development of modern art. Kandinsky's ideas are presented in two parts. The first part, called "About General Aesthetic", the second "About Painting". This English translation of Über das Geistige in der Kunst was a significant contribution to the understanding of non-objectivism in art. It continues to be a stimulating and necessary reading experience for every artist, art student, and art patron concerned with the direction of 20th-century painting.
Lenbachhaus Gallery, Munich
Apart from the many private collections, one of the most important public venues to feature Wassily Kandinsky artwork is Munich's Lenbachhaus Gallery. It now holds the largest collection of works from the Blue Rider period in the world, particularly because it was in Munich that the artist started this iconic movement. This is also where Kandinsky became the true pioneer of abstract art as we know it, looking to express human emotions, desire and the spiritual and metaphysical in visual art. During the five years of this period, he created three fundamental categories he called Impressions, Improvisations and Compositions, the examples of which you can find at the Lenbachhaus Gallery, among 123 paintings, 333 drawings and 27 sketchbooks.
Featured images: Impression III (Concert), 1911; Improvisation 19, 1911; Red Spot II, 1921; The Lenbachhaus Munich. Courtesy pinterest.
Centre Pompidou, Paris
The Musée national d'art moderne at the Centre Pompidou is another great holder of Wassily Kandinsky artwork. They bought only two works during the artist's lifetime, in 1937 and 1939.; however, in 1976 the museum received the donation of fifteen paintings and fifteen watercolours from Nina Kandinsky. In 1980, they also purchased the contents of the artist's studio in Neuilly. In particular, Centre Pompidou's originality lies in the works on paper from the Moscow period, as well as more than 100 paintings, as many gouaches, over 500 drawings, sketchbooks, engravings and manuscripts. There, you can find Kandinsky's earliest works from 1901 to 1905, for instance, as well as the First Abstract Watercolor from 1910.
Featured images: Old town II, 1902; Untitled (First Abstract Watercolor), 1910; Composition IX, 1936.; Centre Pompidou Paris, via Wikipedia.
The Guggenheim Museum, New York
The Guggenheim Museum of New York holds more than 200 Wasilly Kandinsky artworks, including close to 100 paintings and 60 sketches and lithographs. The collection spans the artist's lifetime, from the art school days to the last pieces he produced in France before his death in 1944. Displayed in chronological order, we can see the way his style evolved and expanded, from the 1908 Blue Mountain to the 1923 Composition VIII and the 1926 Several Circles. The Guggenheim organized several solo exhibitions dedicated to the artist drawing from their rich assembly of his pieces over the years.
Featured images: Blue Mountain, 1908 - 1909; Composition VIII, 1923; Several Circles, 1926; The Solomon R. Guggenheim Museum of Art, New York, via Wikipedia.
The State Tretyakov Gallery, Moscow
Using their remarkable assembly of Wassily Kandinsky artwork, the largest of its kind in Russia, Moscow's State Tretyakov Gallery will continue to organize exhibitions in Switzerland, France, the United Kingdom, China and Italy in 2017. There, you will find famous examples such as the 1913 Composition VII, considered his masterpiece, as well as other artworks that reflect the political and social upheaval of that period in his homeland, painted upon his return to Russia and just before the Russian Revolution.
Featured images: Composition VII, 1913; Moscow. Red Square, 1916; Movement I, 1935; the State Tretyakov Gallery Moscow, via wikipedia.
Metropolitan Museum of Art, New York
Only one of Kandinsky's artworks from the Metropolitan Museum of Art in New York are currently on view, the 1912 Improvisation 27 (Garden of Love II). It is perceived as a painting related to his influential treatise, Concerning the Spiritual in Art, in which Kandinsky theorized a new form of artistic expression that would reject the materialist world in favor of emotional ideals, using abstract forms and color symbolism to evoke an inner world. Other pieces include inks on paper, watercolors on paper, gouaches, woodcuts, drypoint, lithographs, as well as Klänge, a book made and written by the artist and illustrated with woodcuts and color woodcuts.
Featured images: Improvisation 27 (Garden of Love II), 1912; Klänge book, 1912; Four Parts, 1932. Courtesy; The Met New York, via Wikipedia
Museum of Modern Art, New York
A total of 144 pieces are a part of the MoMA's collection of Kandinsky's art, including drawings, intaglios, lithographs, woodcuts, painted pieces. Displayed in the gallery Painting and Sculpture I is White - Soft and Hard (1932), for example, as well as the poster for the 1st Exhibition of the "Phalanx" from 1901. Nearly two-thirds of his two hundred prints were made between 1900 and 1911, including more than fifty Jugendstil and fairy tale–inspired woodcuts from 1902 to 1904, and another fifty-six increasingly abstract woodcuts between 1907 and 1911 for his book Klänge (Sounds) (1913). These formal experiments with reductive woodcuts served as an important avenue toward abstraction. From 1913 to 1916 turned to drypoint, completing twelve rich examples.
Featured images: Poster for the 1st Exhibition of the "Phalanx" (Plakat für die erste Ausstellung der Phalanx), 1901; Watercolor No. 14 (Aquarell No. 14), 1913; White-Soft and Hard, 1932; MoMA New York, via netx.net. All images used for illustrative purposes only.