"The more I know humans, the more I love snakes." "Do I owe you a blowjob?" "Give sarcasm a chance."
You may have come across these phrases doodled on a "piece of paper" on the internet, because at some point basically everyone had gone mad for them. They belong to Rita Gomes, much better known as Wasted Rita, a Portuguese visual artist whose witty social commentary came in the spotlight back in 2011. She is the brilliant mind behind Rita Bored, a highly successful blog which went viral and touched the sarcastic, yet truthful spots of many people. Over the past few years, Rita went from Bored to Wasted, and from simply rambling on the waves of web freedoms to selling prints, advertising campaigns and of course merchandise.
Aside from this, Wasted Rita is having exhibitions as well; the latest being hosted by Underdogs Gallery in Lisbon. Titled As Happy as Sad Can Be, the show is about "embracing sadness with a light heart", once more putting on view her observations, reflections, writings, drawings, confessions, rants, all of which amusing, brilliant, entertaining, as they talk of human behavior, contemporary life, popular culture.
We met the Wasted Rita for a chat about this exhibition and her ironic, but influential, views of the world.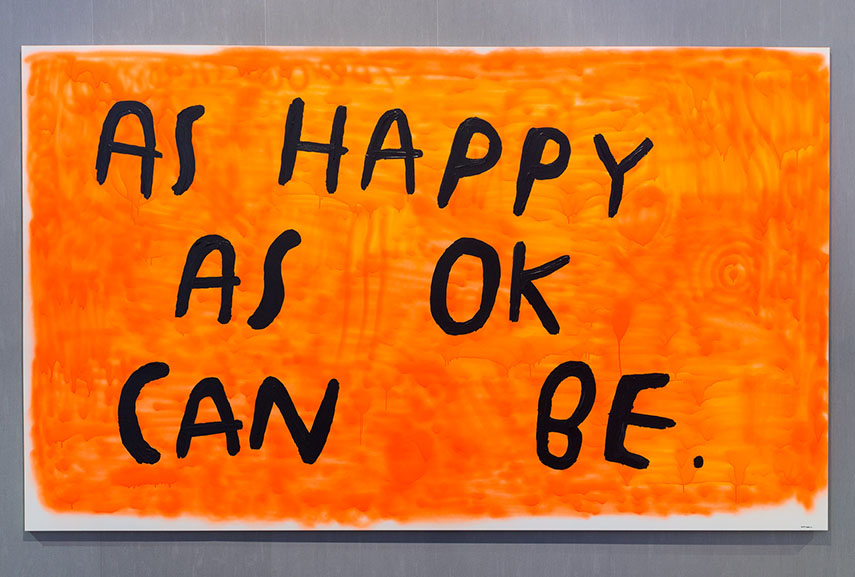 As Happy as Sad Can Be
Widewalls: "As Happy as Sad Can Be" is, once again, an exhibition of works reflecting on your ever-sarcastic perspective of life. Where does this view come from? And where does it take you?
Wasted Rita: It comes from my existence in this world. From being a sad, alone, pessimistic kid since day one. From having to deal with society's pressure to achieve happiness. It takes me to a new comprehension of happiness, different from a more commonly spread sense of the feeling, bereft of ''positive vibes only'', all smiles and bright days.
Instead, a messy combination of happy and sad, negative with some flashes of bright, with a easy tendency for annoyed in a world that, if you're aware of what's happening, doesn't let you be all bright and sparkly, specially if you're a woman. And it can get even worse if you're trans, not white or not straight.
Widewalls: Why is fake happiness such a good way of escaping fundamental sadness, in your opinion?
WR: Fake happiness? Oh, no. This is not about faking happiness. This is about unadulterated feelings. It is about happy sad feelings, a struggled balance between both: sad and happy; and a lifetime struggle to understand sadness is ok, you just have to find your tools to retract all the dark negative pressure associated to it. It is about mastering the art of embracing flaws and inadequacies, while bringing joy to cataclysm.
I don't feel like you can escape sadness, you can escape other things like facing reality, sadness is just a feeling you feel. It doesn't have to be all bad things. Most good things come from sadness. At least for me. "Happy sad" is not a new term but it hasn't been explored enough. What I get from it is funny honest vulnerability, not escapism.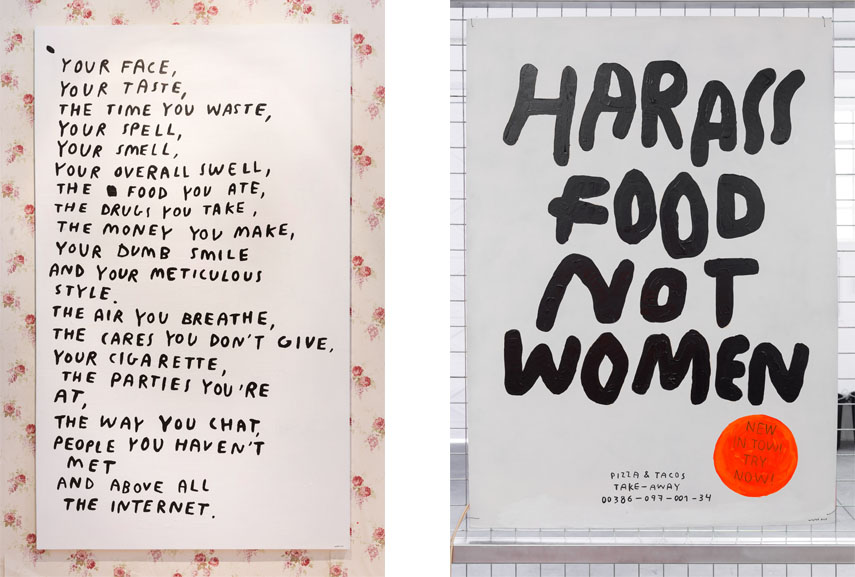 The Four Stages
Widewalls: While the showcase on view at Underdogs gallery seems like a bunch of diary pages dispersed in physical space, behind it there's actually a concept of "carefully chosen assortment of goods". Can you elaborate on this?
WR: If I have ever done an exhibition that doesn't look like a bunch of diary pages dispersed in a physical space, [it's] this one.
The exhibition is divided in four installations, each one containing not just a different feel but also specific objects to support different atmospheres.
In the "street" installation, you can find a street size advertisement for a fake cleaning company entitled ''Sorrow Cleaners'' and a fake advertisement for a new fake taco and pizza take-away restaurant called ''Harass Food, Not Women''.
The "room" has the vibes of a bitter sweet, of an angry but also taking action person, a safe place gathering both some female references, that make the world a better place, and also food references like a pizza box where you can read ''depressed and poorly dressed'' referring to both (healthy/unhealthy) food obsession and society's expectations on a woman's figure and presentation. Tackling the everyday sickening pressure of being women in a men-driven society but also giving hints on people who are reverting, fighting and questioning patriarchy through their work.
In the third installation, that I carelessly like to call ''cinema'', you can find a toy-grabber machine with cheap ordinary objects carefully hand-painted to have other meanings, including two impossible to grab packages of 1kg white flour simulating products from the hyped streetwear brand Supreme placed next other more or less meaningful reinvented objects.
So, I grouped objects in separate installations, regarding different subjects like internet egos, feminism, angry girls allowing themselves to express angriness, pressure to be happy versus maybe you can be ok and that's fine as well, being negative and not seeing that as a negative thing considering the state of the world, people that accept you as you are and food obsession, that end up making sense all together and that's what a "carefully chosen assortment of goods" means, even thought I never wrote those words about my exhibition.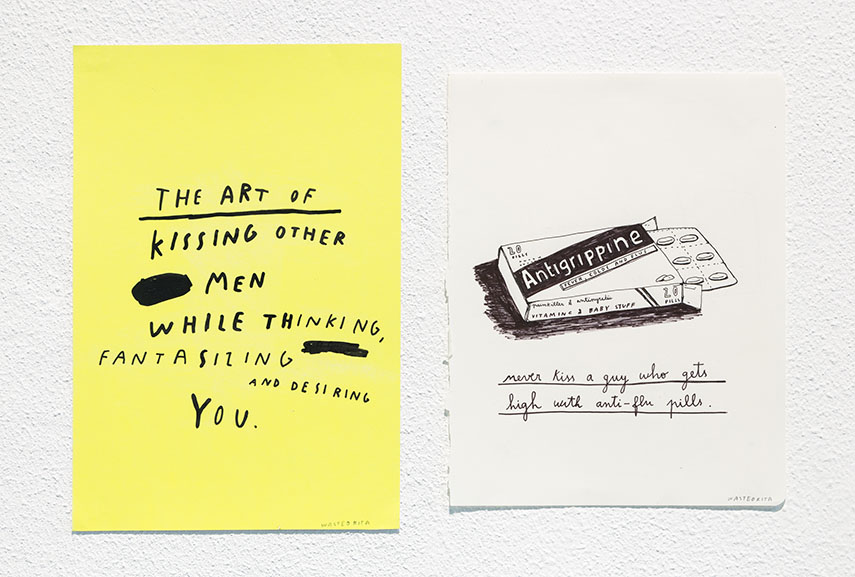 Becoming Wasted Rita
Widewalls: You describe yourself as a graphic designer and illustrator, and while we see works from these creative fields on view, there are also objects of many kinds, furniture, clothes, neon lights. Do you consider this as an expansion of your artistic practice to, maybe, sculpture, or installation? Is this something you'd want to do more of in the future?
WR: I describe myself as a graphic designer and illustrator because that's what I study at the university, but I never limited my work to that.
It can be seen as an expansion to installation, yes. It is something I will do more in the future if in the future I feel like it is something I want to explore.
Widewalls: Let's go back in time a little bit. Did you ever expect "Rita Bored" to become such a hit?
WR: No. I don't expect good things ever.
Widewalls: What is it that makes you create entire series of works dedicated to individuals, like Scarlett Johansson or Beyonce? Or things, like Samsung Galaxy Note?
WR: Scarlett Johansson and Beyoncé because they're women and the ways women are portrayed, represented and explored in the media is one of my favorite subjects. I remember the Scarlett Johansson project being a compilation of really nasty quick drawings done on the day a hacker leaked personal nude images.
As for Samsung - I still have that in my online portfolio? That's both silly and funny, and a reminder of how sloppy I am - it was a temporary job I've done through an art agency that implied sitting in the hall of a shopping mall drawing portraits of people who sat in front of me on a Samsung Galaxy Note. That was a remarkable experience, now that I think about it.
Widewalls: Why would you say your observations resonate with people so much?
WR: People often ask me this and I am always trying to pull a smart answer. I think the number one reason is because I am a human being writing about what I feel in a straight to the point, vulnerable manner. And as a person who's mostly socially awkward and doesn't like attention, it wouldn't be smart of me to focus on the easiness and reliability of what I do.
Widewalls: Where would you like to see your creativity go in the coming years?
WR: If I told you, I'd be jinxing it.
Featured images: Wasted Rita, credit Afonso Martins; "As Happy As Sad Can Be" installation view, Underdogs Gallery, Lisbon, 2017.