A hot week is behind us! The third edition of our new category brings you some of the most exciting news in the last seven days. If you're a fan of urban art, this is the right place for you because we've summed up all that you need to know when it comes to the latest collaborations, projects and auctions featuring some of the biggest names in urban art scene today. Shepard Fairey participated in an interesting new project and it didn't involve any walls! Fairey appeared as a guest star on a famous satirical TV show Portlandia and did a great job. London's Bonhams auction house hosted a big auction which featured, among great contemporary art pieces, an exclusive Banksy collection of 30 pieces brought by Steve Lazarides, the artist's former agent (you can read an interview with Lazarides here). As expected, the sale was a complete success proving once again that, despite what others may say, Banksy's still current and as popular as ever. Last week was also the time for another exclusive LOOK the Weird's Chennai diary, bringing to our readers all the latest information from the Indian street art festival Conquer the Concrete. And as last week's delicacy, the Brazilian street art duo Os Gemeos had an exhibition opening at Rio de Janeiro's Museu Casa do Pontal, creating a special piece for this occasion!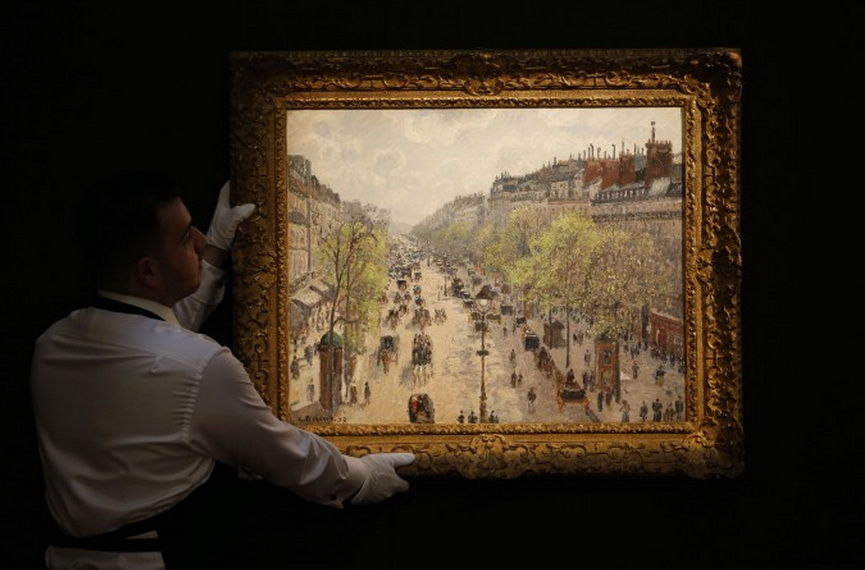 Shepard Fairey in Portlandia
Portlandia, an American sketch comedy show, entered its fifth season, bringing a whole new round of famous guests. The satirical series, first aired in 2011, features two main characters, played by Fred Armisen and Carrie Brownstein who change roles from one skit to the other, portraying various popular culture elements and social situations which appear so inherit to a certain society structures. The latest episode of the show, which aired on Thursday, January 29th, tackled the world of art in a hilarious skit with a cameo by Shepard Fairey. Reprising their roles as the aggressive art entrepreneurs behind Bad Art Good Walls, Armisen and Brownstein mock the subversive, counterculture art that Shepard is proudly one of the pioneers. Showing not only he's a fan of the show, but that he is also able to poke fun at himself, Fairey's short experience as an actor proved to be a fantastic move!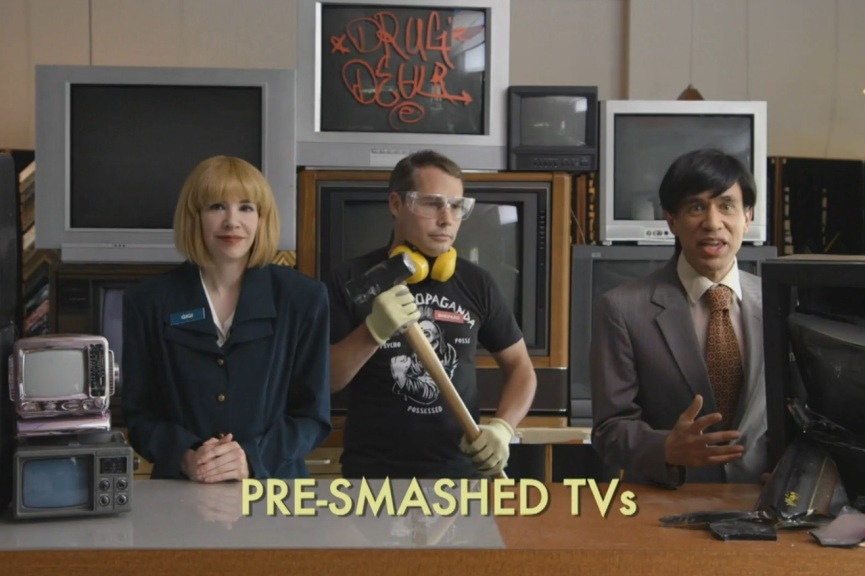 Lazarides Sells Banksy
Last Wednesday was a great day for all urban art enthusiasts, especially ones with deep pockets because Steve Lazarides, for most people best known as Banksy's former agent, brought a collection of 30 Banksy prints at Founded 1793, the contemporary art auction at Bonhams, London. The owner of famous Lazarides Gallery included among the collection iconic prints like Flower Thrower (2003), Rude Copper (2002), and Christ With Shopping Bags (2004), each estimated at $12,000 - 18,000. Along with the prints, two of Banksy's Watchtower sculptures, one a collaboration with Kelsey Brookes, were offered, each estimated at £18,000 - 27,000. Proving that Banksy is still an auction gold and that Steve Lazarides knows the market so well are the auction results – 29 out of 30 Banksy art pieces sold, with the highest one, a 2000 piece Precision Bombing, selling for $72,615. The biggest surprise was probably Banksy's 2006 piece entitled Festival, which was sold for three times its estimated, reaching staggering $36,300. The only artwork that didn't find its customer was a 2007 piece Watchtower. Whether because of its high starting price or the fact that many people weren't familiar with Banksy's series of sculptures, the wooden piece will probably find its way to a collector some other time.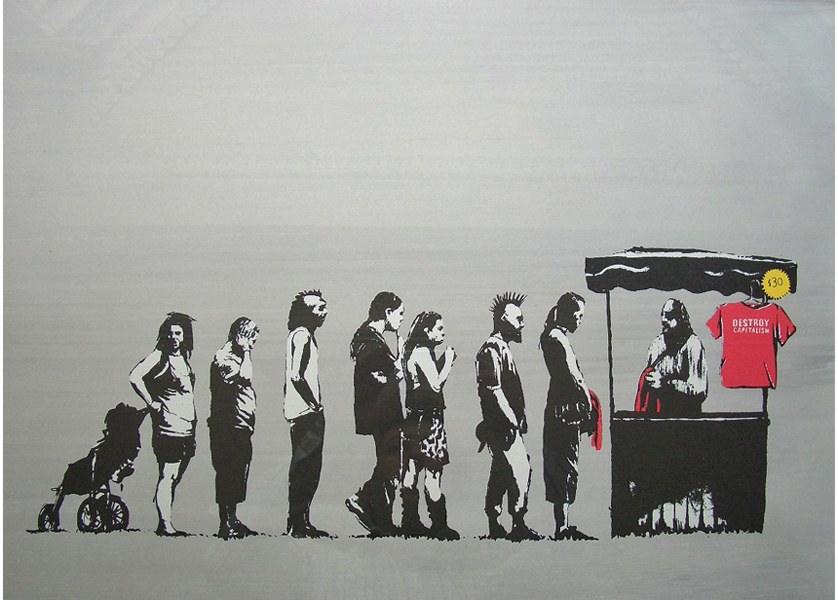 LOOK The Weird's Chronicles, Part Two
Last week's breakdown introduced you to the exclusive content on Widewalls website! The famous German street artist LOOK the Weird, probably best known as a member of Weird crew, is currently in Chennai, India at a street art festival Conquer The Concrete! Not only do we inform you every day about the festival, but the Widewalls readers got the chance to experience what it's like to be part of such an exciting gathering. Artists like Axel Void, Base23, J.P. Krishna, M.P. Dakshna, Okuda, The Paintbox, SatOne and many others have gathered together with one mission – to introduce one of the largest cities in India with street art culture and by adorning the walls across Chennai, show first hand how art is made. On top of that, LOOK the Weird has agreed to share his Chennai experience with us and this is why last week you were able to read Part Two of LOOK the Weird's Chronicles from Chennai. If you missed Part One then take a read to catch up!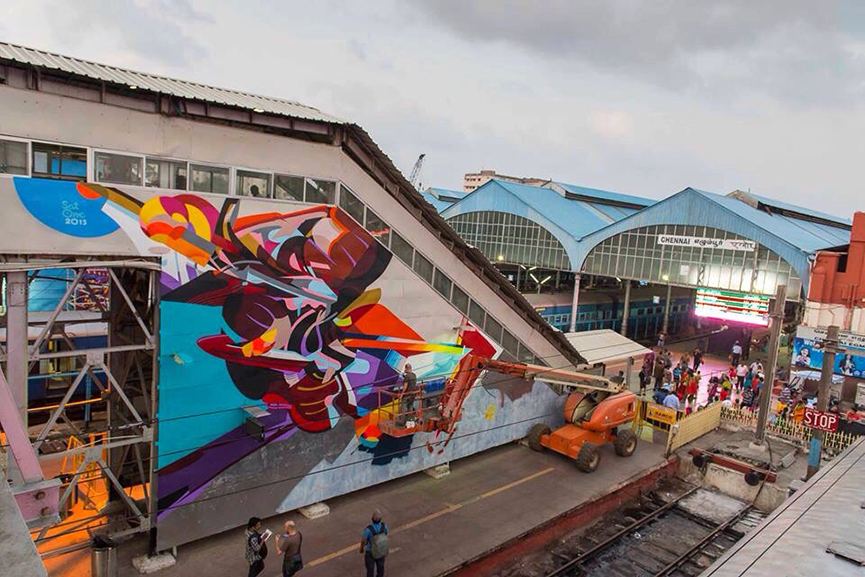 New Show By Os Gemeos
Last day of January was reserved for the big opening of the show by street art's most famous twins! Os Gemeos, Brazilian street art stars, revealed their latest installation created specially for the event, entitled The Bunker, a piece which is to stay as a part of permanent collection at Museu Casa do Pontal in Rio de Janeiro, where the show was taking place at. The Bunker is a piece commissioned by the museum which Os Gemeos took very seriously, trying to create the work that would correspond with its intended surroundings conceptually. The duo that has recently exhibited at Vancouver Biennale, created a very symbolic piece, bringing attention to the important, but often forgotten aspects of life and culture. The opening included the discussion with the artists and, if you didn't manage to visit it, you can always stop by Museu Casa do Pontal at see the piece which is, as of January 31st, set in the museum's garden.
Want to know more about the latest news in art? Sign up for My Widewalls today and get all the exclusives!