The assembly of artists known for painting lively, large scale surrealistic murals, is to showcase an indoor group exhibition of their amazing works at Exit Room gallery. The Weird Crew's New York exhibition will portray imaginative characters and the diversity of styles by five fantastic street artists. The exhibition titled Weird World will include works made on various mediums, including postcards and canvas works and the European art group has already painted a massive mural in Brooklyn.

Pop Surrealism by The Weird Crew
The Weird Crew is an art collective founded in 2011. Its ten members come from a graffiti background and focus on illustrative character design in their colorful, innovative works. The group is noted for skillfully blending unique individual styles and visual languages to create recognizable masterpieces of pop surrealism. The absurd and abstract scenarios of HRVB are beautifully combined with VIDAM's clean lines and smooth, calming colors and the meticulous details often added by CONE. Their ingenious and humorous characters can be seen on numerous murals all over Germany and Austria, two countries where the group is located. The Weird Crew consists of artists, graphic designers, illustrators and lecturers, while two of team members (CONE and VIDAM) also work as professional DJs and music producers.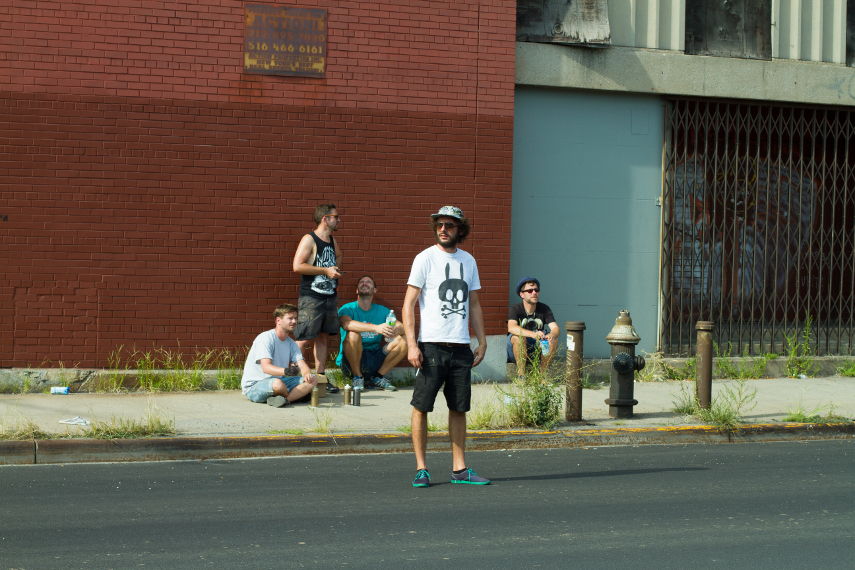 Weird World is Coming to New York
Weird World exhibition at Exit Room in New York will present a series of individual works by five Weird Crew members. Unlike their collective work where different approaches are merged together, the distinctive styles of The Weird Crew artists become quite conspicuous once placed next to each other. Weird World exhibition will provide an insight into the minds behind this creative team and will showcase the diversity and the singularity of their works. Main exhibition topics span to include political issues and social problems in conjunction with mystical travel motifs. The impact of pop culture is visible in Weird World artworks as the crew uses celestial, yet funny symbolism to portray and examine the world around us. The exhibition will feature post-apocalyptic oil on canvas paintings by LOOK, wild yet wickedly clean works by DXTR, affordable hand drawn postcards by CONE and many other amazing art pieces.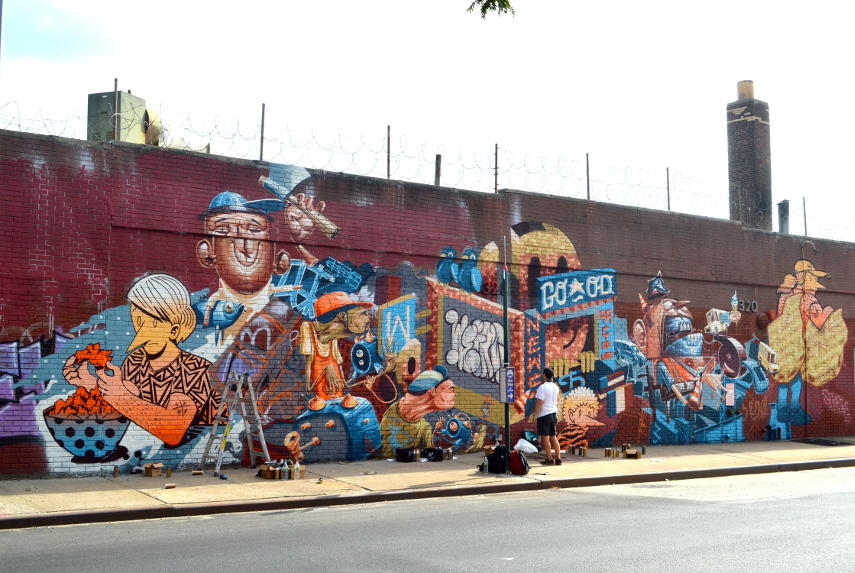 Weird Crew's New York Mural
The Weird Crew artists came to New York early and they've kept themselves busy by painting a massive mural in Brooklyn. Their stunning new artwork took four days to make and is located at the Johnson Av. and White Street. Art crew known for their vivid subject portrayals created an optimistic, character-packed street work that everyone will undoubtedly enjoy. This giant piece is the best advertisement for the upcoming Weird World group show that opens on Friday, August 28th at Exit Room gallery in New York. The opening will be accompanied by a music performance and a live DJ set. The exhibition will close on September 10th, 2015.
The world is more fun with My Widewalls so sign up for FREE!

Featured Image: Weird Crew's Brooklyn Mural, photo by Steve Conrad
Images in slider: Details from The Weird Crew's Mural, photos by ZoeMap
Images courtesy of Exit Room gallery