In a time when environmental disasters appear on our news with alarming regularity, when a walk beside any river or beach reveals what appears to be a constant stream of bits of plastic floating like a new mutant strain of algae and our landfill sites are overflowing with the detritus of our consumer obsessed society it is perhaps pertinent that some artists are starting to address these issues. In Welcome to the Future, a new exhibition by Daniel Arsham at Locust Projects, the artist known for his sculptural and architectural works, has created a stark installation that draws our attention to the obsolete nature of the items we often cherish.
Welcome to the Future at Locust Projects
Welcome to the Future is installed at Locust Projects, the not for profit exhibition space located in Miami that gives visual artists the chance to experiment away from the pressures of traditional gallery spaces and perfect for the new piece by Daniel Arsham. For Welcome to the Future, Daniel Arsham dug a circular whole into the concrete floor of the space, 25 feet in diameter and proceeded to fill it with a variety of 20th century objects that were rendered in volcanic ash, crystal and other minerals. The objects were then arranged in a colour gradient, black on the outer limits of the hole and getting lighter towards the centre. Having the appearance of a future archaeological dig, the hole is filled with items that seem essential to our lives but become obsolete overnight with each new wave of technological advances that seem to advance quicker than we can keep up with, so we find monochromatic renderings of game controllers, SLR cameras, film projectors, boom boxes, electric guitars, Blackberries, VHS tapes and portable televisions. By their nature, these objects have obsolescence built into them; part of our consumerist appetite for the latest technology and Daniel Arsham presents these recent artifacts as archaeology in the floor of the gallery making us consider the ideas of production, history and discovery. The 25 foot circle resembles something from a post-apocalyptic movie scene when you suddenly realise that all this technology is no longer relevant or useful in the grand scheme of things. Aside from enjoying the dramatic aesthetic nature of the installation, one thing Welcome to the Future should do is make us question our own roles in a society that worships owning the latest 'essential' items that will be obsolete within a few months.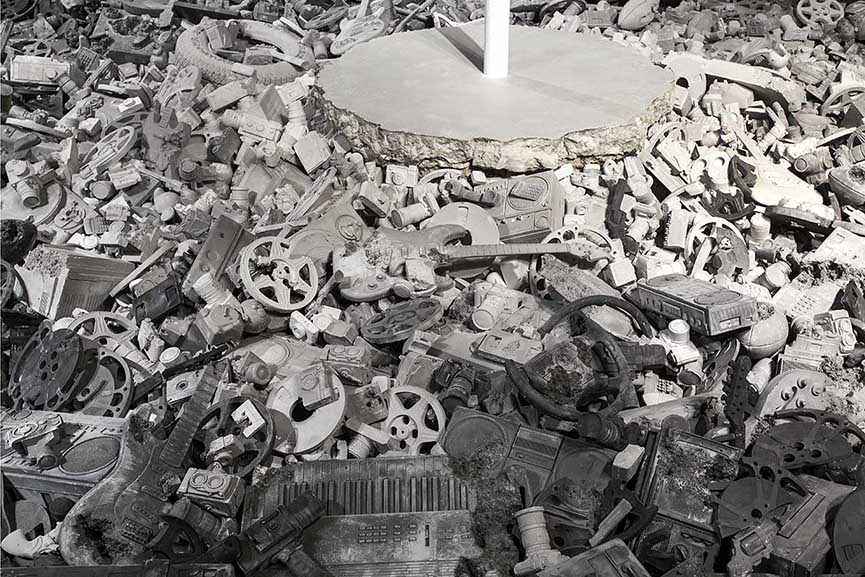 Daniel Arsham
Daniel Arsham, born 1980 in Ohio and now working from New York, is known for his works that fuse elements of architecture, performance and sculpture to manipulate structures and space. As a child Daniel Arsham survived Hurricane Andrew by hiding in a closet in the family home then in Miami, the resulting images of the aftermath had a big impact on his perception of architecture and contemporary objects which often appear in his installations along with eroded walls, stairs leading to nowhere and nature claiming back manmade structures. Mixing up the real and the imagined, Daniel Arsham experiments with structures, historical inquiry and satirical wit, confusing and confounding us with his use of form and space. Arsham also works with Alex Mustonen as part of the architectural collaborative Snarkitecture.
The Welcome to the Future exhibition by Daniel Arsham can be seen at Locust Projects in Miami and is running from November 15th 2014 until January 2015.
For more glimpses into our future sign up to My Widewalls today!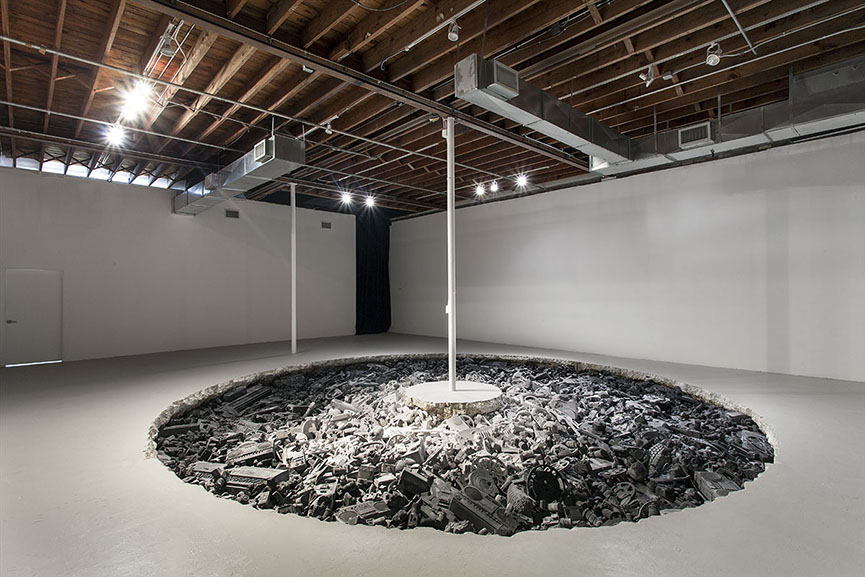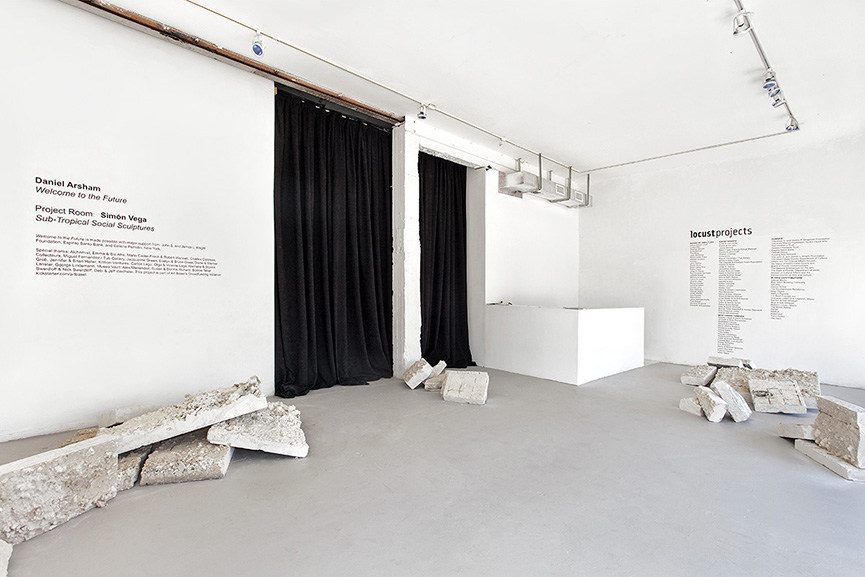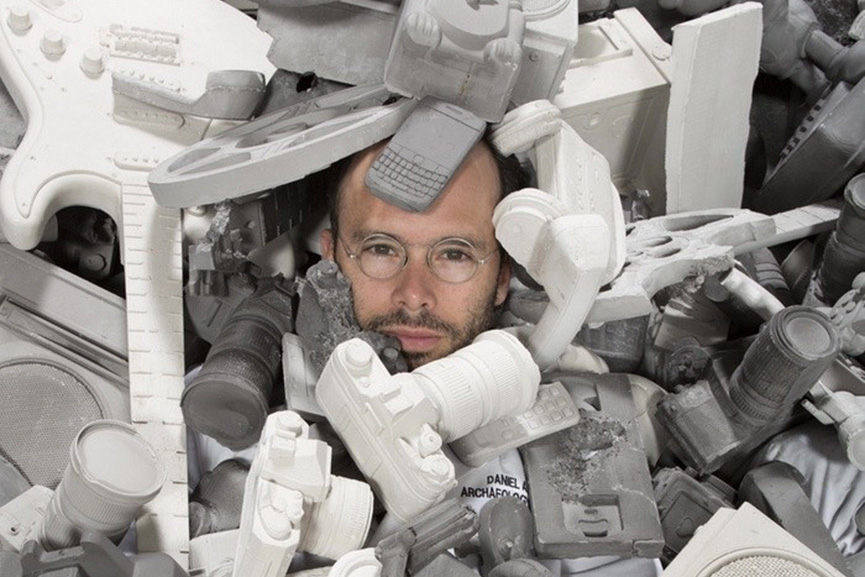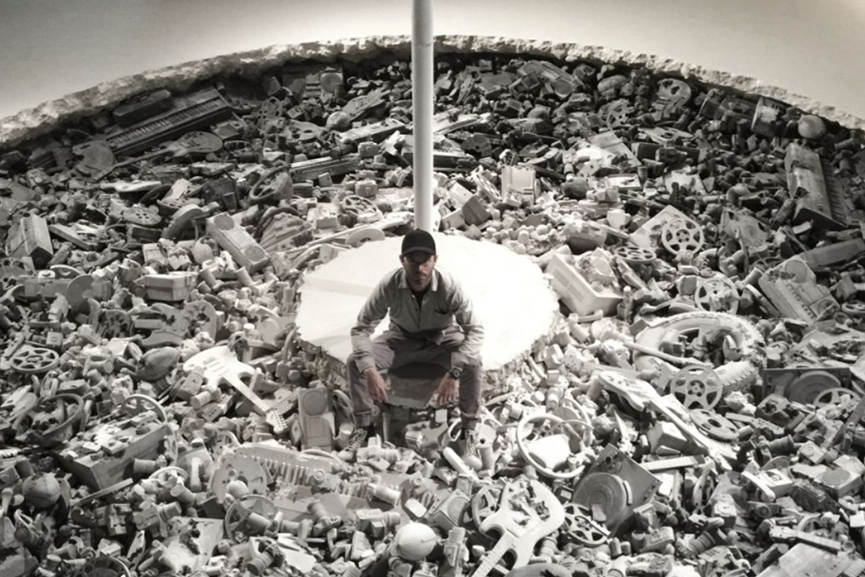 Photos courtesy of Locust Projects.