Celebrating its decade edition as a solo-focused international contemporary art fair, VOLTA NY will take place at PIER 90 in New York from March 1st until March 5th, 2017. Founded in 2005 by dealers Kavi Gupta from Chicago, Friedrich Loock from Berlin, and Ulrich Voges from Frankfurt as a fair "by galleries, for galleries", VOLTA NY is a rigorously curated, boutique event that showcases relevant contemporary art positions from emerging international artists. With a showcase ranging from cutting-edge trendsetters to the next year's rising stars, VOLTA NY spotlights artists through primarily solo projects in order to refocus the art fair experience back to artists themselves and their works. This year, the event will bring together 96 galleries and artist-run spaces across five continents and 47 cities, presenting a dynamic and timely survey of innovative contemporary art by artists from 39 nations.
First introduced last year, VOLTA NY has prepared a second iteration of the fair's Curated Section. Within this section, a guest curator selects a group of artists based around a common theme and installs the project as an independent exhibition that encourages a dialogue between artists. Titled Your Body Is a Battleground, this year's selection will be overseen by writer and curator Wendy Vogel and will feature works in identity politics, archiving, and interventionism. The title of the exhibition references Barbara Kruger's 1989 work Untitled (Your Body is a Battleground) produced for the Women's March on Washington in support of reproductive freedom.
To find out more about the concept behind this year's Curated Section, we had a chat with Wendy Vogel. In an exclusive Widewalls interview, Vogel talks about her collaboration with the art fair, explains the connections between the exhibition and Kruger's celebrated work, comments on the timely concerns regarding the recent political developments, talks about the responsibility and power of art, and much more. Scroll down and enjoy!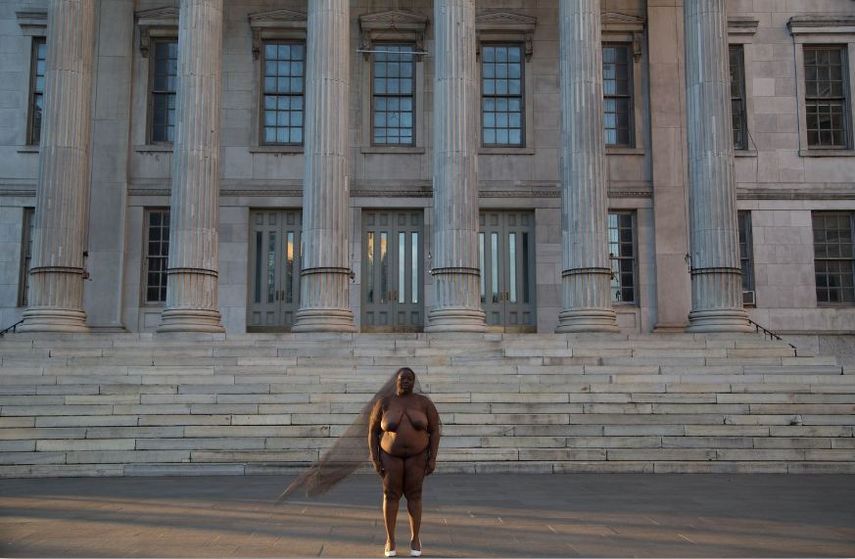 The 2nd Curated Section at VOLTA NY
Widewalls: You will be curating the 2nd Curated Section at the VOLTA NY art fair. How did this collaboration come to be?
Wendy Vogel: Because of my work as an independent curator, critic and former editor at publications like Modern Painters and Art in America, I've attended previous editions of VOLTA. I've always admired their solo focus booths and the diversity of their artist list. I've had the chance to speak informally with several members of the VOLTA team about our shared sensibilities over the years. Last year, the Curated Section debuted with a knockout show organized by artist Derrick Adams. I was very impressed that VOLTA chose to show their commitment to artists' voices by collaborating with an artist/curator. When they approached me in November with an invitation to organize this year's Curated Section, I accepted with enthusiasm. It's the first exhibition I have organized in three years, but I see it as an outgrowth of the work I have been doing as a critic.
Widewalls: The title for the exhibition is inspired by the Barbara Kruger's photomontage Untitled (Your Body Is a Battleground) from 1989. Why did you choose to reference this piece specifically?
WV: I've loved Barbara Kruger's work from the first time I laid eyes on it. I even hung a set of postcards of her work in my college dorm room! Her work has always appealed to me because it is unabashedly feminist and instantly legible. At the same time, it is formally and conceptually sophisticated.
I started working on the VOLTA Curated Section in the immediate aftermath of the U.S. presidential election, but even before, I had been thinking and writing about artists' body-centered approaches to identity. When I thought about a framework for the show, Kruger's Untitled (Your Body Is a Battleground) from 1989 immediately sprang to mind. The title is so punk rock, and the sentiment perfectly applies to our political moment. In this climate of reactionary politics and fear, bodies are highly contested sites. Civil rights to bodily autonomy become ideological grounds on which political battles are waged. The body is also a battleground in terms of identity — categories of identity are always in negotiation.
Finally, the fact that Kruger created her photomontage for the 1989 Women's March on Washington — in support of reproductive choice — made it a perfect choice as a title for my project. I knew that the Women's Marches on January 20 would be a huge, international event. I wanted to make an explicit link between Kruger's work of the 'identity politics' era and the politics of artists working today.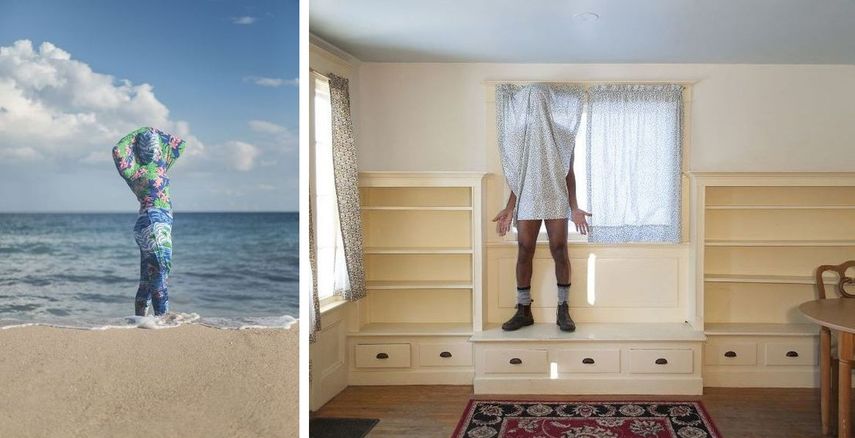 Referencing the Recent Political Moves
Widewalls: The exhibition theme will revolve around identity politics, archiving, and interventionism. How will this show reference the timely concerns regarding the recent political moves in the United States and abroad?
WV: Over the past few years, we have witnessed a global shift toward conservative policies and ideologies. In the U.S. and Europe, borders are closing and becoming heavily militarized. In the U.S., we have seen an uptick in racist violence, sexism, and homophobic behavior even before the recent election. Now, we are experiencing the consequences of a dangerous immigration ban and potential threats to civil liberties (religious, sexual, and otherwise.) Artists in Your Body Is a Battleground make work about various timely issues, such as racial injustice, colonial violence, mass incarceration, gendered oppression, and the endangerment of reproductive rights. The artists hail from across North America and the Caribbean, from Canada to the Dominican Republic. This (continental) geographical diversity is an important part of the show, and one that I hope will resonate with U.S. and international visitors.
Widewalls: Could you tell us more about featured artists and the selection process?
WV: The curatorial process was unique. In the art fair setting, I am collaborating not only with artists, but with the galleries and nonprofits representing them. In some instances, I chose to work with artists and galleries whom I already knew. In other instances, I cultivated new relationships. Several of the galleries and nonprofits in the Curated Section are working with VOLTA for the first time. It was very exciting to initiate those partnerships!
That said, my selection was artist-centric. I had a very clear vision of the kinds of work I wanted to show and the methods I wanted to feature. Broadly speaking, the artists in this show take up the tactics of post-Conceptual art. They use text, video, photography, collage and appropriation. They center the body in their work, but are not interested in a straightforward documentary approach or traditional self-portraiture. Rather, they consider the body as a symbol, and critique existing modes of representation. It was also important for me to have diverse group of artists, claiming various identity positions. I wanted to consider Barbara Kruger's work as a feminist precedent, but to have the artists in the show — who are a decade or two younger than Kruger — reflect our intersectional feminist moment.
Artists like Nona Faustine and Kent Monkman literally re-picture history in their work. Monkman's multimedia work depicts historical scenes from a queer and Native American perspective (often featuring his drag alter-ego Miss Chief Eagle Testickle), while Nona Faustine re-inserts the African-American body in sites where it has been written out of history. Zachary Fabri's practice considers the commodification of black identity and his own vulnerability as a person of color. Similarly, Dominican-American artist Joiri Minaya explores how "tropical identity" has been packaged and stereotyped. Sable Elyse Smith's multimedia work springs from the experiences she has had while visiting her father in California state penitentiaries over 20 years. Carmen Winant and Deborah Roberts both utilize collage practices in their work; Winant's installations will explore journalistic writing about women and photographs of Anita Hill, while Deborah Roberts makes collages of subversive black figures from different sources. Finally, Melissa Vandenberg's burn drawings and sculptures reconsider narratives of patriotism and identity.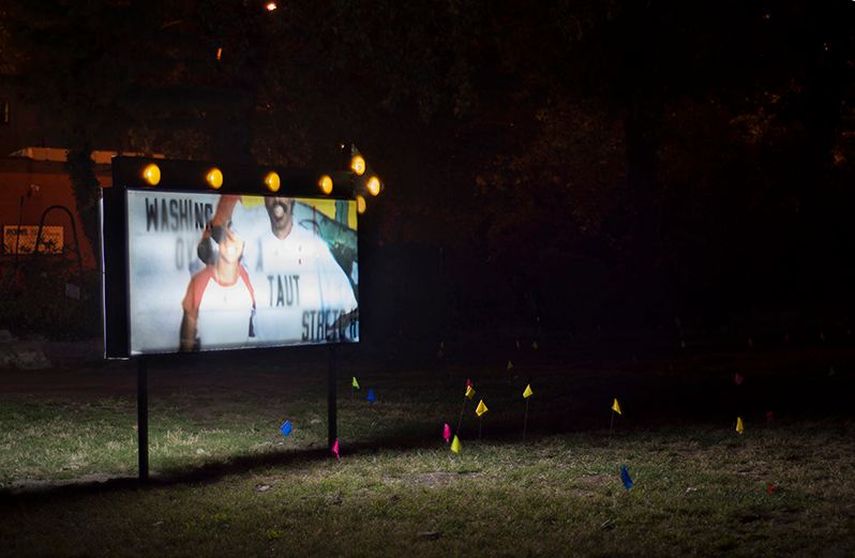 The Power and Responsibility of Art
Widewalls: The exhibited works follow the legacy of examining and critiquing media and representation as well as protesting the erosion of civil rights. What is the responsibility of art today? Apart from interpreting and commenting on social reality, what is its potential to change it?  
WV: Art can rarely create political change on its own, and it would be foolish to think that it could replace direct politics. However, art, like any form of cultural production, is always political, from its content to its methods of production and distribution. Art also has the potential to speak to power because of its proximity to powerful people and institutions.
I believe that artists have a responsibility to reflect on the historical conditions under which they are working, and to make formal and conceptual decisions from that analysis. Accordingly, I don't think all strategies (artistic or curatorial) are equally "radical" for all eras and for all contexts. Finally, artists and cultural workers should remain flexible and willing to halt their work if necessary. One can refuse to make (art) work for any number of reasons, from self-care to political solidarity.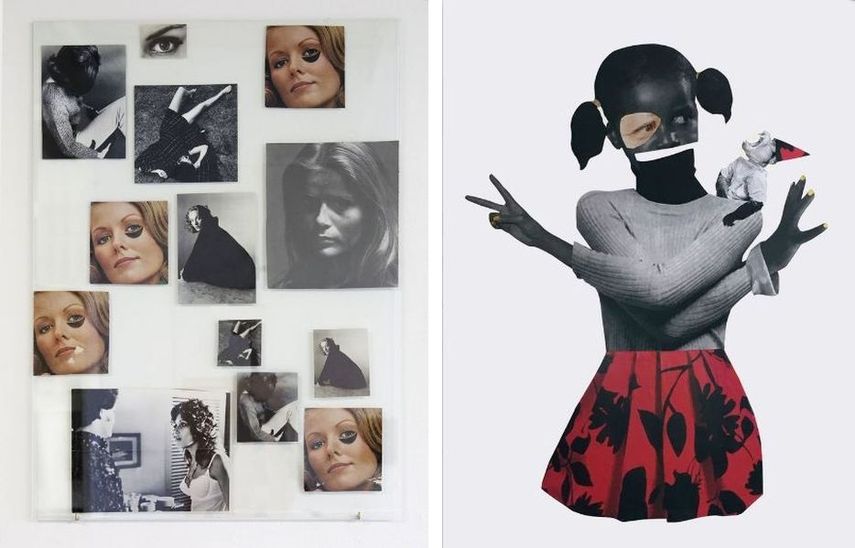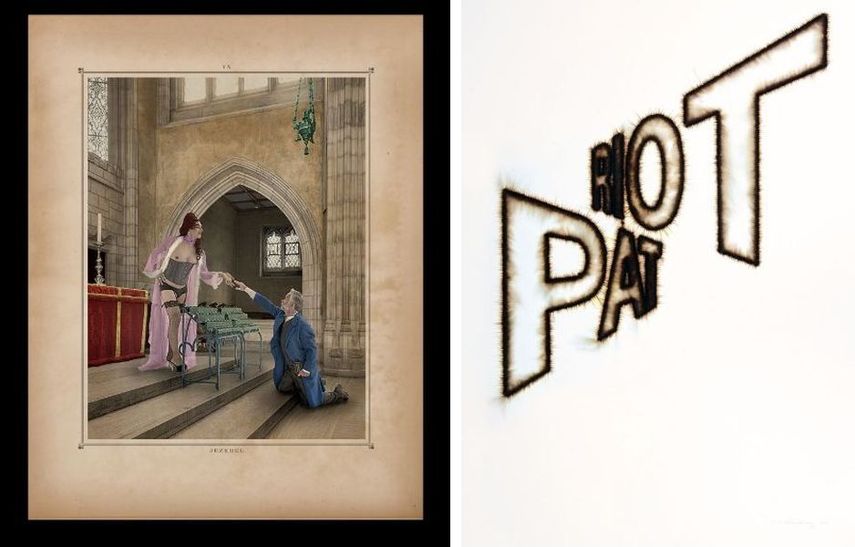 Featured image: Wendy Vogel by Kristine Larsen. All images courtesy of VOLTA NY.