Skilfully blending reality and science fiction, humor and serious topics, nature and industry, WES 21 art world is overwhelmingly creative and distinctive. The unique pictorial language of this Swiss-born artist never fails to leave a strong impression on the viewer. The artist has long made a name for himself beyond the national borders, with exhibitions in New York, San Francisco, Berlin and Moscow and a strong presence in the mural scene across the globe. His art will soon be on view at Galerie SOON. Titled When Worlds Collide, the third solo show with the gallery will feature his newest surrealistic works.
A Highly Versatile Artist
Born in Biel, Switzerland as Remo Lienhard, WES 21 has started artistic endeavors in 2001 when he began to take an interest in painting. After graduating from College of Design in Biel, the artist became a freelance illustrator and designer, engaging in such projects as large scale murals, canvases and 3D sculptures, adding an unpredictable side to what's typically expected of graffiti artists. He is now part of Schwarzmaler, a collective of outstanding graffiti writers, street artists, and illustrators. Successfully capturing a moment, whether real or imaginary, his detailed works are unquestionably stunning in nature, taking us to an artistic world unlike no other. He is constantly working on developing his unique visual language that separates his work from the rest.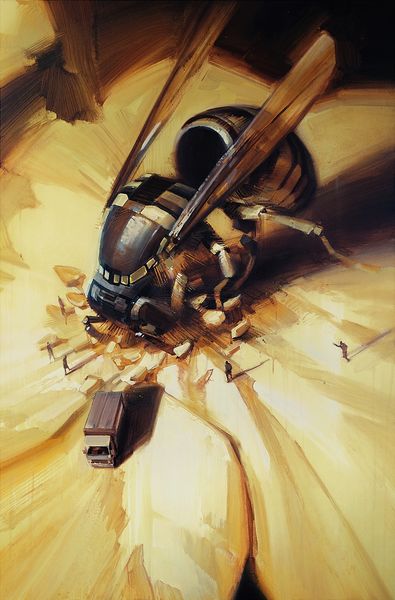 Opening Unique Worlds
Never lacking imagination, WES 21 has an ability to astonish the viewer with his motifs and the incredible precision in the execution of his works. Pairing harmonious compositions with this unique imagination, he creates hybrid and unreal creatures come alive and impossible constructs real, stirring the viewers' soul and making them think. In this destructive and conflicting combination of nature and industry that depicts a dystopian future, the artist's great sense of humor prevails. Designed with a rare combination of spray paint, acryl, and oil, his work is full of ambiguities and opposite dimensions. Combining everyday imagery with fantasy elements, there is a certain intricacy to his work. Characterized by harmonious visual composition and color palette, his canvases are executed with almost scientific accuracy, showing his sharp-eyed observation and the environment analysis.
WES 21 Art at Galerie SOON
Wes21 combines images that don't necessarily go together, but make sense when seen as a whole. Working like a window into a parallel universe, his work lets unusual words collide with its narrative content. These worlds he creates are always exciting and new for the audience. The exhibition When Worlds Collide by WES 21 will be on view at Galerie SOON in Zurich from April 6th until April 22nd, 2017. The opening reception will be held on Thursday, April 6th, from 5 to 8 p.m. The artist will be present.
Featured image: WES21 - Wasp (detail). All images courtesy of Galerie SOON.