The practice of Canadian artist Whatisadam, or WIA, is so beautifully varied that I can't be sure which medium is my favorite.
Whether it's wheat-paste, wallpapers, murals of all scales, objects, canvases, works on paper, installations or even pieces of clothing, it is always fun, interesting and distinguishably Canadian.
A fine selection of classic WIA imagery and newly developed works on canvas, all in a cosy chalet setting, will now be on view at his home of Station 16 Gallery, opening on Nuit Blanche.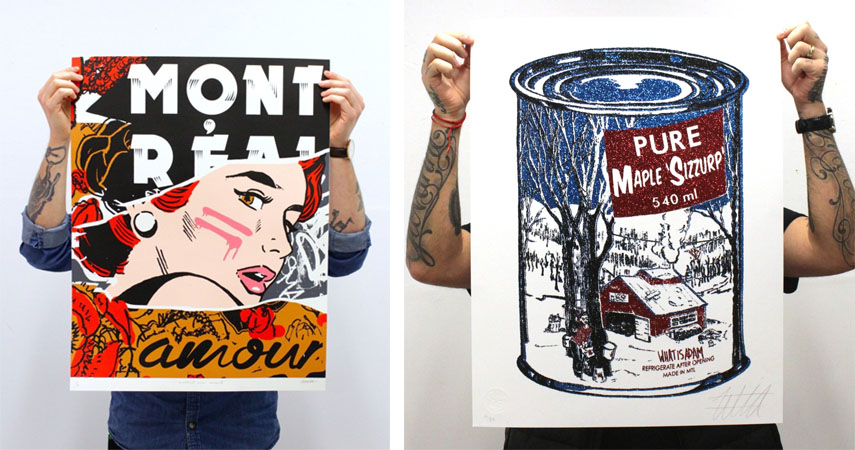 #ChaletLife
For #ChaletLife, his first solo at the gallery in Montreal, Whatisadam takes over its space to recreate the artists' love for winter activities and weekend chalet getaways.
As usual, his works are infused with Canadian imagery mixed with pop art and vintage comics, to create a curious symbiosis between the traditional and the contemporary.
Depictions of North American wildlife and landscapes are common themes in Whatisadam's art, but their "modern" element is taken to present-day thanks to the elements of urban culture, such as maple 'sizzurp' cans, tattooed ducks, and hockey hoodlums.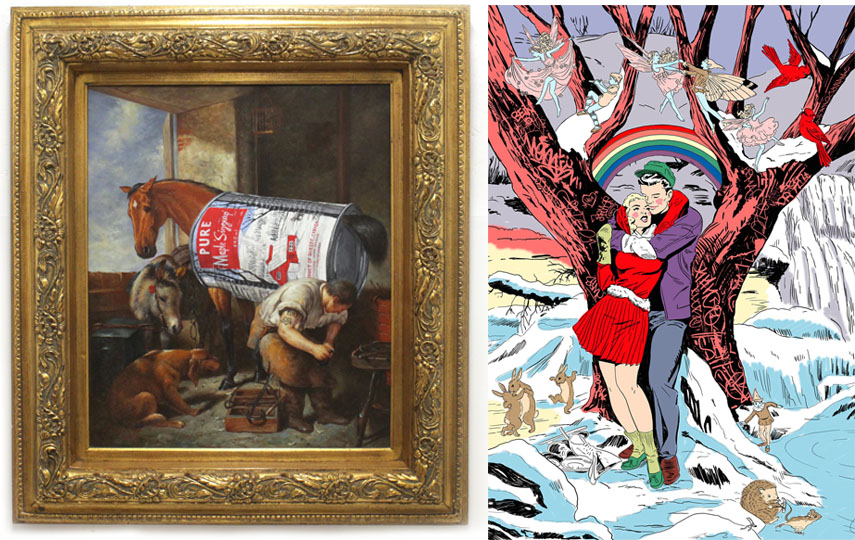 One of Montreal's Finest - Whatisadam aka WIA at Station 16 Gallery
One of the city's best-known urban artists, Whatisadam produces works that can be seen worldwide as well - from Montreal to Miami and Paris. His oeuvre includes stencil and wheat-paste pieces, but also silkscreens, installations and found objects sometimes cunningly used as his canvases.
In WIA's art, we can spot many different influences, from the giants of Pop art to the familiar names of urban art, yet it is quite recognizable, perhaps in its unique form of "accessible patriotism" - like the giant can of maple sizzurp leaking on the gallery floor.
#ChaletLife, an exhibition of works by Whatisadam is on view at Station 16 Gallery in Montreal, Canada, from March 3rd to 24th, 2018. The opening is scheduled for March 3rd, the Nuit Blanche, from 6pm till 1am and the artist will be in attendance.
Featured images: WIA - Mallard Ducky; Maple Sizzurp Drum. All images courtesy Station 16 Gallery.