As did almost every market, photography and art market crashed as well during the global financial and economy crisis that started in 2007 and 2008. But, also, as did almost every market, photography and art market bounced back and continuously grew, from the lows of 2009 to the highs of 2014. Artprice announced some results of the global auction sales and compared, year for year, the 2008-2014 period. Both photography and painting sales at auctions recorded better total results than the previous year, and this was the fifth time in the row. However, in 2014, painting and photography sales not only surpassed both totals from 2008 (actually, they did that yet in 2013), but the average price for a painting sold at an auction in 2014 was higher than the same average in 2008, for the first time in six years. The problem is that photography average was still bellow the 2008 mark.
| | |
| --- | --- |
| Shirin Neshat - Untitled (From the Series Women of Allah), 1996 (Courtesy of Sotheby's) | Helmut Newton - Mercedes at Home, Paris, 1975 Courtesy of Sotheby's) |
Photography is Rising, but Slower than the Art Market
In 2014, the total of $180 million was fetched through photography auction - $21 milllion up from 2013, and $23 million up from 2008, which is kinda alright, and by not any mean is a failure. However, that's just a small part of a huge global fine art market, which in 2014 produced a total $15.2 billion turnover, and $7.8 billion of those $15.2 billion were spent on paintings, which was almost $1.7 billion up from the 2008 result. Also, the average amount of money spent on an auction sale for a painting was $50,550 - five grand more than in 2008, while for photography this average was $11,814, or more than $1,200 bellow the 2008 benchmark. There are several reasons for this - first of all, the medium is different. Photos are often sold in large editions, and therefore are not as unique on the market as are the paintings. This leads us to another thing - paintings are proving to be very suitable for diversifying someone's portfolio - it's a modern thing these days. And when we say portfolio, we mean a way for very rich people to become even richer, as contemporary art market is showing little or no sign of slowing down - it's just worth of it: if you have bought, say, some Cy Twombly's work back in 2004, by now it would probably be 5.5 times more expensive than the day you bought it. And that's a return on investment that you do not see very often.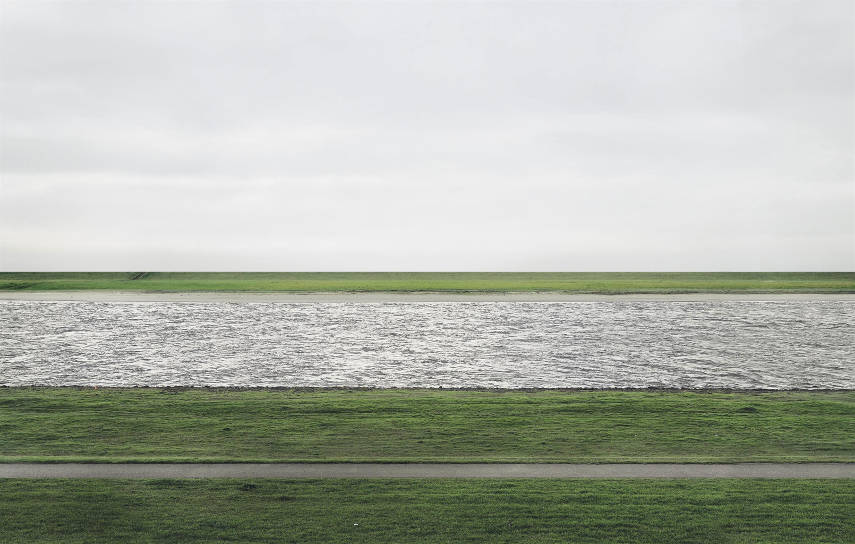 Record-priced Photographs in the Art Market
In November 2011, Andreas Gursky's photo Rhein II broke the world record for a single photograph: it was sold for $4.34 million at Christie's. This huge print (73x143 inches, or 190×360cm), executed in 1999, was somewhat digitally transformed, as Gursky removed everything that he thought it was unnecessary (people, factory, etc.), and left only three things (elements?): river, field and skies. And - poof - there goes your $4.34 million. Until that November, Cindy Sherman was the record holder for a photography price in the art market, as her color print from 1981 of herself, lying on the kitchen floor, named Untitled #96, was sold at Christie's in May 2011 for $3.89 million. The next photograph is Jeff Wall's Dead Troops Talk (A vision after an ambush of a Red Army patrol, near Moqor, Afghanistan, winter 1986) from 1992, that was sold for $3.67 million at Christie's in May 2012. Gursky's 99 Cent II Diptychon was sold on February 2007 for $3.35 million at Sotheby's London, and was the most expensive photo in the world at that time (and first one that got more than $3 million). Before this Gursky's work, a more-than-a-century-old photograph by Edward Steichen, The Pond-Moonlight from 1904, achieved $2.93 million in February 2006 at Sotheby's New York sales. And while there are not many examples of photographs sold for more than $1 million, which is a fraction of a price of some contemporary paintings, this fact is also an opportunity for beginners: you don't need to start building your art collection with a multi-million artwork - perhaps it's easier to step into the art market via smart purchases in world of photography.
Stay modern - sign up now for My WideWalls and be up-to-date with contemporary and street art.
Your oppinion is valuable to us! Please, join the discussion on art market, artwork sale and prices at our Facebook page.
Featured image: Sally Mann - Candy Cigarette, 1989 (Courtesy of Phillips) (detail)
Also in slider: Helmut Newton - Jerry Hall, Spitting, French Vogue, Paris, 1978 (Courtesy of Phillips)