One of the most peculiar artists of the late 19th century, James Abbott McNeill Whistler proposed a more sentimental and subtle painting which was similar to the Romanticist movement, yet conceptually it was much different and more progressive. The artist was stubborn enough to pursue an artistic career and build quite a personal style. One of his later paintings best reflects all of those efforts – it is called Arrangement in Grey and Black No.1, but it is much better known as Whistler's Mother.
This artwork was made in 1871, while the artist was living in London, and the main protagonist of the same is, you will guess, the artist's mother Anna McNeill Whistler. It was done in traditional oil-on-canvas manner and displayed in a special frame designed by Whistler himself. The painting was purchased by the French state in 1891 and since then it is shown and held at the Musée d'Orsay in Paris.
"The Victorian Mona Lisa," as it is often called, is considered one the best-known American artworks done outside the United States, and with the flow of time, it became iconic due to its frequent presence in popular culture.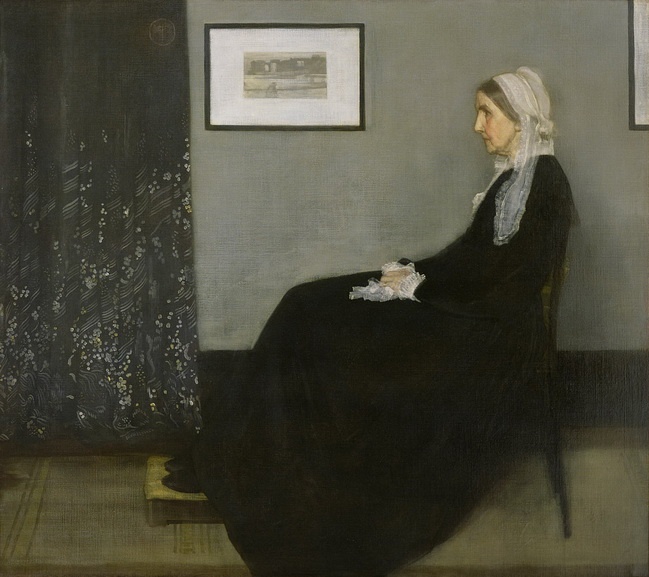 The Story Behind The Portrait of Whistler's Mother
Arrangement in Grey and Black No.1 represents James Whistler's mature phase characterized by the radical use of simple coloring. The whole composition underlines the humbleness of a decent and morally impeccable Victorian woman who gave her best to be a good mother and housewife. Anna was widowed at forty-five and was deeply devoted to her children. In 1864, she moved to London to be closer to them and became aware of her son's bohemian lifestyle.
Initially, another person was to model for the painting, and Anna Whistler eventually acted as a replacement. It is important to add that the artist imagined for the model to stand, yet his mother was elderly and could not stand for a long time. Whistler wanted to depict his young neighbor, Helena Amelia Lindgren (1855-1931), who would take Anna's place when she would become tired. Helena considered modeling secretly for Whistler, who was dazzled by her hands. The letter from 1935 states that the mother asked the Lindgrens if the older sister Christina could do it. The family forbade it, so Helena offered to pose without her mother's knowledge.
In 1872, a year later after it was produced, this painting was exhibited at the 104th Exhibition of the Royal Academy of Art in London where it did not receive a positive reception. Whistler was not pleased by the rejection from the Academy, so he decided that this is going to be the last work submitted for the Academy's approval. Years later, in 1884, Whistler wrote:
Just think — to go and look at one's own picture hanging on the walls of Luxembourg — remembering how it had been treated in England — to be met everywhere with deference and respect...and to know that all this is ... a tremendous slap in the face to the Academy and the rest! Really it is like a dream.
What's also interesting is that the Victorian audience was stiff and could not accept the painting's conceptual title - why would a simple portrait be introduced as an arrangement? And so, the work received a nickname - Whistler's Mother. Afterwards, however, the painting got a "cousin" when a famous Scottish philosopher saw it and decided to pose for Whistler in the same manner. That portrait is titled Arrangement in Grey and Black, No. 2.
Whistler's Mother, One of the Most Famous American Artworks
The Painting as a National Icon
Whistler advocated for the art for art's sake philosophy and was rather insulted by each individual who perceived his painting as a portrait. In his book The Gentle Art of Making Enemies from 1890, he stated:
Take the picture of my mother, exhibited at the Royal Academy as an "Arrangement in Grey and Black." Now that is what it is. To me it is interesting as a picture of my mother; but what can or ought the public do to care about the identity of the portrait?
Despite the bitterness caused by the initial bad reception in the UK, in the American context the painting was saluted and embraced as an embodiment of morality and motherhood. It became a national icon which proposed traditional comprehension of family values, so it is not strange that the piece traveled America in a 13-city tour, which included a stop at the 1933 Chicago World's Fair. The U.S. Post office issued a stamp depicting a stylized image of Whistler's Mother, followed by the slogan In Memory and In Honor of the Mothers of America. Four years later, a huge sculpture based on a painting was released by the Ashland Boys' Association in Pennsylvania during the Great Depression.
Since then, this iconic painting was very often called upon in various contexts and made a huge impact on commercial advertisements and parodies. Established art historian and curator Martha Tedeschi expressed the significance of this artwork:
Whistler's Mother, Wood's American Gothic, Leonardo da Vinci's Mona Lisa and Edvard Munch's The Scream have all achieved something that most paintings—regardless of their art historical importance, beauty, or monetary value—have not: they communicate a specific meaning almost immediately to almost every viewer. These few works have successfully made the transition from the elite realm of the museum visitor to the enormous venue of popular culture.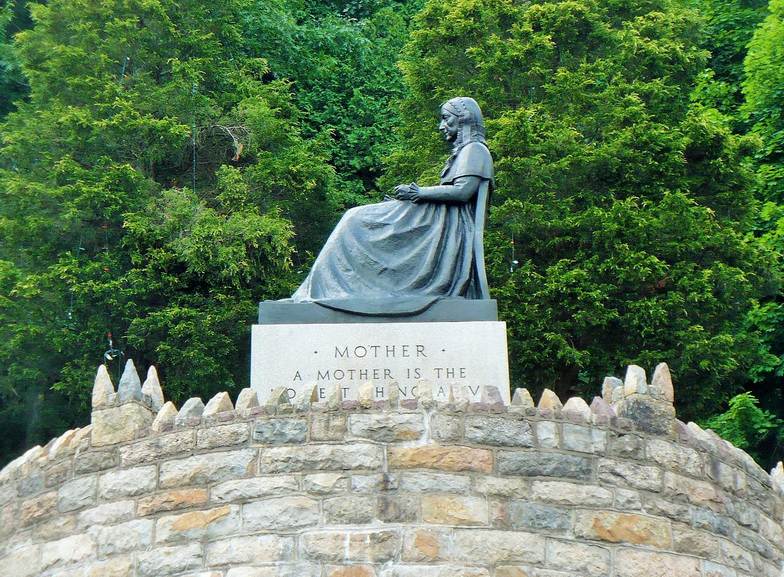 Whistler's Mother in Popular Culture
Whistler's painting deeply influenced contemporary French composer Claude Debussy, so he wrote to violinist Eugène Ysaÿe around 1894 and described his Nocturnes by saying that "an experiment in the different combinations that can be obtained from one color – what a study in grey would be in the painting."
During the World War I, Canada released a propaganda poster Fight for Her which depicts an old lady (almost the same as the one on a painting by Whistler) underlining motherhood and family values. It was aimed to encourage men to enroll with the Irish Canadian Rangers and to fight for the women in their lives.
Whistler's Mother was featured or mentioned in numerous movies such as Sing and Like It(1934) or Babette's Feast (1986), episodes of television series The Simpsons and is mentioned in part six of Don Delillo's novel Underworld. Interestingly so, in the film The Naked Gun 2 1/2: The Smell of Fear from 1991, the shape of the painting was used as a birthmark to identify a character after he is replaced with a "twin", while the artwork itself was most explicitly used as a plot element of the movie Bean from 1997.
However we look at it, it seems that Arrangement in Grey and Black No.1 or Whistler's Mother has become a highly recognizable image representing traditional values regardless of the artist's initial intention and it has become an instantly quotable artwork.
Editors' Tip: Whistler's Mother: An American Icon
This illustrated volume looks at the life of Anna Matilda Whistler, the genesis and history of the portrait, and examines the relationship between mother and son that inspired the painting. It explores the growth of Whistler's 'Mother' as a potent image, its appearance inspiring mass pilgrimages and adulation, and looks more broadly at the portrait of the artist's mother as a productive source of artistic inspiration following Whistler.
Featured image: James McNeill Whistler - Arrangement in Grey and Black No.1, 1871, detail. Image creative commons