We were curious to know who will have the honour to officially open the new building of the Whitney Museum of American Art. After many years spend on Madison Avenue, the institution moved to Chelsea, and the first retrospective to take place there is the one of Frank Stella, a pioneer of American Abstract art and one of the most important living artists today. Organised in collaboration with the Modern Art Museum of Fort Worth, the exhibition will feature about 120 works taken from Frank Stella's incredible artistic career, spanning from the mid-1950s to present day, and it will occupy the entirety of the Whitney's 18,000 square-foot gallery dedicated to temporary shows.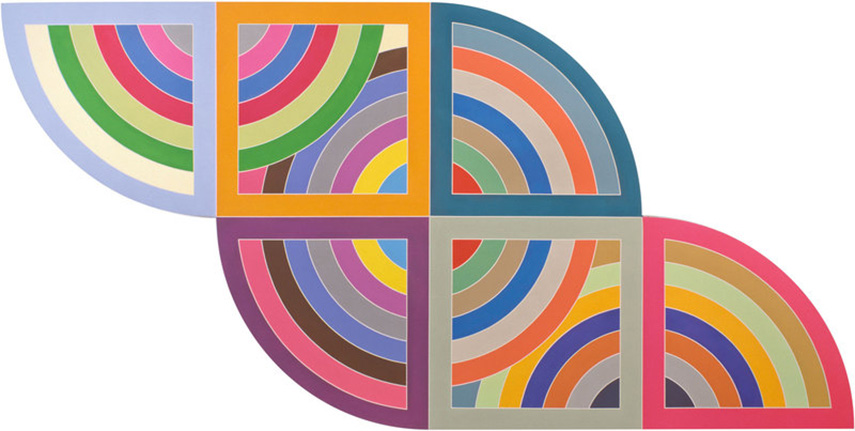 Between Abstract Art and Minimalism
To Frank Stella, a painting was always nothing more than "a flat surface with paint on it". He wasn't depicting anything - his subject was his object, flat and simple in execution. During the 1960s, the artist seems to have moved away from the overtaking Abstract Expressionism towards the more welcoming Minimalism, and the combination of the two movements allowed him to experiment with color density and shapes in unprecedented ways. His ambition was to give depth to the superficiality of the abstract, give them meaning, and he started by giving unusual form to his canvases. Using aluminium and copper paint, Frank Stella created his famous Irregular Polygon series in 1967, introducing canvases in shapes of a L, an N, a U and a T. In years that followed, his color palette expanded as well, and arcs became a new part of his works, particularly in the Protractor Series from 1971, inspired by his visit to the Middle East.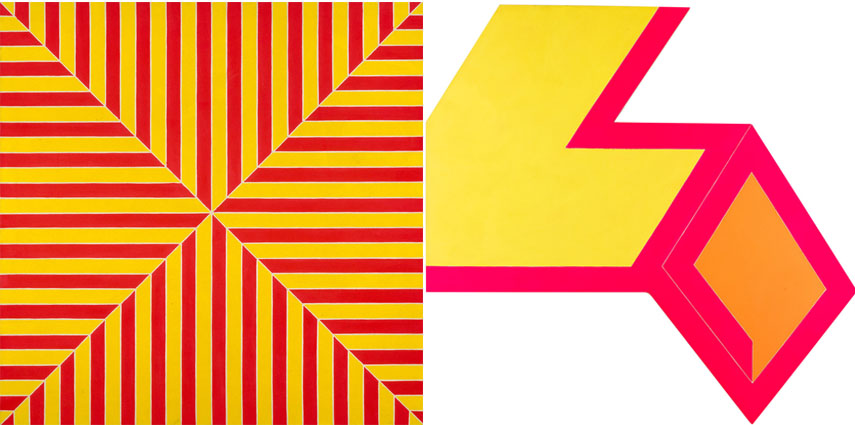 A Retrospective of A Legend
The retrospective of Frank Stella art comes at a time when most of museums and galleries are overwhelmed with the wave of new artists. In fact, the artist admitted he was surprised by the idea of an exhibition covering his entire career and wanted to focus on his more recent works only, which also include his offset lithography. As prolific printmaker as he is a painter, he produces screenprints and etchings in his trademark abstract style, but also collages and sculptures. Always working in series, Frank Stella continues to produce intriguing works, and the latest medium added to his set of skills is computer designing.

Whitney Museum Welcomes Frank Stella
Frank Stella's most comprehensive show to date will feature a variety of his most famous artworks, from reliefs, maquettes and sculptures to drawings and paintings, including examples from his iconic Black Paintings series. These black-painted canvases entwined with unpainted horizontal and vertical lines received much of negative attention back in 1969, when they were produced, and today they're considered some of the finest examples in the arts.
Frank Stella: A Retrospective will open on October 30th 2015 and will stay on view at the Whitney Museum of American Art in New York City until February 7th, 2016. The opening reception is set for October 29th from 8pm till 11pm.
For more exhibitions, sign up for My Widewalls for free!
Featured image:
Frank Stella - Grajau I, 1975. Paint and laquer on aluminum. 82 × 132 in. (208.3 × 335.3 cm). The Glass House, A Site of the National Trust for Historic Preservation © 2015 Frank Stella/Artists Rights Society (ARS), New York
All images courtesy of the Whitney Museum