Gambia is a small West African country spread around the river Gambia, blessed with beautiful scenery, fantastic beaches, and lovely weather. Gambia is a country where about a third of population lives below the low international poverty line (income less than $1.25 a day per capita). Located closely to luxurious Mandina River Lodge resort, there is a Makasutu Nature Reserve and within it, a group small villages. These villages are poor, but they're probably the richest ones if we start counting the murals adorning their walls.
Wide Open Gambia
Wide Open Walls is an intercultural project, aiming to raise awareness of the need for peace, understanding and respect, allowing international creatives to experience Africa, and aiding the local community. It was founded by Lawrence Williams, one of the owners of a Makasutu project home, wanting to enliven the area and provide an alternative for a largely rural area. Expanding from year to year, Wide Open Walls connects artists from all over the world with the Gambian creatives as well. Prior to Sickboy and Know Hope, artists who participated in this amazing project include Xenz, Tika, David Shillinglaw, She One, Jim Sanders, RUN, Remi Rough, ROA, Remed, Mysterious Al, Lucy McLauchlan, INSA, Rimon Guimaraes, Eelus, Bushdwellers, Broken Crow and Best Ever.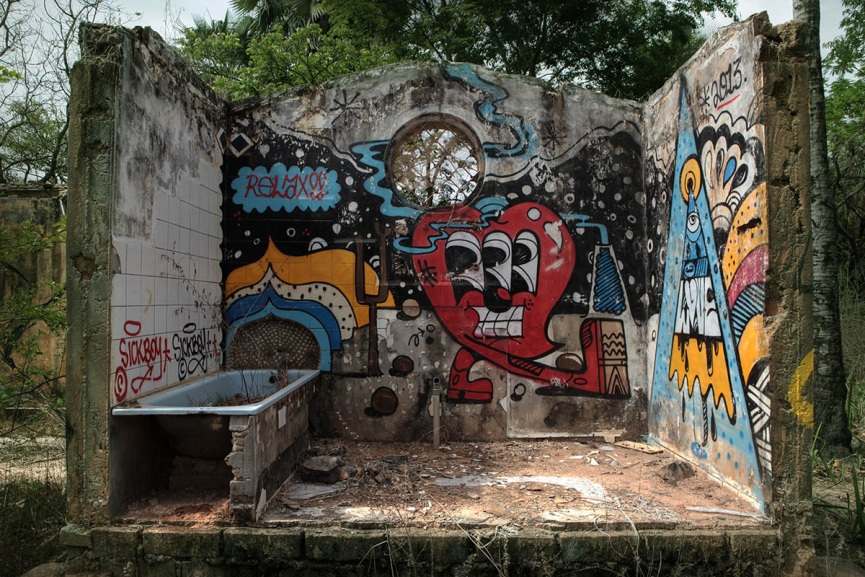 Sickboy and Know Hope
Started in 2010, Wide Open Walls project gathered round a group of international muralists, to paint walls on homes and communal buildings of Makasutu villages, in order to transform the area into a tourist attraction, unique in all of Africa. Over 15 artists created wonderful outdoor work around the reservation, while some the most recent additions were made by Know Hope and Sickboy.
Know Hope and Sickboy have created murals on two sides of a local house in Galloya village. Sickboy, feeling inspired, even tagged a local van with promotional symbols for his Make It Last Forever show on view at The Outsiders London. Long limbed figures decorated with hearts are pertinent to the oeuvre of Know Hope, while Sickboy dressed up an entire house side in a recognizable invented universe. Both of the artists thus took part in promoting peace and unity, while giving more attractions to the local community, which generates income from tourist visits.
Wide Open Walls offers new life for Makasutu villages, and in the spirit of life, artists keep returning, and creating new murals along the Gambia river plane. ROA is one of them.