It has been a moved year for the two street artists Patrick Miller and Patrick McNeill. They not only moved up the ranks of the international contemporary art scene. FAILE also moved into entirely different art forms and proved to be worthy of any. As the first coup in 2013, FAILE collaborated with the New York City Ballet to create an unbelievably combination between street art and ballet. FAILE not only designed the 'Art Wheel' (a tibetan religious symbol), they also erected a sixteen-meter tall 'Tower of Faile' in the entrance hall of the ballet. The NYCB Art Series with Faile was a display of the artist's significance in todays contemporary art world. Their predecessors were artists like Andy Warhol and Keith Haring. Followed by this was the opening of their first solo exhibition at Dallas Contemporary, a museum of modern art with no ticket fee. They then went on to partake in the 10 year Wooster Collective anniversary at a Jonathan Levine pop-up gallery. As their last bombshell of the year FAILE brought back their legendary arcade games from 2010. The arcade they created in collaboration with BÄST was presented at Art Basel Miami in December. To crown this hugely successful year Complex Magazine has voted FAILE amongst 'The Most Influential Artists of 2013'. In line with artists such, as Ai WeiWei, Banksy and JR, FAILE not only seem to have reached the realm of the elite contemporary artists. Like Complex we would like to pay our tribute to the unbelievable work FAILE have done in 2013 by making them our artists of the week.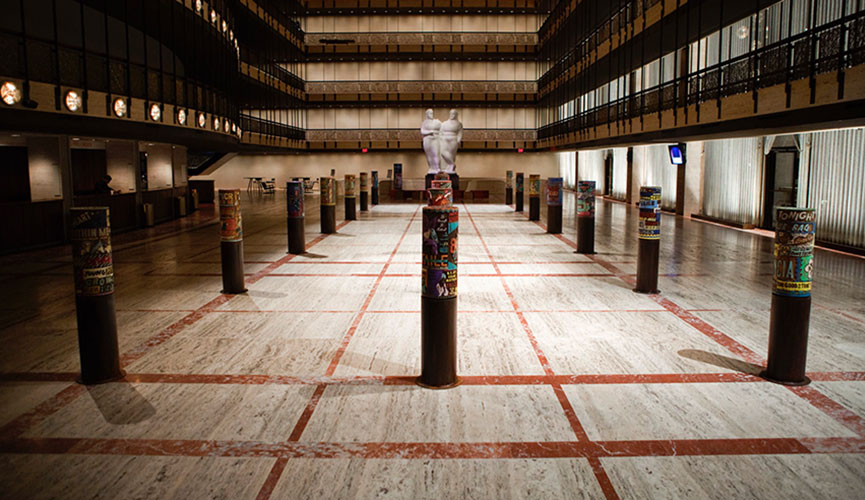 FAILE - Background
A Brooklyn-based street art creatives known as FAILE have been rising from the subversive American street art activists, to an internationally acclaimed attraction, existing in the world of both high and low culture simultaneously. Typical of their recognizable style is the exploitation of diverse media, defined by dichotomy of meaning researched through a fractionated expression in appropriative collage technique. FAILE primarily works in painting and printmaking, as their unique pop-arty manner evolved through creating with window pallets, wooden boxes, canvas, prints, sculptures, installation, stencils and even prayer wheels. FAILE, an ironic anagram of a life, stands for the partnership of Patrick Miller and Patrick McNeill, two American street artists and childhood friends. After growing up together in Arizona, the pair split up, each going their separate ways to study in 1996. Two friends reunited in 1999, and with a joining member of the crew, the filmmaker Aiko Nakagawa, A Life was formed. Early 2000s brought a lot of action for the crew, while they circulated their screen-printed and painted artwork over the streets, through a process of wheat-pasting and stenciling. From the very beginning, the style of FAILE differed from the typical graffiti. A wheat-pasted collage was more a pop-artistic interpretation with subtle satirical subtext and the appraisal of retro aesthetics, than a written tag. In the following years, the expression of the trio was crystallizing, and the name was altered to FAILE. Aiko Nakagawa went to pursue her own career under the pseudonym Lady Aiko in 2006, and the two guys advanced towards commercial and official artistic success, having many design commissions.
Iconography
The development of their signature style reveals a carefully elaborated iconography based upon the values of mass-culture. FAILE's imagery is approachable and familiar, regarded as appealing and pretty, but it is the means of exploration of complicated and frequently disregarded social and moral problems that trouble contemporary urban society. The dualism of symbols, words and meanings is present in their work as an initial spark for contemplation on the truly important aspects of life. However, FAILE does not strike the observer with their conceptual suggestions bluntly, like much of engaged urban art does, but through a subtle, sympathetic visual content. Their work is more inspirational than suggestive, the trait which greatly explains the public fascination that revolves around it. Thematically related to an everyday life of a prospective observer, FAILE collages are filled with romantic hints, lifestyle emblems and allusions to the city life, set against subjects of general interest, such as religious, cosmonautic or current and timeless societal issues.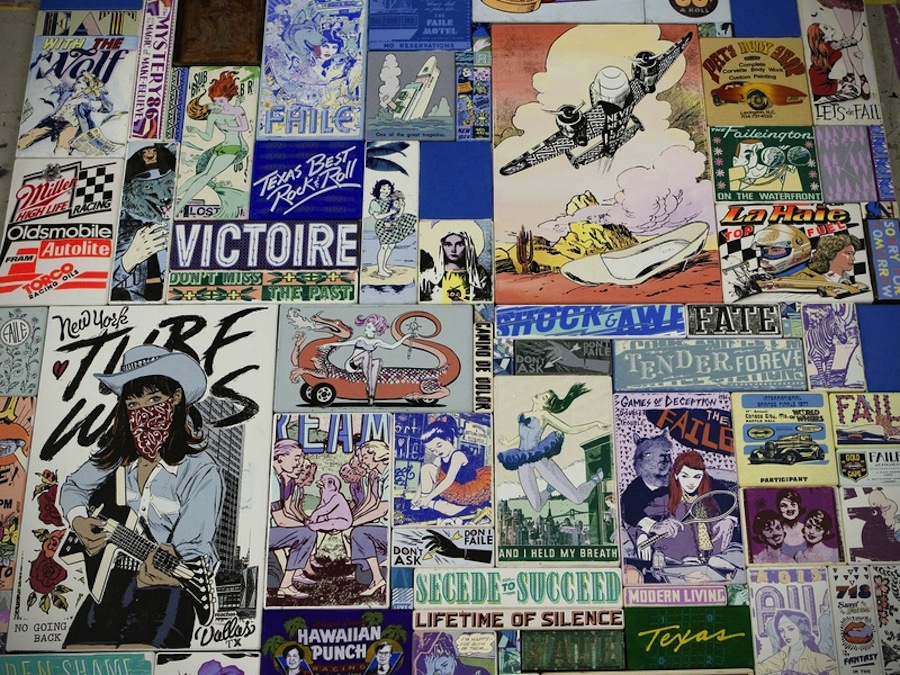 Early Days
Early in their career, FAILE started exhibiting in galleries, presenting large-scale, limited edition artwork executed on paper and board, as well as objects, FAILE boxes, reminiscent of keepsake cases. Initially creating after their street art pieces, the pair quickly started re-imagining their representational imagery into little narrative works, much inspirited by the comic world. Artwork that emerged was astonishingly polished, while it had been finished off by hand in order to achieve a vintage look. Comic heroes, as seen by FAILE, were moved away from lascivious scenes into realistic emotionally charged dramatic situations that are happening parallely with their superhero obligations. One of the often depicted images appearing in FAILE's work is the Challenger space shuttle, a symbol of a 1986 mission that ended in tragedy. Evoking both the affect this event had on a specific generation, as well as its parallels to an ephemeral spectacle resembling a modern reality show, the artists put an emphasis on a constant consumeristic cravings of a media-oriented population. FAILE regularly sign their work with only 1986, without lettering.
Exhibitions
Although the duo was exhibiting worldwide since 2002, one of the first highly publicized group shows was a 2006 event titled Spank the Monkey. This exhibition showcased work by renowned fine artist rooted in the street art Barry McGee, Takashi Murakami and Ryan McGinness, and a number of great urban visual activists such as FAILE themselves and Os Gemeos, Shepard Fairey and Banksy. Another one among the noteworthy group exhibitions including FAILE's art was held at London's Tate Modern in 2008, and it ran for four months. The show was titled simply Street Art, and it included works from six selected artist around the globe. Alongside FAILE, artwork by Nunca, OsGemeos, Blu, Sixeart and JR was on display. The exhibit was composed by art pieces and collaborative work executed through a massive relief placed on a riverbank, facing the turbine room of Tate. The same year brought Lost in Glimmering Shadows exhibit, that featured large format works on paper together with an array of functioning prayer wheels, the first sculptural objects inspired by religious artifacts executed by FAILE. The year 2010 has proven itself to have been exceptionally productive for the duo, as they participated in big collaborative and exhibition projects such as The Deluxx Fluxx Arcade, a collaboration with New York based BÄST, huge installation project in Lisbon titled Temple, and the exhibition of works on wood in NY titled Bedtime stories. The same year, a monograph was published under the title FAILE: Prints and Originals, reproducing all of their works on paper and representational gallery pieces.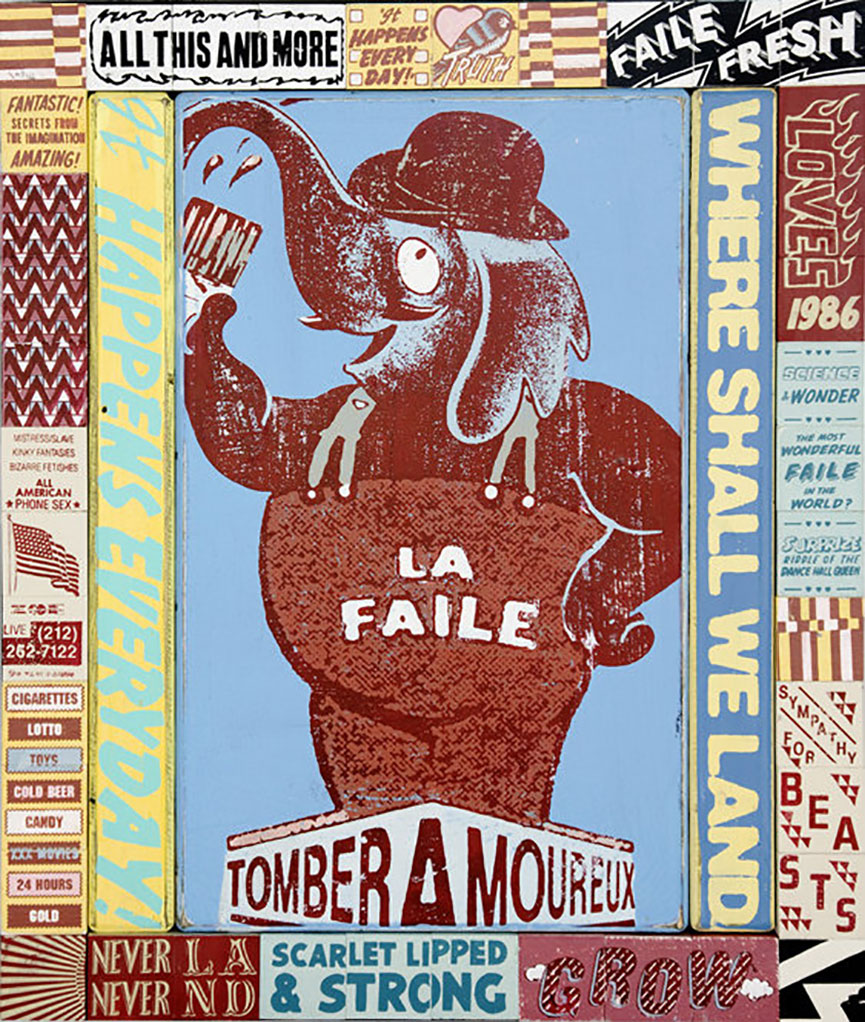 Lazarides and Mongolia
One of a number of cooperation's with Lazarides Gallery in London delivered a show in the late 2011, named Fragments of FAILE, unveiling a series of new paintings infused with folklore elements. One of the most interesting projects by FAILE was executed in Ulaanbaatar, the capital of Mongolia, where the two artists selected a transforming figure from their Fragments of FAILE show and transposed it into a large-scale three-dimensional public sculpture, titled The Wolf Within. The 15 foot sculpture represents a corporate man transforming into a wolf, making a commentary on the moral today's corporate scene.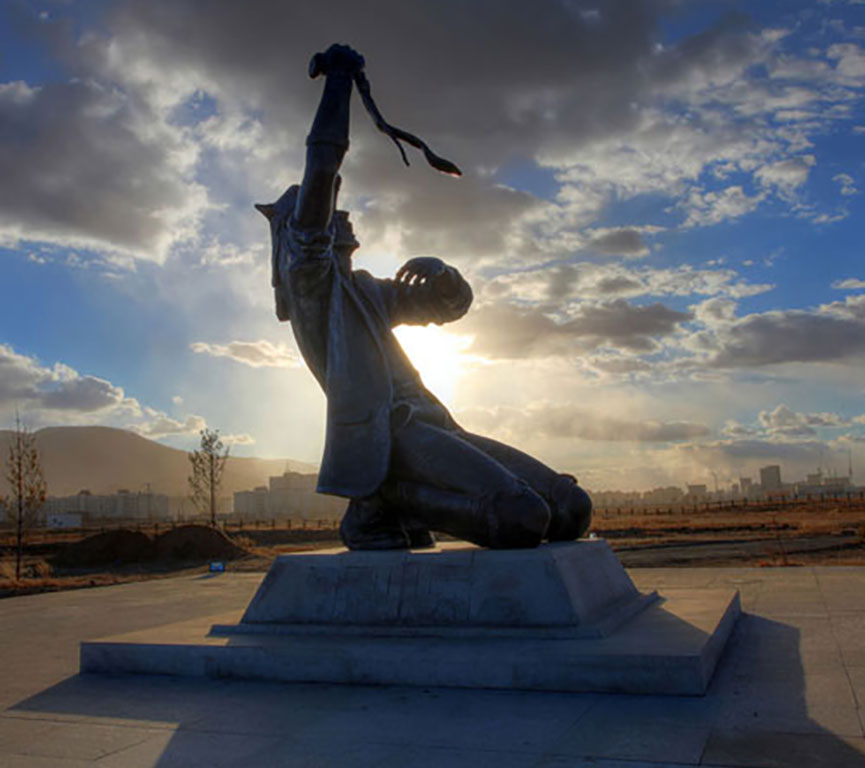 Design and Graffiti
The prolific collaborative pair, FAILE, comes from a design and graffiti background, while in the tradition of street art activism they prefer making art to inventing political slogans. There is a number of socially aware and critical layers in their work, whether it be painting, installation, sculpture or other. Their artistic expression conveys a simple, coherent message, charged by the lowbrow drive of street art and the conceptual quality desired by art institutions. Aesthetics they nurture is perceived as hip, cool and appealing, while viewers can revel in art that is everything but superficial.