This week we are bale to present another outstanding piece by the amazing Carrie Reichardt. The piece entitled "Riot Here, Riot Now" is an old Mini Cooper bonnet. Carrie used vintage, digital and hand screen-printed ceramic transfers that she applied on the metal hood of the UK car classic. The color palette is predominantly red, blue and white. The blue tiles build the background of the artwork. Many of them contain the transferred flower patterns. The red tiles create a fire flaring from the bottom and around the Mini logo. The white tiles depict the "V for Vendetta" mask with a crown resting on it, two eyes with wings and the banner that reads the artworks title.  The "Vendetta" mask, an international symbol for the occupy movement, enhances Carrie's proclamation to "Riot Here, Riot Now".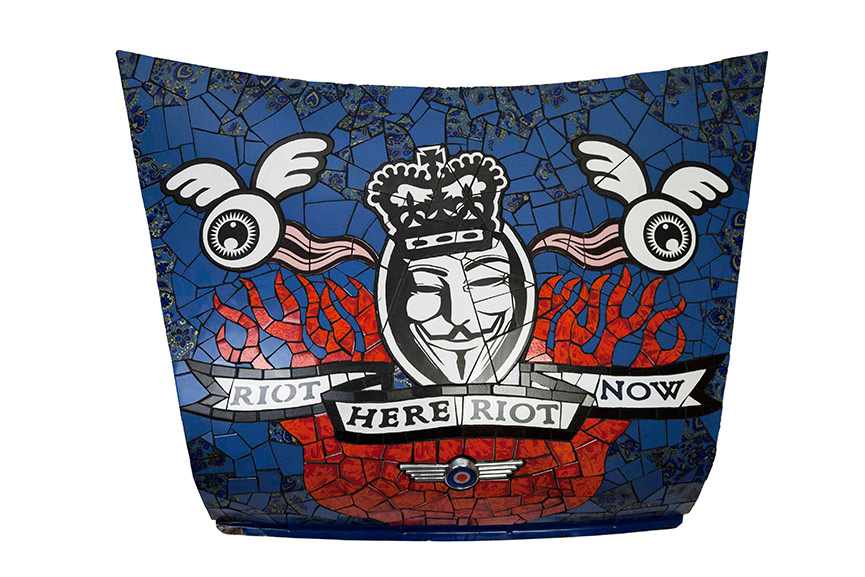 About Carrie Reichardt
Carrie Reichardt is a leading contemporary artist, who works from a mosaic-covered studio in London, The Treatment Rooms.  A figurehead for the Craftivism movement, Carrie uses murals, ceramics, screen-printing and graphic design in her work and is called upon to speak on the use of craft and art as protest – most recently for the British Association of Modern Mosaic's annual symposium at the Victoria and Albert Museum in 2012 and an exhibition in 2014.
Carrie trained at Kingston University and achieved a First class degree in Fine Art from Leeds Metropolitan.  She was Artist in Residence at Camberwell Art College in 2009.  Following a period as Artist in Residence at The Single Homeless Project, she remains a proactive supporter, donating a percentage of the profits from some of her 'Mad in England' series to the charity.  Her work has appeared in leading galleries around the world and she represented the UK as part of a group of international artists invited to mosaic the Argentinian Government building in Buenos Aires.