We met LOOK the first time in Belgrade by coincidence. We were walking down the street when we came across some artists painting a the outside wall of the gallery they were exhibiting at. The mural was instantly recognizable as a piece by the WEIRD Crew. LOOK was one of the artists who was painting when we arrived. The piece was magnificent and and intrigued us to see the works they exhibited inside. So we attended the vernissage in the evening. We got into talking with LOOK and made the deal to meet up when we're all back in Berlin. So when LOOK informed us about his exhibition "Meanwhile in Ultraland" at Epicentro gallery in Mitte we took the chance to interview him. Here's the recollection of a dream, a magnificent peach beach and the origins of LOOK the Weird.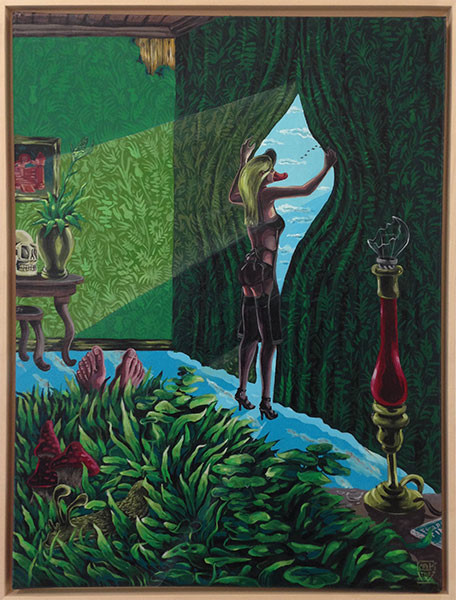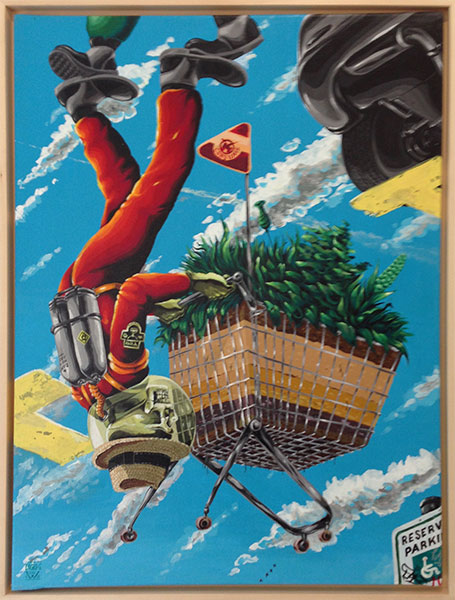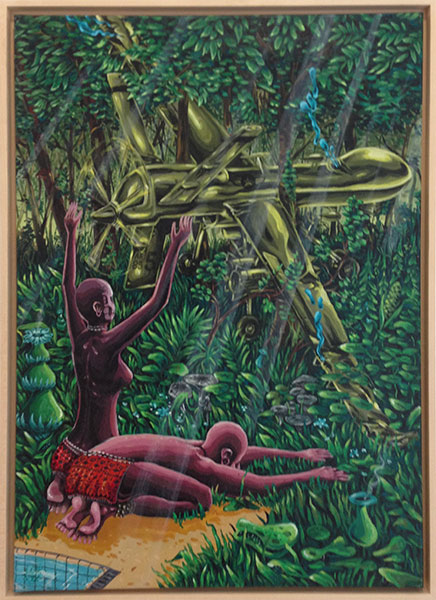 Can you tell us a little about your origins?
I was born in the former GDR in the north of Germany in the beautiful boring Mecklenburg Vorpommern. I grew up in a typical small town and started with drawing and painting really early. My parents always encouraged me a lot to do something creative so I did. I knew from a very young age that I wanted to be an artist. Then in my youth I saw something in TV about "Seen" and his work. I was fascinated with his graffiti, so I started and also infected my friend with the graffiti virus. So we got some spray cans and painted LOOK and SPRAY on the wall of a garage. That was the first thing what popped in our minds. Over the years we painted some other names, but returned to the first throw-ups after ten years. That was early 1996. It was before Internet and before graffiti-mail-order and it was in the far, far, far east of Germany. We had barely any information about anything so we had to create our own style. After some years it got better and we met others and we painted with a proper crew. Then, in 2001 I studied art in Greifswald, a small harbor town in the north. Crazy time. I did a lot of crazy stuff there and painted and drew like a madman. After a while I got bored and left Greifswald. I always wanted to do something with graphic design. After applying to several universities it was Berlin that eventually accepted my application and gave me a chance. That pretty much did it. I almost quitted with graffiti but I started again in Berlin. I finished my studies in 2009. From then on my life was split in two. My career as a free artist and WEIRD-Crew member and partner at the Peachbeach graphic design studio.
What is the greatest piece you ever painted?
I painted some proper murals together with Vidam. Big four or five storey high buildings. It's nice to paint that huge cause I like to use my hands and body to create my work. But I think size is not really important. I like walls with a nice flair or a cool surrounding. Often I go to abandoned places where not many people go and paint some proper pieces there. I like the idea that I am adding something to a special place just for myself and the people who might discover it. The Internet changed everything now it all goes digital faster then a bullet. So...
Who are your favorite artists?
I am still a big Albrecht Dürer fan. I was at a big retrospective show in Frankfurt earlier this year to see some of his work. I was running around like a little boy completely fascinated. Great guy. Also I love Edward Hopper for his melancholic paintings. James Jean for his mind. Matthew Barney for his Cremaster Cyclus. I am also a big Keith Haring fan. As well as Neo Rauch and Aryz from Spain.
How was The Weird Crew formed?
We all met on different locations and events somehow. I knew Vidam, DXTR and HRVB already. Then at an event we met Nychos and the LowBros. Next day we painted a big wall together in Berlin. Some month later Nychos was in charge of curating a festival in Vienna and invited almost all of the weirdos. And finally some month later we formed the crew in a rainy night in a warehouse in Oberhausen. That was fun. So it was pretty obvious to us to form a crew cause we all painted characters and stuff. We wanted to make a crew that was a little different.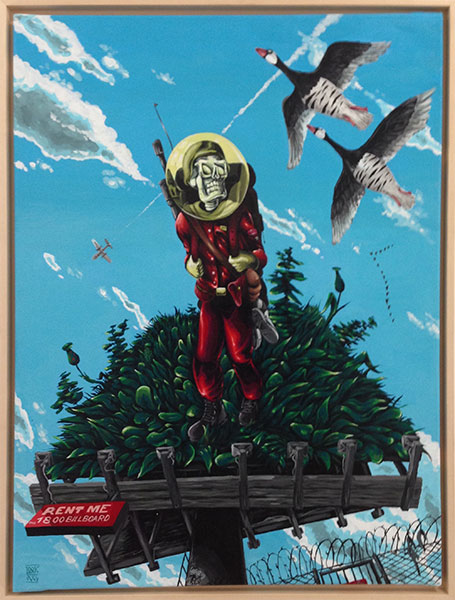 What is PeachBeach?
Peachbeach started in 2007 while I was still studying. We had a creative weekend in a barnyard somewhere in Brandenburg and I crashed into Attila aka. Vidam. We went creative from the very first minute and then formed a small collective with nothing  special in mind. Over the years things got professional and once where done with our studies we already had a bunch of proper clients and job offers. Nowadays we both use Peachbeach for all kinds of commercial projects such as illustration, live painting, Comics, wall painting, workshops etc. It's a nice and easy job and it gives me some free time to do my art.
Where in your life do graffiti and graphic design intersect?
We did a lot of graphic design with the background of graffiti and urban art in mind. Loads of clients love to have the touch of "street art". They think their products sell better if they use some funky street art in their commercials. I not really know if that works. We use it to earn money. There are some special moments where you think: OK, that's some clownish thing and I am the monkey to entertain the people or to sellout. On the other hand: I have to eat.
Which influences from both your artistic practices (urban art and graphic design) can be found in the works of your latest exhibition "Meanwhile in Ultraland"?
You find some different things in the exhibition. I created several nature studies and drawings. I really Love psychedelic rock stuff, so these dreamlike paintings can breath a little. I was pretty fascinated with Detroit to which I traveled last year with the Weird crew. You can see that post-apocalyptic stuff in my paintings. In the main work "Meanwhile in Ultraland" you can also see a small link to my commercial side. I used some billboards to say something critical about our post capitalistic world. In this work you can see my longstanding link to graffiti and the bright colors I use.
What's the concept/idea behind the exhibition?
This show and the whole body of work for the last two years are all based on the concept of a dream I had as a teenager. I dreamed I could dive into the earth like it would be water and then dive in the Fluid underground to see what is happening over the ground like it was glass. Then at a parade in my hometown Adolf Hitler passed by in a classy Black limousine and I came up to tag his car with a Spraycan. Loads of SS officers also could dive into the earth and chased me. I woke up at that part. So this surreal dream was in my head for quite a long time. I mixed it with my feelings about the environment, human behavior and the fact that nature and life in general will survive our civilization. I made a series of six canvases titled "... it was all green instead." which iI presented at my solo show at Balsamo Gallery in Mexico City last year. This was a good starting point for this big canvas with these policemen in battle gear who try to destroy this green patch between two buildings. I wanted to say something about our obscure relation to security and nature.
What are you up to in the future?
I think I will go to Miami end of this year and to London to participate at a group show beginning of next year. Then India for some proper painting and afterwards I will host a show with Vidam and DXTR in Hamburg. After that I'll head to Vienna for a solo show. There is a lot to do in 2015.
We will see says the blind man.