When Widewalls first landed in the vast universe that is the Internet, it strived to become a place where art lovers collide to celebrate and enjoy the best that contemporary art have to offer today.
As an online art magazine, we bring you the latest events, exhibitions, art news and dedicated featured articles, aiming to share our enthusiasm and passions for the arts with our like-minded readers.
But that's not all!
On our new site, we offer limited edition artworks and original prints, framed and in any style, abstract or otherwise, perfect for your wall and your home!
With art collectors in mind, we also started developing a comprehensive network of art galleries and artists from all around the world, bringing them together as part of a unique and simple platform meant to serve as an online art gallery.
With patience and persistence, our little community grew bigger each day, and today, it has turned into a powerful marketplace and a gathering point for anyone who would like to buy art online or wants to start or expand their art collection by acquiring new art prints, paintings, sculptures and much more from a safe and reliable art trading platform.
The Widewalls Online Art Gallery - Put Your Artwork For Sale in Our Shop!
Established in 2013, valued for the quality of its content and usability, with over half a million visitors per month, Widewalls is amongst the fastest growing and most successful contemporary art online resources on the planet.
Whether you want to buy art online or you have an artwork for sale, the Widewalls Marketplace is the ideal platform for you, and here's why.
As an art gallery, by becoming a part of our extensive gallery network, you get the chance of reaching over 520,000 users monthly, in company of the most respected art spaces from around the globe.
Through our advanced targeting tools, we give you an opportunity to expand your clients network, broaden your audience and sell your artworks online, to art enthusiasts and collectors visiting our website from as many as 209 countries, 70% of our which come from the epicenters of the art world, on a regular basis.
Through an easy-to-use, user-friendly dashboard, you can quickly access your profile page, artists listings, artworks inventory, exhibitions management and much more, all created to make your experience not only enjoyable and efficient, but also profitable.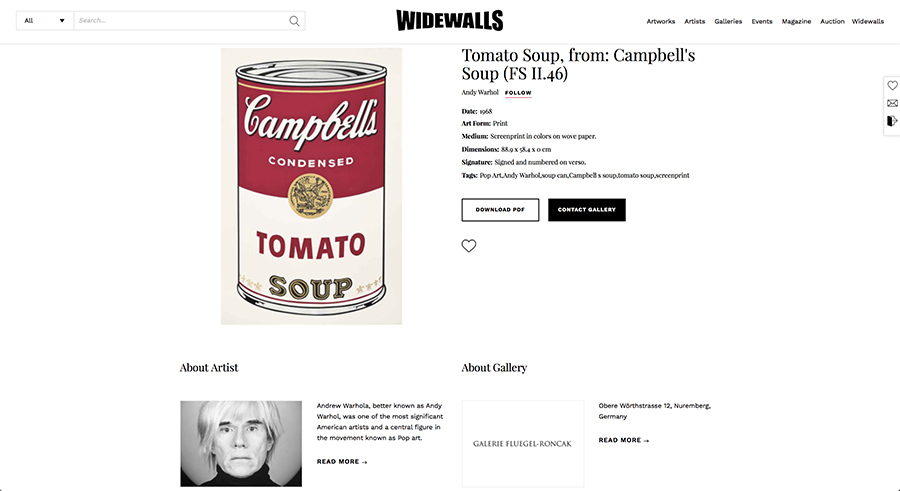 Buy Art Online - Browse Safe and Easy on Our Marketplace!
If you're looking to start or expand your art collection with unique pieces of your favorite artist or some talented creative you only just got to know, our online art gallery is a great place for you to buy art online.
Join our community of artists and art galleries who are offering an incredible choice of artwork for sale, art prints, sculptures, paintings for sale, all forms art and much more.
Browse through the Widewalls Shop by looking up your favorite artist from our ample Artist Database, choose artworks from different categories - contemporary art, graffiti, sculpture, stencils, installations… Define your price range and start your exciting quest to find exactly the art piece you're looking for!
Take virtual tours of the world's best art galleries and see their artwork for sale, request information and make your purchase straight from the gallery representatives or the artists themselves!
To shop art online and find the perfect artwork has never been easier, safer and more reliable!