It's all about blocks and colors this November in Pluskwa Contemporary Art gallery as noted venue in Marseille prepares to host works by two emerging artists from France. Both Wile and Lenz art careers begun on the streets of the urban environments all over the globe. But the talented French art-creators are equally skillful when working on a smaller scale. The upcoming exhibition, aptly entitled Wile+Lenz will gather an array of colorful works dealing with the topics of music, fun, togetherness, street art and pop culture iconography.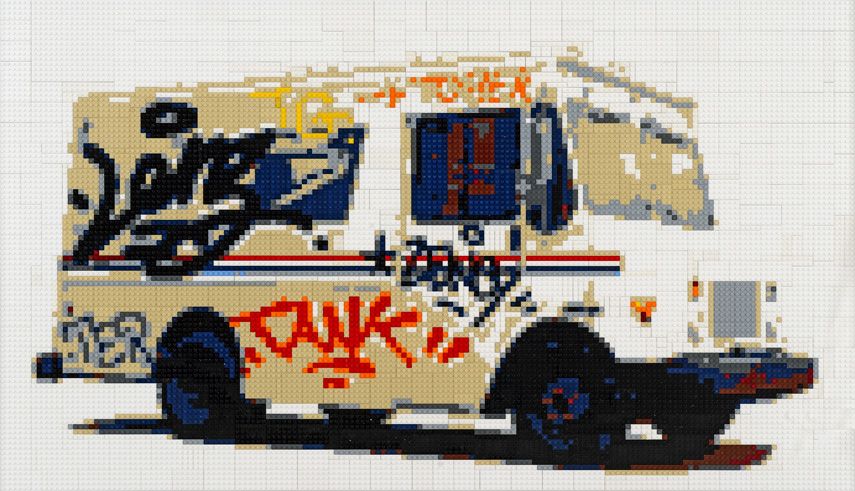 Wildstyle-inspired Artworks by Wile
Laurent Giordano aka Wile is a French artist known for creating whimsical paintings that emanate positive atmosphere. His work is inspired by objects and events from his immediate surrounding such as street culture, architecture or passers-by. Wile's intriguing artworks are made by applying acrylic to blank canvases with a variety of tools including brushes, rollers, markers or even his hands. The influence of graffiti and graphic design are visible in his works they convey a sensation of wildstyle lettering incorporated into every one of his colorful pieces. Depending on the mood, Wile's art can span between figurative and abstract but he never fails to transmit joy and cheerfulness with his colorfully rich images.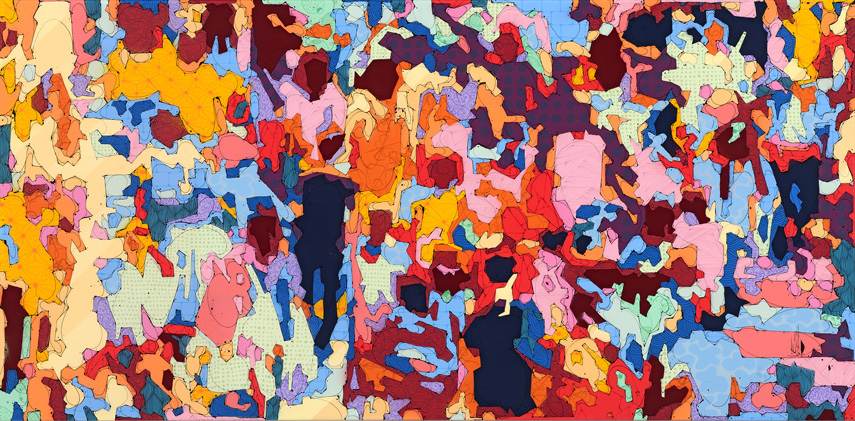 Lego Blocks as Art Material
Street artist Lenz uses one of the most famous children toys in the world, Lego bricks as materials to create his vivid three-dimensional imagery. These connected blocks convey the notion of musicality and rhythm so typical of street art culture that Lenz is ever too familiar with. Having decorated the street around the globe in the previous years, Lenz has become quite aware of the global culture that's shared by billions of people around the world. This mass culture is a source of inspiration but also a cause for polemic for the talented artist. The imagery by Lenz will take the visitors of Pluskwa Contemporary Art gallery back into a familiar world reminiscent or their childhood but also offer a different perspective on the popular toys.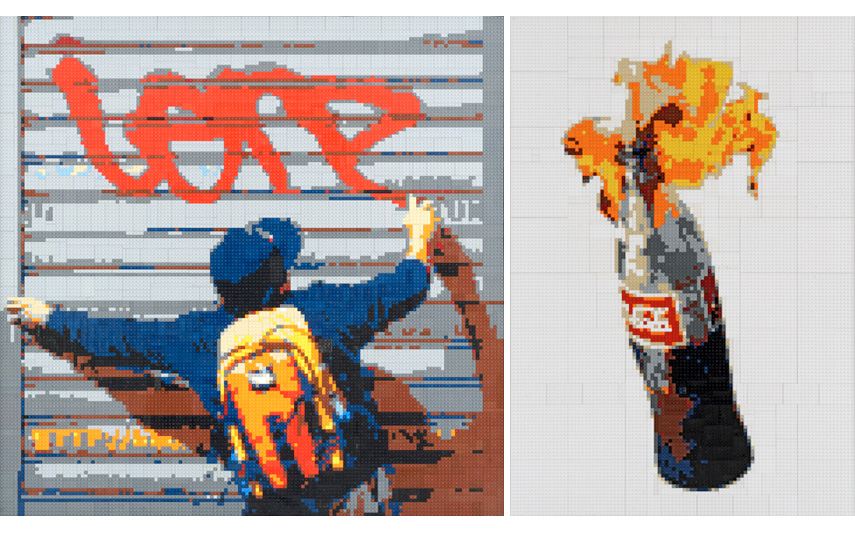 Wile + Lenz Art Exhibition at David Pluskwa Gallery
Wile+Lenz exhibition will be on view from November 24th to December 17th at David Pluskwa Contemporary Art gallery in France. The exhibition will undoubtedly make people smile as both Wile and Lenz use vivid colors and unusual topics to remind people of fun-filled and carefree time periods in their lives. Wile+Lenz exhibition will transfer the energy of the streets to the contemporary space of David Pluskwa Contemporary Art gallery in Marseille and invigorate the visual arts enthusiasts in these cold fall months.If you have some free time make sure to visit this interesting duo art show.

Featured image: Left: Wile - Foule 15 / Right: Wile - Faites 3; Left: Wile - Foule 13 / Right: Wile - Faites 1; Left: Wile - Foule 10 / Right: Wile - Faites 2; Left: Wile - Foule 10 / Right: Wile - Faites 2; Left: Wile - Fou de Rire / Right: Wile - Face 48; Lenz - Art; Lenz - Girls; Left: Lenz - Montreal Street Sign / Right: Lenz - Girls do it Better; Left: Wile - Fou de Rire 04 / Right: Wile - Fou de Rire; Lenz - Hustle, 2016