In the work of Will Barras, there is a fluidity and energy that has always existed in a world entirely of his own making. A British artist, illustrator and animation director, he has mastered every medium with a dynamism constant in all his work, from his early scanned and reworked doodles through to his recent, rich, mixed media work. His figures seem to be in a state of perpetual metamorphosis, caught for a brief moment between one manifestation and the next. His latest body of work will soon be on view at Fousion Gallery. Titled 2 Car Cortex, the show takes us back to the place of his childhood – a garage his dad built in 1978 where he has spent a lot of time building and modifying a car.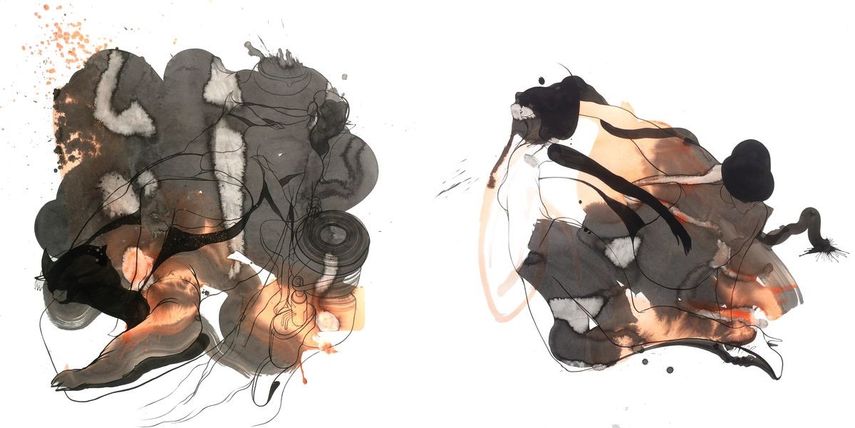 2 Car Cortex
As Will Barras explains, a two car garage built by his father at the bottom of his mum's garden was a place where he has been spending a lot of time as a kid, watching his dad working on his car. He didn't manage to absorb much of his dad's engineering or mechanical knowledge, he had been spending his time drawing racing cars instead. Thirty-six years later, the garage still stands, yet, it has been turned into a storeroom. Now at the same age his dad was when he was building his car, the artist uses the place to draw and paint, while his son plays outside the same way he did as a child. A place wrapped up in so many memories, it takes him back to the time when he would just draw for fun and dream about what the future might bring. It is a time machine made of breezeblocks with a felt roof.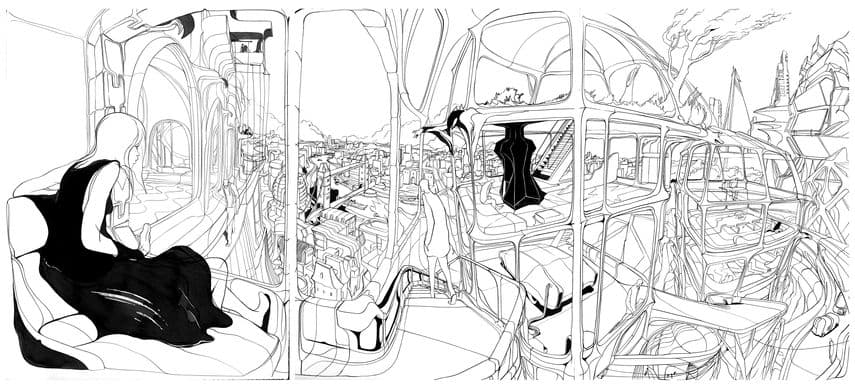 The Practice of Will Barras
After studying graphic design in Bristol, Will Barras soon became one of a new crop of young artists working in the city's renowned Street Art scene. He was a founding member of the Scrawl collective, alongside Steff Plaetz and Mr. Jago, soon gaining a reputation for their playful, doodle aesthetic. Barras is admired for both his nonchalant, happy go lucky demeanor and the perceived ease with which he made compelling work as well as the work itself. He has found his identifiable way of speaking, an authentic style comprised of representations of fluid movement, unique narrative-driven compositions, and distinct line work. While his technique and approach to material have evolved, his personal language remains present. As the gallerist Harlan Levey once wrote, "in twenty years of producing work, you can see his boyhood face clearly in the portrait he leaves of himself as a man".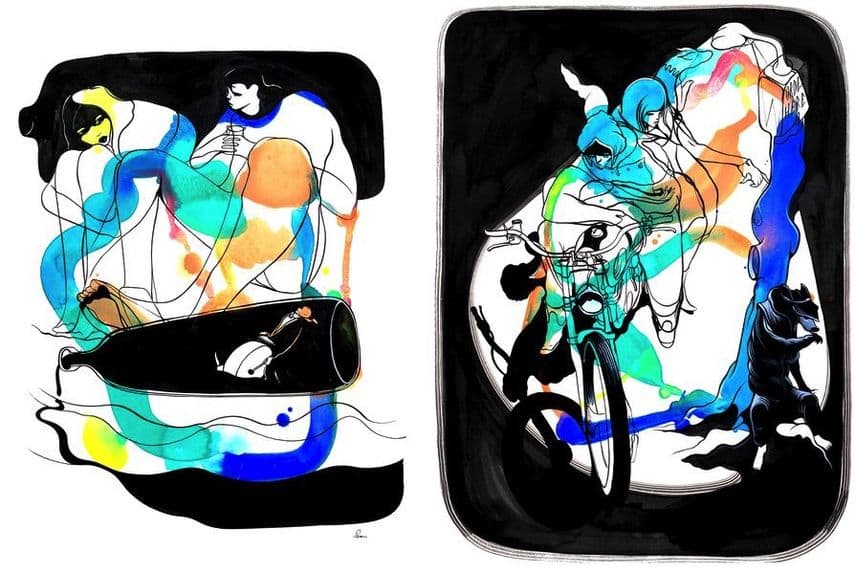 Will Barras on His Latest Show
Widewalls: Behind your latest exhibition at Fousion Gallery, or rather behind its name, lies an interesting story. Can you tell us more about the 2 car cortex?
Will Barras: Yes, so over the last few months I've been finding time to make new work, and some of that has meant that I traveled to my mom's house to use the garage at the bottom of the garden. Its the house my mum has always lived in, I can remember my dad building the garage, so it's 100% lodged in my memory. It makes it a very easy place to make work in, maybe it takes me back to a time when you just play, and drawing and painting were just something I did for fun without thought to a finished thing...
Widewalls: These latest artworks, of course, follow your distinct style: fluid lines, speed, female figures. How come they're still your inspiration? Is the garage where it all started?
WB: Some of that started in the garage. My dad was building and working on a racing car down there. I think my style lends itself to this kind of flowing, moving subject matter - I try to create a feeling or tension of narrative in each picture. It's a snapshot from a film and the characters, female or male, are the protagonists in this drama. Sometimes I start with the figure and build around, sometimes they walk in at the end. It has become something that is easy and automatic to me nMaybeyabe being in the garage doesn't move me forward but make me look back inwards. Maybe its time to move on from this, I'm waiting for the next chapter.
Widewalls: What are the differences between painting then and now? How would you say you've grown since then?
WB: I was happy to just draw cars and vehicles back when I was growing up because I liked them. Now I want it to be more about a journey, who is traveling, where are they going, etc...
Widewalls: What would you like these works to convey to the audience in Barcelona?
WB: I think I would like the audience to experience the journey. It's not always about the finished article, although I know there are themes and elements that are repeated. The paintings are done in sets at different times and in different places using different techniques and medium. Some paintings, like the Convoi Exceptionnel paintings, feel like they are mid flux, not all characters and places are fully formed yet. These are more interesting to me.
Widewalls: What are you working on now? Where are you off to next? What are the plans for the (near) future?
WB: This week, I'm painting at the Gamma Proforma festival Synthesis in Norwood in London. I might do something with Upfest in Bristol later this year with Xenz. Also, I've got a few small projects to get on with... I'll carry on painting, but I'm not planning on another show for a while now. Just doing illustration work and move it forward...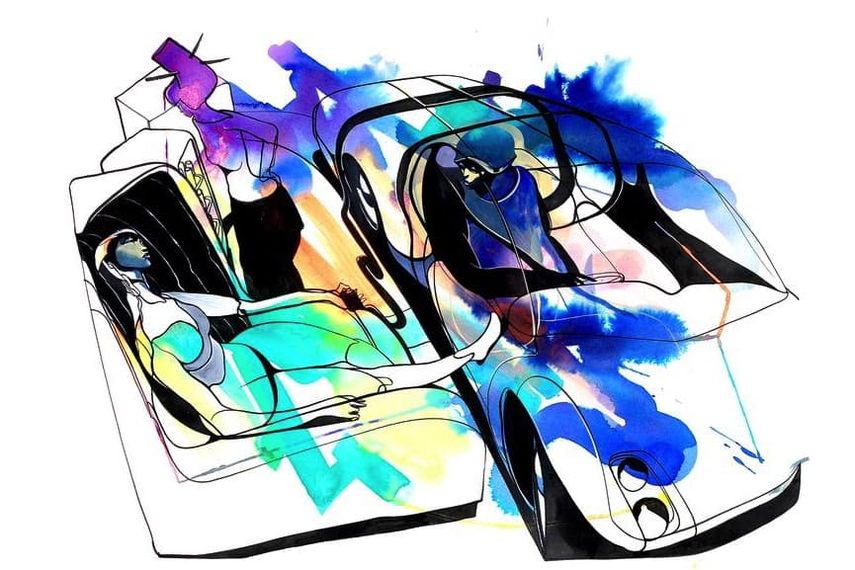 Will Barras Art Exhibition at Fousion Gallery
This exhibition takes the audience on an extraordinary journey through the fathomless worlds of Will Barras. Experience his unique brand of imagination that led the artist to influence a generation with creative ambitions. The exhibition 2 Car Cortex will be on view at Fousion Gallery in Barcelona from September 22nd until October 25th, 2017. The opening reception will be held on Thursday, September 21st, from 8 p.m.
2 Car Cortex - solo show by Will Barras exhibited at Fousion Gallery Barcelona 2017


Featured images: Will Barras - Shipwrecked (detail); The Truth About Buildings; Outside In. All images courtesy of Fousion Gallery.