How does today's mass-consumption of imagery affect our perception of reality? What does it do to our notion of personal experience and memory? The newest body of work by London-based artist Will Martyr explores these very concepts in the first major solo exhibition, hosted by UNIT London. Opening this summer, the show entitled Wanderlust presents twenty new large-scale paintings which transport us into an alienated dreamworld which calls to mind a utopian atmosphere and evokes the artist's incredible painting skills.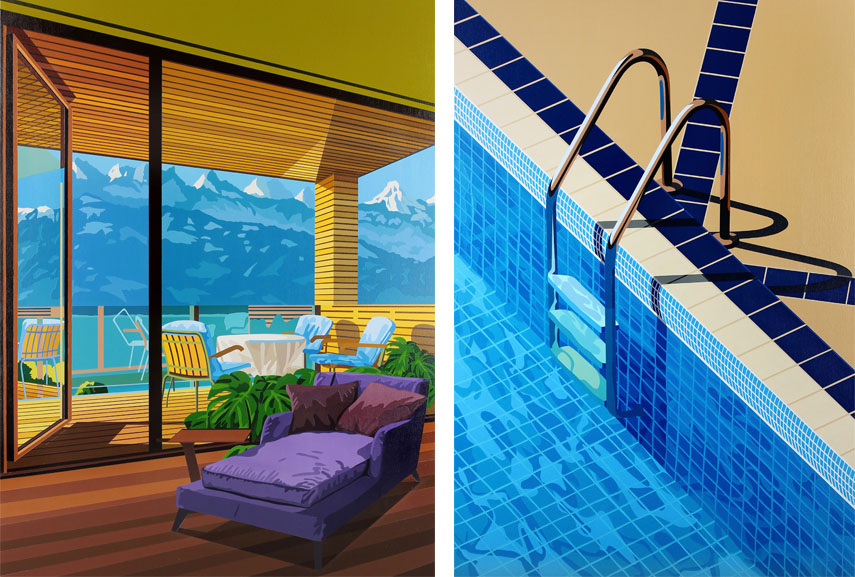 Wanderlust
When looking at the hyperrealistic depictions of infinity pools, postcard-perfect mountains and luxury residences of Will Martyr, we see the many artistic influences in style and approach. Perhaps they first call to mind the works of David Hockney, with the deep blues and the sharp edges. Then, we notice the traces of major 20th-century movements, such as Surrealism, Futurism, Pop art, as well as those of the Bauhaus school and the Russian Intourist posters of the 1930s. As if that wasn't enough, they also remind us of the glossy and pristine pictures from architectural, interior design or holiday magazines, devoid of human presence and inviting the viewer to invent their own realities and narratives - in particular through the painting titled such as I'll Make it Alright, Everything is Golden and Beautiful Wife.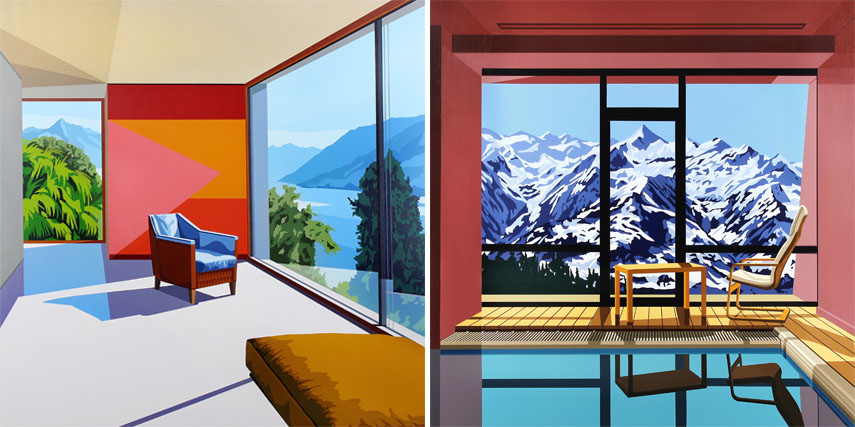 An Airbrushed Hyperreality
Before projecting them onto the canvas, Will Martyr generates his images via a computer, using a myriad of photographs, found images and personal experiences. He often spends days masking and planning his compositions, as methodical and precise as he is, carefully choosing the color combination that would eventually complete the work. This rigid framework, which ultimately results in a linear perfection, somehow also allows him to create profoundly emotional and moving works of art that redefine the aesthetic of painting in the age of new media. This is an empty perfection, asking us to go beyond the pretty exterior of our reality and the perfect horizon before us.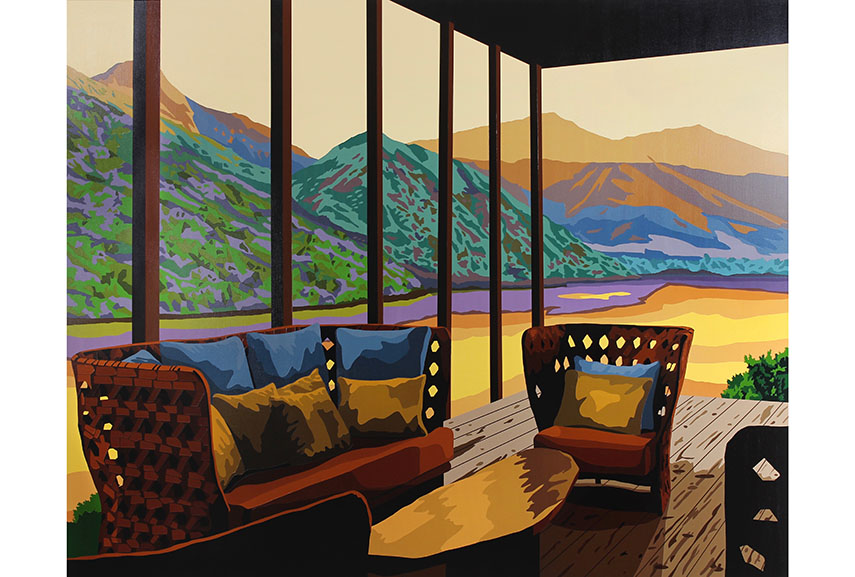 Will Martyr at UNIT London
In a mix of emotions and the allure of advertising and branding, Will Martyr invites the public to his hidden interiors and landscapes, in our effort to derail from our troubling realities in exchange for airbrushed hyper-reality. Wanderlust, an exhibition of works by Will Martyr, will be on view at UNIT London from June 23rd through July 29th, 2017. The private view is scheduled for June 22nd, from 6.30pm to 10.30pm.
Featured images: Will Martyr - Lean Into Me, 2017; Beautiful Wife, 2017; Will Martyr - It's Been A Long Time Coming, 2017, studio shots. All images courtesy UNIT London.