The American William Wegman is an extraordinary photographer who focused a great deal of his career to Weimaraner dogs. He started depicting the animals in various poses and costumes juxtaposed against various scenographies. The famous series started with a dog named Man Ray, named after the surrealist artist, followed by Fay Ray and several generations of her puppies. The artist stated that all his Weimaraners enjoy the process of posing, although each has a different character.
His lifelong dedication to the dogs was presented in various formats, from magazines to books and exhibitions and now these iconic images will be once again on display at Huxley-Parlour Gallery. On this occasion, a number of 20 x 24 Polaroids dating from the 1980s through to 2001 are selected, and all of the works will be shown for the first time in the United Kingdom.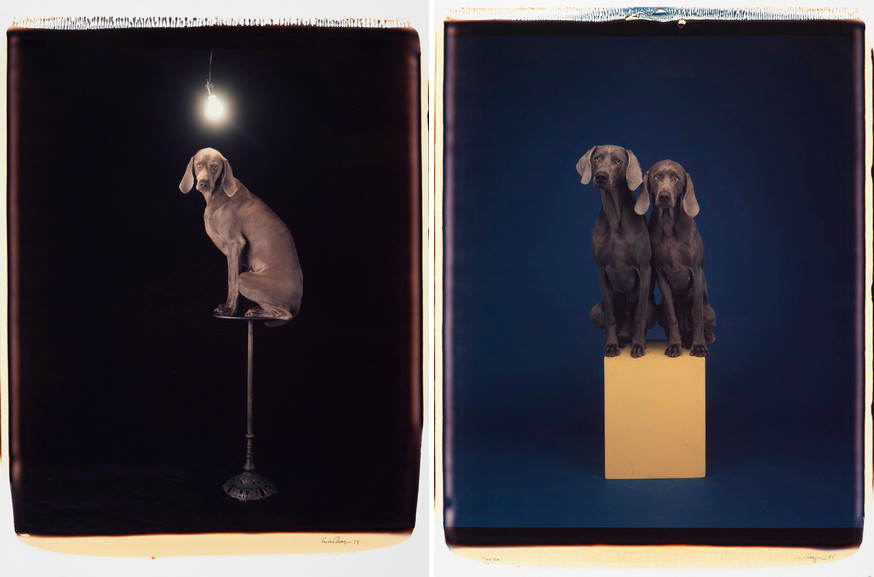 The Story of William Wegman Dogs
William Wegman started his career as a painter. He attended the Massachusetts College of Art where he received a Bachelor of Fine Arts degree in painting in 1965 and two years later a Master of Fine Arts degree in painting from the University of Illinois at Urbana-Champaign. His career grew quickly and he showed his works in various museums and galleries internationally, and some of them were parts of important exhibitions like When Attitudes Become Forms and Documenta V curated by Harald Szeemann.
Around the 1970s while living in Long Beach, Wegman got a Weimaraner dog and named him Man Ray. Soon after, the dog became the main protagonist of his black and white photographs and videos. In 1986, four years after Man Ray's death, the photographer got a new dog of the same breed and named her Fay Ray, and naturally, she became a star of his photos as well. The photographer's cast got enlarged with Fay's offsprings, three doggies named Battina, Crooky, and Chundo, and later their offsprings too during the 1990s and 2000s.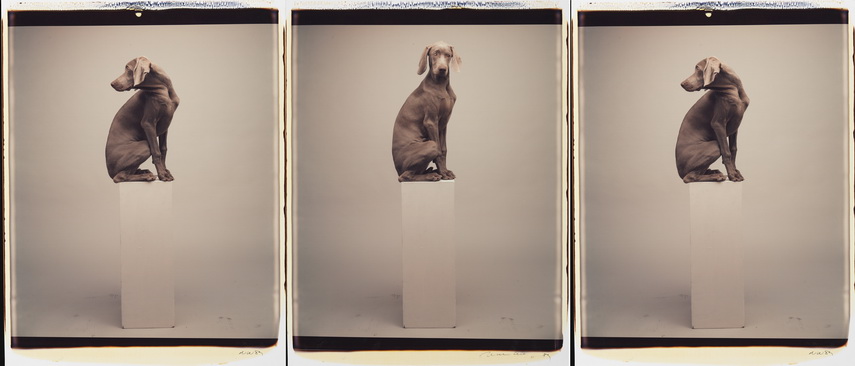 The Selection of Polaroids
The photographer was invited by the Polaroid Corporation in 1979 to test and use their recently developed 20 x 24 Polaroid camera. The photographer was thrilled with it and made his first color photographs of Man Ray. Although the generations of dogs shifted, he worked with this 20 x 24 format camera until the company stopped producing film in 2007.
Throughout three decades Wegman produced an amazing body of work based on the explorations of various themes from abstraction and anthropomorphism to surrealism, cubism and color theory. Each dog contributed to the selection of themes and motifs used, so the photos show the animals as different characters; as a matter of fact, the dogs are constantly in drag, either with or without wigs and costumes, and they are depicted in a surreal manner as autonomous entities which share their personal experiences.
Wegman was also an early practitioner of video art and among those works are the ones featuring his dogs. For example, the one from the early 1970s depicts Wegman teaching Man Ray how to spell.
The artist once stated for Entertainment Weekly that:
They are only [being shot] maybe 30 seconds at a time. The rest of the time they're sitting around, rather blasé about life.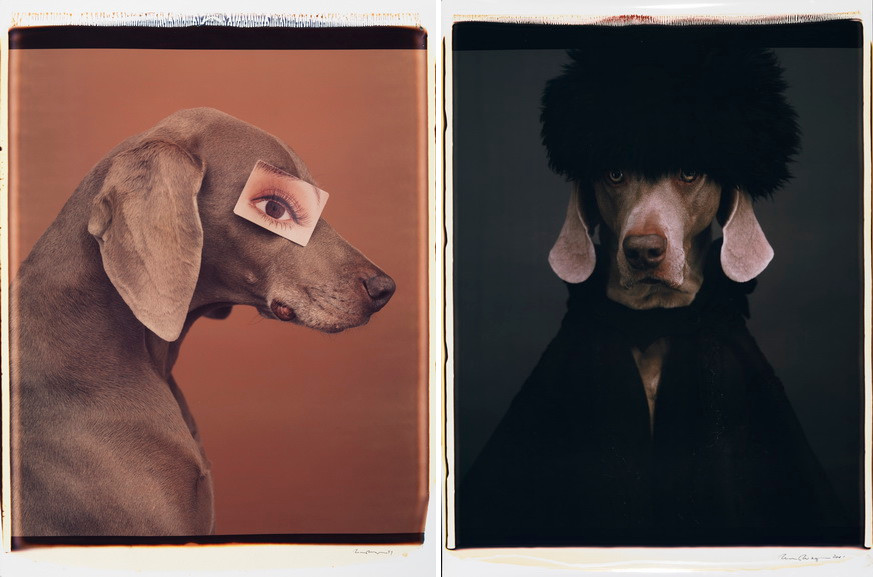 William Wegman Polaroids of Weimaraners at Huxley-Parlour Gallery
The images of William Wegman's Weimaraners became increasingly popular over the years since they inspired the photographer to produce books for children such as the New York Times bestseller Puppies. The first time dogs appeared in the media was in 1989 on Sesame Street, and since then they were featured in various television programs and documentaries. In 2017, an extensive publication titled William Wegman: Being Human was published covering more than three hundred iconic images the artist made during nearly four decades. Even the world of fashion embraced famous Weimaraners so they have appeared on the covers of Vogue.
It is important to underline that Wegman was among the first artists to include his pets as the central theme of his artistic practice. By doing so he introduced the concept of man and animal relationship, the archaic model present in the art history for a long time. This deep interconnection tells much about how we as humans should reconsider the means of communication in order to understand better the needs of other species surrounding us.
The upcoming exhibition at Huxley-Parlour Gallery in London, focusing entirely on 20 x 24 Polaroids is simply titled William Wegman: Polaroids and will be open from 26 September until 20 October 2018.
Featured image: William Wegman - Dressed from Below, 1994 © William Wegman courtesy Huxley-Parlour Gallery.