As the holiday season is just around the corner, galleries are preparing their last shows in 2016. In order to celebrate the end of the year, Nuart Gallery has prepared their traditional winter group exhibition. Entitled HOME, the exhibition will feature new works from many local and national artists as well as gallery's roster of international ones. Among internationally acclaimed artists there will be Sandra Chevrier, Martin Whatson, and Hyuro, and among local-based artists will be Nina Ghafari and TREF. The gallery will also debut some very exciting new originals from Iranian duo Icy & Sot, Nafir, Pure Evil, NIMI, Norwegian artists Hama Woods, AFK, Fru Bugge, Atle Østrem, SinnSykShit and a strong series of new watercolors by Line Osmundsen.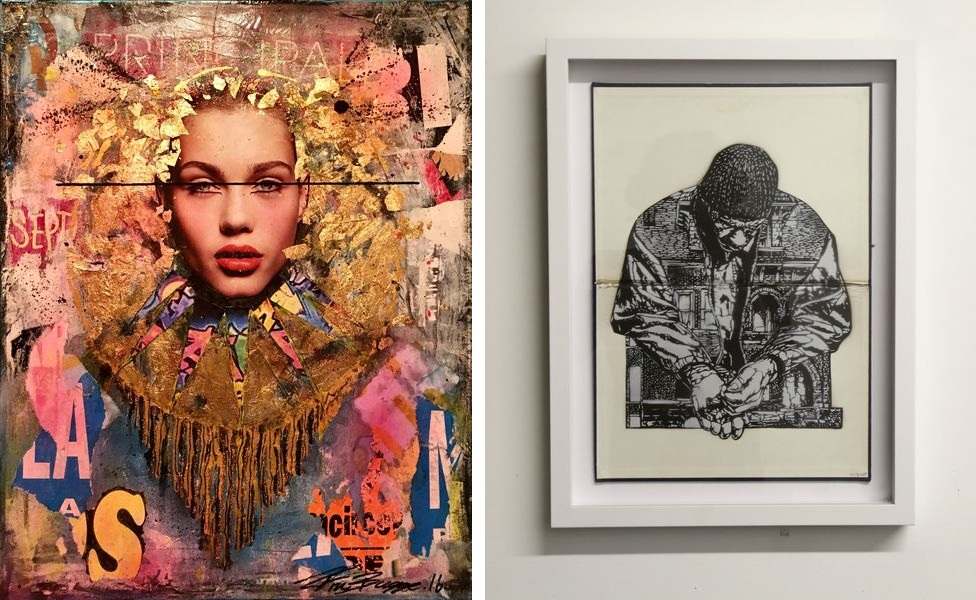 Sandra Chevrier, Fru Bugge, Martin Whatson, Hyuro, TREF, Nafir and Atle Østrem
While the Canadian artist Sandra Chevrier is known for her captivating collaged portraits of women, the Norwegian artist Fru Bugge creates large-scale mixed media collages that can be found across the globe. A Norwegian stencil artist, Martin Whatson finds beauty in what most people find "ugly", unfashionable or simply outdated. On the other hand, the Argentinian street artist Hyuro creates black and white murals, paintings and drawings that blend politics and surrealist sensibility in dreamlike compositions. While Norwegian artist TREF loves to experiment with different techniques and paints such as MTN spray paint and acrylics on various backgrounds, Nafir is a self-taught Iranian artist whose work is influenced by traditional Iranian art and culture. The Norwegian artist Atle Østrem is best known for inventing the word "Beauglyful" which best describes his aesthetics.

Nina Ghafari, Icy & Sot, NIMI, Line Osmundsen, Pure Evil, Hama Woods and AFK
While the Iranian-Norwegian visual artist and a street poet Nina Ghafari is best known for rejecting a historical fine narrative in her canvases, sculptures, assemblages, and texts, Iranian street art brothers Icy&Sot have developed a rich portfolio of urban stencils that address global social issues. Immersed in street art, the British artist NIMI likes to experiment with a variety of techniques and mediums, having a passion for the creative process itself. Line Osmundsen is best known for her watercolors that employ sharp geometric forms and feature female characters, and Hama Woods explores consumerism and its effect on natural through her sociologically approached stencils. While the work of the British artist Pure Evil is heavily inspired by skate culture and graffiti artists from the west coast, AFK is known for his classic, monochrome stencils often laced with political undertones.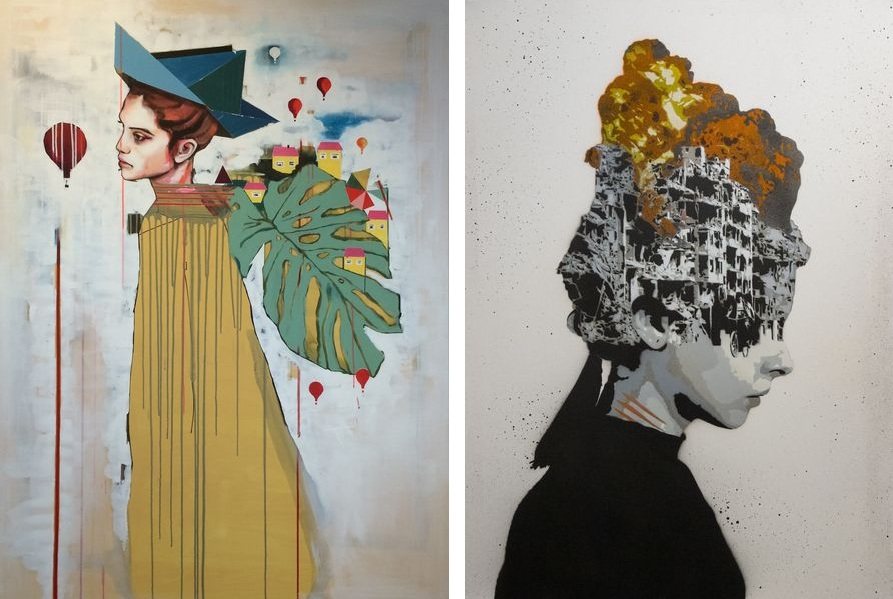 The Nuart Gallery Winter Group Show
Fitting somewhere between the serious and sublime to playful and fun, the exhibition will be a sort of bipolar exploration of the concept of home. Visitors will also be encouraged to buy and take pieces from the wall. On view, there will be two new prints by Line Osmundsen that have been released on Thursday, December 8th, as part of the exhibition. The exhibition HOME will be on view at Nuart Gallery in Stavanger, Norway from December 15th until January, 2017. The opening reception will be organized on Thursday, December 15th from 7pm, and visitors can expect special offers on books, previous works from the backroom and prints from Nuart Prints House.
Featured image: Hyuro - Drawing (detail). All images courtesy of Nuart Gallery.